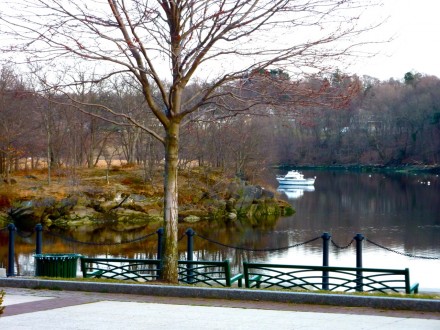 To spear a full sliver of garlic from the broth of some good mussels, you have to trust the chef: Undercooked and it'll ruin your night; cooked well, it'll half make it. When faced with the choice at 88 Wharf last month, I took the plunge knowing that Josh Ziskin had recently come on board as consulting chef. I've eaten at Ziskin's highly regarded La Morra in Brookline and liked his food.
My trust was rewarded, and the plentiful slivers of garlic were creamy and mellow.
The small menu, however, swings from excellent to average, but the stellar waterside location makes 88 Wharf a must for warm weather dining.
It's good news, too, that Ziskin's consulting contract with 88 Wharf owner Matthew Sullivan began only a short time ago in February, so it's likely that the restaurant will continue to improve. Sullivan would have done better to have given the good chef more time to implement the difficult tasks of retraining the staff and revamping the menu before advertising Ziskin's involvement.
The 97-seat restaurant, which opened in '09, is tucked away a block or so from Adams Street in Milton Lower Mills overlooking the Neponset River and marsh. The river, which meets the sea off Quincy, maintains an oasis of wildness as it meanders through the heart of highly developed areas – so it's a rare pleasure to sit on the restaurant's 40-seat patio. The interior is a modern space with a pretty marble bar that leads to a rectangular dining room with a wall of windows overlooking the water.
The aforementioned mussels appetizer ($11) had an outstanding light tomato broth that I sipped with a spoon like it was soup. The warm LaVallee bread and salted butter was seriously irresistible one night and cold and resistible on two others. It did, however, make great croutons for the good Caesar salad ($10), which was topped with lovely slices of Parmesan.
Among other small and/or less costly plates were the sweet red wine braised meatballs ($7) and half orders of four pasta dishes. The smaller portion of the satisfying spaghetti ($12/$20) with shrimp (four large) and prosciutto has a prominent rosemary flavor to its soupy sauce. The orecchiette ($12/20) with sausage and broccoli confused me: The spicy flavor was good but the little ears of pasta were somehow lacking. We happily recommend the house-made pear and robiola pizza ($13), with its crispy but tender crust. And the burger ($13) should have been great (fontina cheese, grilled onions, arugula), but ours was overcooked.
Among the main courses, the seasoned grilled trout ($21) is as wonderful as it is unattractive. "It's not very aesthetically pleasing, but people really like it,'' said our good waiter.
The delicate fish is served atop a mound of fluffy couscous with a spicy bite and some ruby Swiss chard whose mellow flavor is reminiscent of beets.
The very good flat iron steak ($24) was nicely seasoned and cooked on two occasions, arriving as a much larger portion the second time. The dish is served with colcannon potatoes – a kind of mashed potato with cabbage that we love. This version, however, is richer than it has to be (cream, butter), without delivering the flavor to make it worth it. (Never mind: The chef will tweak it, I'm sure.) The well-seasoned pork chop ($21) has less to recommend it than the steak: You have to get past its dry edges to its moist interior. The chestnut bread pudding it's served with has a good flavor but is extremely dry.
Not so the wonderfully moist slices of grilled sage polenta siding the spinach-stuffed chicken breast ($19). Ziskin said he wants to make this dish an 88 Wharf classic by changing its stuffing seasonally, but the mechanics of its preparation have been a learning curve for the kitchen: They haven't perfected it yet.
Of the four in-house desserts, the crème brulee has good vanilla flavor but a cakey texture. The brownie sundae, though, was fantastic: We couldn't stop eating the moist, sticky cake smothered in chocolate sauce, ice cream, and some fresh whipped cream we requested. Such responsiveness from the kitchen on a busy night was impressive. And that isn't easy.