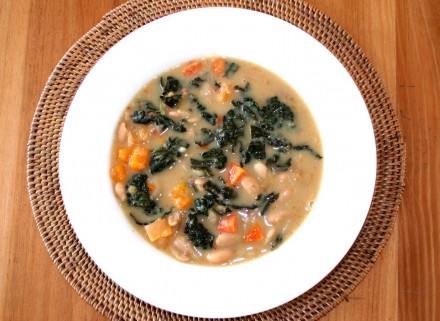 I started to write something else this week, but suddenly I just had to tell you about an amazing soup I've made about 10 times (honestly) in as many weeks. Since we've still got February to eat our way through, and the soup is such as easy, inexpensive, and delicious winter meal, I have to dish about it.
Each time I've made the soup, I've changed it a bit, so what I have to share here isn't a single recipe. Rather, it's a customizable template of a recipe that features the innovative use of a building block ingredient that adds a powerful punch of flavor to any number of different soups.
The original recipe that featured said secret ingredient (which I promise to reveal) was for a bean and escarole soup. I found it in a beautiful article by Ike DeLorenzo in the Boston Globe on Nov. 11, entitled "Dishes saved from Italy's era of necessity."
Not only did the article turn me on to this wonderful way to flavor soups but gave me the perfect name for the type of cooking I grew up with in the kitchens of my mother and her Italian-born older sisters.
The "cuisine of necessity" — that's the term DeLorenzo coined for the simple, hearty, dishes his Roman grandmother (and my relatives) made. "A make-do theme runs through much of this inexpensive and elegant canon: beans, root vegetables and cabbages, a special role for tomatoes, a bit of meat for flavor, stale bread, and a sprinkle of precious Parmesan," he wrote.
I could not have said it better.
To be fair, my mother – Luigina Constantina Gabriella Rotello Friedman (my father was Jewish) was nearly a generation removed from the cuisine of necessity that her much older siblings grew up with. We had money to have meat every night, a grocery store a short car ride away, a packed pantry. Still, the grounding techniques that characterize the cuisine of necessity very much informed her cooking.
A couple years ago, before I had the perfect phrase to describe the tradition from which my family's cooking style emerged, I absolutely recognized it, but not as clearly as I thought I did.
Then one night, at a formal dinner in the North End celebrating the food of Southern Italy, I got to talking to a woman who grew up in a little town near Naples. As I maneuvered my way around the rabbit course, she told me about her mother's cooking and I told her about my family's.
When I shared with her a vivid childhood memory of my Aunt Mary wringing a chicken's neck, butchering it, and then my shock at seeing a bright orange egg yolk inside the carcass – my dinner companion didn't bat an eyelash.
"Oh, no," said Enza Rullo of Lexington. "We would never kill a chicken that could still lay!"
I understood then that cuisines of necessity emerge from different levels and types of need.
For the bean and escarole soup, I see that the adaptations I've made to the original recipe are surprisingly in keeping with the principles of the cuisine of necessity, modern though my needs may be!
I'm not lacking costly ingredients as much as I am time and energy. I've thus found ways to make the soup more quickly by using a food processor on ingredients that otherwise would take a long time to mash, chop, and grate.
What's so wonderful is that my changing the recipe to adapt to my needs has resulted in a better soup than the original one – just like the old Italian cuisine of necessity produced a cuisine that was so good that many of today's top chefs emulate it.
And just what is the secret ingredient? Grated hard salami.
You take a little bit of dry salami, sausage, or hard dark pepperoni, grate it with a cheese grater, and sauté it for a minute in some olive oil to start your soup.
I've been using very little, less than the original recipe calls for — about an inch of a thin, round Applegate Farms salami. It's probably no more than an ounce, maybe two, and yet it's enough to add a full, rich, meaty base and texture to the soup.
Before discovering this technique, I started every soup by sautéing chopped onion, carrot, and celery – which is a bit of work. Substituting salami makes the soup both quicker to prepare and more delicious.
The original recipe also calls for a second great flavoring agent: a leftover rind of Parmesan cheese. You toss it in the soup while it cooks, then pull it out before serving. I use it when I have one, but if I don't, I don't really miss it because the grated salami provides such a hearty flavor.
It is said that if you make a recipe a number of times, it becomes your own. Such is the cooking tradition of the ages.
Below is how I made my most recent potful. Feel free to improvise:
White Bean and Vegetable Soup
2 tablespoons olive oil
2-5 cloves garlic
An inch or two (a couple-few ounces) of dry salami (hard pepperoni, or dry sausage)
1 or two 32-ounce boxes of chicken stock
Water to equal about 64 ounces (if you are not using two boxes of stock)
4 cans white beans, which can be a mix of cannelloni, navies, or butter beans
A bunch of chopped kale, Swiss chard, spinach, or escarole – I've even used summer squash when that was all I had
1 cup of winter squash, cut in small cubes or purchased already cut (optional)
A rind of parmesan cheese (optional)
¼ teaspoon of red pepper flakes
black pepper to taste
2 bay leaves
1 good quality vegetable bouillon cube (optional)
Fresh grated Parmesan (for serving)
Cut the salami in inch-sized hunks and grind in a food processor with garlic till minced. Pour into large soup pan and sauté in olive oil on low for a couple minutes.
Without cleaning the food processor, pour in two cans of rinsed beans, puree, and add to the soup pot.
Pour in the rest of the rinsed, whole beans and all the broth and/or water.
Add the chopped winter squash or other vegetables.
Add black and red peppers, the bay leaves, a bouillon cube (if you're using one), and the rind of Parmesan.
Stir well and bring to a boil.
Turn the heat way down to a light simmer, cover the pot with a lid that is slightly ajar, and cook for 30 minutes.
Add the chopped greens, stir well, and cook for another 30 minutes.
Fish out the rind of cheese, and toss it.
Serve with grated Parmesan. Save in refrigerator and reheat portions, as you will.
Follow Joan Wilder on Twitter.