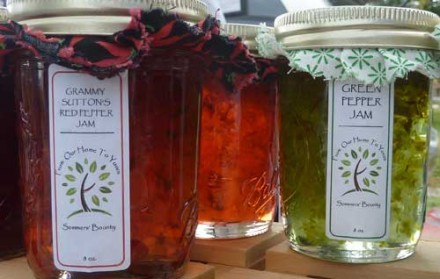 It's cranberry season now, and apple season, and green tomato time, too. And pears are there for the picking and even raspberries — but not for much longer.
Last month, the grape harvest ended, and before that, of course, it was August, and July, and June, and many fruits came to us in waves –blueberries, currents, peaches, rhubarb, strawberries.
One after another they budded, blossomed, grew, and ripened, appearing in our gardens, farmer's markets, and stands.
And then each of their particular times passed, the plants stopped producing, another summer ended, and there was no more of this or that for the taking.
Unless you preserved some!!
Which is what Christine Hadayia Sommers and her sister Stacy Hadayia do in Christine's Hingham home. Like their great-grandmother, their grandmother, and their mother, the sisters preserve fruits by making them into gorgeous jellies and jams, marmalades, relishes, and syrups under their Sommers' Bounty label.
Jam-making isn't mere canning, but relies on that wonderful food preservation technique, which was discovered in the early 1800s and perfected over subsequent decades.
Preserving food is as old as people's hunger, and so are the methods we've used to stop food from spoiling. But none of them — drying, salting, sugaring, fermenting, pickling, icing, or submerging in fat to seal the air out (duck confit) – is as versatile as canning.
By the 1880s, home canning was big in America and fruits were the most popular foods to preserve. The basic process involves cooking the fruit; pouring it into hot sterilized jars; eliminating any air bubbles in the mix; affixing a top that allows an airtight seal to occur; and boiling the filled jars for 10 minutes.
Canning's magic is based on an alchemy of heat and air pressure that creates a vacuum in a jar that seals it. Home cooks can preserve almost anything, but fruits and some vegetables are easiest because they can be processed (the last step) in simple boiling water – 212 degrees. Jars of meat stew, for instance, need to be processed at a higher temperature – above 240 degrees — which requires a pressure cooker. (It takes a higher heat to kill the microorganisms in meat required to ensure that the food is safely preserved.)
The Sommers sisters have been making jams and jellies all their lives, but started selling their preserves at the Hingham Farmers Market last year.
Some of their recipes and certainly their know-how are a natural inheritance: their great grandmother, born in Hyde Park in 1888, was the oldest of 13 and canned as a part of her household chores. The sisters' mother's family lived with their great grandmother in Scituate — before she married and moved to Hingham — and so the knowledge was passed along uninterrupted.
It is the most natural next step that the sisters would be the generation to expand the craft by collecting and creating the extensive variety of flavors that comprise their line.
I visited them at work one recent night when they were finishing up a dozen jars of apple butter and starting some beach plum jelly. Christine and her father had picked about 100 pounds of the rare fruit in Carver, where a farmer had planted some at the edge of a marsh.
When I began tasting several of their offerings, I suddenly realized that I'd never considered jellies and jams as much of anything. But each small taste of these bright concoctions burst with a piercing flavor that instantly commanded interest and respect. I loved them all – think they are gorgeous – even physically: the translucent crystalline jewel tones of some remind me of rubies and emeralds.
Sommers' Bounty makes more than 30 flavors that sell at the low price of $5 each. There's Granny Sutton's Red Pepper Jam (the recipe came from the grandmother of one of Christine's high school friends), and piccalilli, a green tomato relish passed down from the sister's great grandmother. Their thick apple butter, which has no sugar, is another family standard that their "mother always made."
Face to face with their customers at the farmers market, the women see who likes what. Kids especially like banana jam and carrot cake jam – which tastes just like carrot cake.
"It's interesting to see what customers like," said Christine. "Beach plum is definitely an old-fashioned regional favorite. Anyone who grew up around here would go pick the plums. Some of the older people are glad someone is still making it."
The preserves have been steadily gaining popularity – on one of their recent days at the market they sold more than 150 jars. They also have a website where orders can be placed.
The women stock their inventory in a spare room in Christine's home. Dated jars are stacked in box bottoms on neat shelves, flavor by flavor. Taken together, they're an archive – a living library — of this year's harvests.
For more info, visit
www.sommersbounty.etsy.com