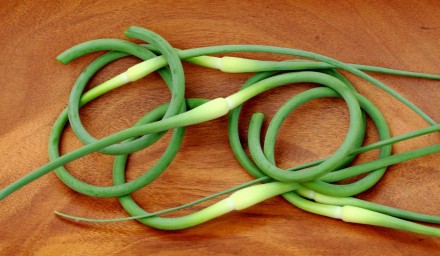 For the past ten days, I've been tracking the scape harvest across the microclimates of Massachusetts and can announce with surety that the time is now: Scapes are out there in the gardens, farms, and markets of Boston's South Shore this week.
Do you know scapes? Or garlic scapes, as Ron Simons of Scituate's R & C Farms brightly said when I called to see if he had any. They're tall, green, curly stems with little bulbous pods that shoot up from immature garlic plants. Farmers cut them off so the plant can send its energy into its subterranean bulb, rather than its seedpod, and they're becoming increasingly popular with cooks.
Each garlic plant produces a single scape and since growers harvest them all at once they're only on the market for a couple weeks after they first appear.
I'm slightly embarrassed to say that I've only just come upon scapes. I got some last week at the Monday Farmers Market in the South End from Spring Brook Farm (cq) (which also sells at the Hingham Farmers Market). Since the farm is in Littleton, about 40 miles inland from our cooler coastal fields, their crops mature earlier than ours. On the same day that one grower closer to the coast told me that her scapes looked like little bird beaks an inch up from the soil, Spring Brook's were a foot long (or would be if they didn't curl).
Back at home, standing in my kitchen face to face with a large pile of scapes, I bit into one. It reminded me of a scallion but with a mild garlic flavor rather than an onion taste.
To get the ball rolling, and because I was starving, I made some tuna fish salad with mayonnaise and a couple coarsely minced scapes. I usually put chopped celery in my tuna, but I didn't have any. The scapes were an improvement! They added the great green crunch of celery while also imparting a garlicky aromatic dimension. Actually, I liked them so much that I munched on another scape, like it was a scallion, while I ate the sandwich.
Next (fortified with a little food), I cut a bunch of scapes into lengths of an inch or two. They are most tender closest to where they were cut and tougher at their pointy tips, which I discarded. After sautéing them in butter, olive oil, and salt for about four minutes, I added a few tablespoonfuls of water and covered the pan quickly. (When I was sautéing them, they created the same sticky amber-colored residue in the bottom of the skillet that garlic does.) Tasting them intermittently, I deemed them cooked in a total of about nine minutes.
They were good, perfectly good, tender and good — but much less garlicky than when they were raw.
In fact, they needed some garlic.
So I made a second batch (sautéing them at a lower heat so they wouldn't give off that sticky garlic residue) and added a couple cloves of minced garlic while sautéing, which was perfect. Much better.
I then added the whole batch to some cut up boiled potatoes, with lots of olive oil, salt, and pepper. Beans and potatoes is an old family recipe, and I thought of it because the scapes looked so much like beans.
It was fabulous.
You can eat scapes and potatoes (or beans and potatoes) hot, at room temperature, or reheated in a frying pan the next day. Refried (with olive oil) like this can make the dish even more delicious because you get some crispiness on both vegetables, which adds flavor and texture. Throw in some fresh basil and you've got summer in a bowl.
Simons at R & C Farms (on Route 123) expects to have his scapes in by the Fourth of July — later than most growers around here (he planted late). Hingham's Whole Foods should have them now – ask Marlon Garcia, the head of produce, he'll point them out or know when they'll be in. And look in your neighbor's gardens, at farms stands, and Farmers Markets. Scapes are a quick crop growing in time across the landscape like a fan wave at Fenway Park. Get some if you can.