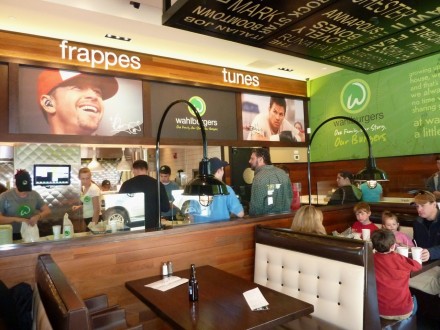 News of the recent opening of Hingham's new burger joint exploded this summer in a Hollywood-powered media blitz that was hard to miss. Even before the TV segments, newspaper, US and People magazine blurbs, there was lots of local talk: a deal for a reality show on the place had been signed; a green initiative, somehow linked to the White House, was underway; and plans were being drawn for a nationwide chain.
Whether or not these rumors come to pass, the hilariously and brilliantly named Wahlburgers, lends some of Hollywood's bright light to the Launch at Hingham Shipyard complex, hopefully helping to anchor its growing presence.
The 80-seat (there are another 40 on the patio) uber fast food restaurant and bar is owned by longtime South Shore chef Paul Wahlberg and his celebrity brothers: TV- and movie stars Donnie and Mark Wahlberg.
In June 2010, when Chef Paul opened his first restaurant, Alma Nove, across the street from the new Wahlburgers, his
brothers were investors, but quietly so.
Now, with Alma Nove's success, the brothers have put their star power and family story on proud display in a brand with an unforgettable name that could take this bad boy to the stars.
The retro modern diner-inspired décor is filled with movie memorabilia and the family focus is graphically encapsulated in the restaurant's highly visible logo: Wahlburgers: Our Family, Our Story, Our Burgers. That story — written on the rear wall in large letters — is a familiar Boston tale: nine kids in a triple-decker in Dorchester didn't have much but each other.
The bright windowed space is a large V-shape (or maybe it's half a W?) with an open kitchen between the two rectangular wings. One side offers table service with seating either at large communal tables for 10, or at the bar. On the other side, people order at the counter and either sit at a booth or a two-top – or get the food to go. In warm weather, there's great patio seating.
Housed in the former Pizzapalooza (which, sadly, never drew a crowd), Wahlburgers has been packed (during peak hours at least) daily since it opened last month. On four recent visits, timed to avoid crowds, the place was still crowded. The owners, who also include family friend Ed St. Croix (cq), have created a very clever business by including a full bar and making it the only place around that's open seven days a week until 1 a.m. The option, too, for self-service nicely removes the cost of a tip, as do the credit card receipts, which offer no line for writing in a tip.
Wahlburgers isn't really about the food. It's about fun and filling up on satisfying comforts in a lively, easy environment. Eight flat screens line the walls above the bar – the brothers are big Boston sports fans. Music, too, is important to the lads (Donnie got his start in the '80s in the boy group "New Kids on the Block") so the sound system is great and the play list widely varied.
The menu is small but well thought out. There are nicely seasoned turkey burgers ($6.25) and three main beef burgers – the cheapest being the single decker ($4.50), and the most expensive, the triple decker at $9 ("like the house we grew up in" says the menu). The sandwiches have a grilled toasted bun and can be ordered with a large selection of toppings that includes fresh jalapenos, smoked tomato salsa, and sriracha sauce. A single or double decker with, say, catsup, mayo, mustard, pickles, tomato, and the "government" (American) cheese the Wahlberg's grew up on, delivers mouthfuls of hard to resist, classic, fast-food burger flavor.
Three burgers with set toppings are offered as specialty choices. The Thanksgiving turkey burger ($7.50) is topped with stuffing, cranberry sauce, roasted squash, and mayo. It is sweet, savory, and gooey — in a good way. The beef is all antibiotic- and hormone-free, a nice boon, and healthier burgers, including salmon and mushroom, are due to debut soon. The kids menu has good Bell & Evans (cq) hormone- and antibiotic-free chicken fingers with fries for $5; a simple grilled cheese on thick white bread with fries ($4), "smahlburgers" with fries ($5), and kid-sized sodas for a buck. There are also tater tots ($3) and sweet potato tots ($3), which are fine but I'd rather have the fries ($3).
I love (God forgive me) Wahlburger's hot dog ($4), with its snappy bite, the choice of some good sauerkraut, and its grilled roll. (I don't know where else around here I could get as good a dirty water dog as this one.) We also found the skinny onion rings outstanding, and one hard pull on the thick chocolate frappe ($4.65), made with local ice cream from Nona's Homemade (cq) ice cream shop, brings on flashes of pure childhood goodness.
The chef's ingrained hospitality is evident in little touches aimed to please a variety of guests: good French roast coffee; house-made lemonade, locally-sourced Hornstra Farms chocolate milk, and caramelized onions, sautéed mushrooms, and avocado as optional burger add-ons ($1).
Noticeable too are a pair of plain salt and peppershakers on each table (no need for paper packets of S & P at Wahlburgers).
Very retro.
19 Shipyard Drive, Hingham
Daily 11 a.m. to 1 a.m.
781 749-2110
wahlburgers.com
Accessible to the handicapped
Major credit cards accepted