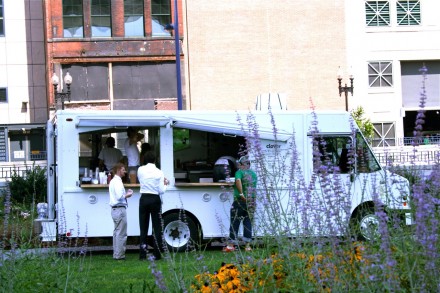 Before biting into an amazing egg and eggplant sandwich from Clover Food Labs in Boston's Dewey Square a few days ago, I hadn't truly understood the growing phenomenon of food trucks.
But this was the most wonderfully flavor-packed, unusual, and satisfying sandwich I've had in a long time, and it excited me.
I'd been only marginally aware that a great mobile restaurant scene has been sprouting up in several American cities – Austin, L.A., Portland, Seattle – when Clover brought it all home to me with a sandwich, some rosemary fries, and a heady sip of its lavender lemonade.
We're talking restaurants on wheels with fresh, innovative, inexpensive food.
I'd heard and read raves about several such food trucks in various cities (many have blogs; post menus on Facebook; list their daily whereabouts on Twitter), but I hadn't eaten at one until last week.
Now, I'm a devotee wishing we had a food truck like Clover on the South Shore.
The flowering of this food movement, if you will, is evolving out of a perfect storm of economics and foody-ism: Food trucks are cheaper to get up and running for a generation of chefs and cooks driven to slice through financial roadblocks and take their beautiful food to the people. And the food is fresh, often local, fast, healthy, tasty, and inexpensive – factors that have become more important to a large segment of the population than the trappings of a restaurant.
"It costs between $80,000 and $100,000 to outfit a truck like this – for everything – and it can cost up to a million for a restaurant," said Vincenzo Pileggi, as he expedited orders from outside the Clover truck, across from South Station. Pileggi used to work at the Four Seasons and studied under Clover's Executive Chef, Rolando Robledo, while getting his culinary degree at Johnson & Wales (cq).  Clover owner Ayr Muir, who has an MBA from Harvard, has a crew of very enthusiastic food lovers working Clover.
Robledo has cooked with several greats, including the (arguably) most revered chef in America today, Thomas Keller (renowned for his monk-like reverence for cooking).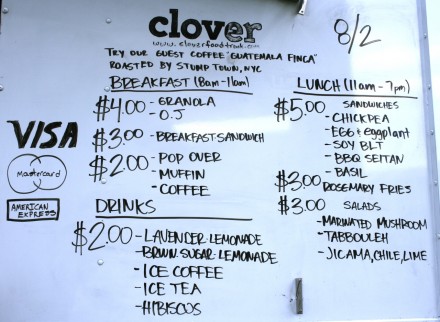 Ayr opened the first of his two food trucks almost two years ago in Cambridge as a test run for a future restaurant. Things went so amazingly that he launched a second truck two months ago; is now building his first (stationary) restaurant in Harvard Square; and plans to launch Clover in other cities.
Boston City Councilman Michael Ross sees all this and wants Boston to be in on the culinary and cultural richness a thriving food truck scene lends a city. Last month he published an order calling for a hearing on simplifying the licensing of food trucks. Ross's document cites the appeal of food trucks to a large demographic; their economic value; their popularity in many cites; and their potential to create jobs in Boston.
South of Boston we don't have many food carts – never mind gourmet food trucks – and when a hot dog cart showed up at the Hingham bathing beach in late May, my car veered right into the parking lot: more than once.
"It's the weather, the ambiance, the quickness that makes people happy," said Jim Conroy, the hot dog guy, who's on hiatus now but plans to return. "People seemed to think a toasted roll was the thrill of a lifetime."
I know I did: his buttered, toasted rolls were great and so were his Sauer kraut, his price ($2), the lack of packaging (he served his dogs on a napkin), and the fun of finding a fast treat in an unexpected place.
But as delicious as Conroy's hot dogs are, Clover's sandwiches and salads are better.
And, better for you, I'd venture. Ayr and his team take great pains to find the best products they can (local and organic when available), and put just as much effort into preparation.
Ayr talks at length about all aspects of Clover on his blog.
Recent entries follow his process for developing a new, cold, single-brew, iced coffee method that results in drinks with less caffeine than other methods produce (and a deliciously smooth, rich drink, I can testify). This guy isn't doing nothing with that MBA of his: his idealistic vision about selling delicious, healthy, fast food is supported by the business acumen to find ways to do that. He's passionate about Clover's food – a passion he shares with many of today's younger restaurateurs, chefs, and eaters.
Enough about Clover Food Lab except to say that if I lived near it I'd eat there everyday and I could, too, since much of the menu changes daily and the highest priced items are  $5!
Problem is, it's 25 miles away.
So, please, somebody, hear my plea: Build a great food truck and come on down to the South Shore. Live your dream and make mine come true.
Click here for an update on the truck scene in Boston.