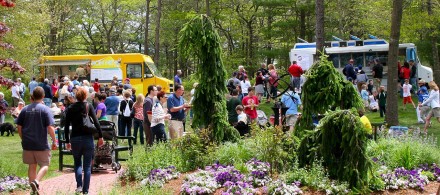 I saw the future of South Shore dining last weekend and it was moving.
Literally, moving.
Restaurants on wheels – food trucks – are getting major support from the Boston City Council, which passed an ordinance in April to expand access to them. More recently, legislators opened up the first batch of locations throughout the city for about 30 mobile eateries, and — like mushrooms after rain — the trucks are sprouting up everywhere.
And last Saturday in Plymouth, there was The Fabulous Food Truck Festival.
Circled around the green at Pinehills Village, a half-dozen mobile restaurants created something akin to an instant, gourmet food court.
At midday there were at least 60 people in line at all the more unusual, new trucks like Bon Me, The Eat Wagon, and Grilled Cheese Nation.
Summer Shack's Clambake on Wheels, The Froyo truck, and Kick Ass Cupcakes were also crowded, and although standing around on a beautiful day isn't the worst way to pass time, I just didn't have the patience.
If, however, I could walk up to a truck at a local park or parking lot and get a rice noodle salad for $6 — the way I now get a hot dog from the hot dog cart at Hingham's Bathing Beach — I'd be there every day.

That said, I did, actually, weasel my way to the front of the line and into a delicious sandwich from Grilled Cheese Nation.
Like all the truck menus, partners Todd Saunders' and Ron Sarni's bill of fare is smartly small. I chose a delicious Gouda grilled cheese with caramelized onions and mushrooms, called In Gouda We Trust.
What makes the food truck phenomenon so exciting is that most of the food is fresh, innovative, and inexpensive.
Trucks are the new world for many young chefs coming up in a scaled-back economic climate flavored with environmental concerns. Their passion to make beautiful food, channeled through the times and the trucks, is resulting in simple yet sophisticated dishes made from high-quality — often organic and/or locally sourced — ingredients.
Saturday's fare included burgers and hot dogs from grass-fed beef; cheeses from local producers like Smith's Farmstead; organic breads from Iggy's; and brown rice with tofu and shiitake mushrooms.

The trucks share a hip, no-frills, utilitarian style and depend on free, online marketing via websites, Facebook, and Twitter (Bon Me's website identifies its trio of owners as "Ali (the Chef)," "Asta (the Trucker)," and "Pat (the Numbers Guy)".
I don't know the pedigree of all the chefs and cooks behind Saturday's trucks, but I do know that Bon Me's Ali trained at the country's foremost cooking school – the Culinary Institute of America — and that Boston chef and James Beard nominee Will Gilson co-owns The Eat Wagon along with Aaron Cohen, the guy behind Twitter's "Eat Boston." (Nearly 16,000 people follow Cohen's Tweets about where to eat in Boston.)
Grilled Cheese Nation owners Saunders and Sarni have also launched Food Truck Nation, a support organization for food truck owners and wannabes. The organization represents one of the food truck manufacturers, which could make it easy for newcomers to get in on the scene. Sarni is also the founder and president of the Boston Area Food Truck Association (BAFTA), which has 50-plus members who are extremely active.
"I've never seen a group of people working so hard to help each other. We're trying to collectively launch an industry here. Our goal is to make Boston the best food truck city in America," said Sarni.
Tricked out food trucks start at around $60,000 and average upwards to $150,000.
"The low cost, allows young culinary professionals to start a truck and make their mark," said Sarni, who expects Boston to see a couple dozen food trucks this year and maybe as many as 50 next year.
He also thinks it's inevitable that the phenomenon will be coming our way once it's really up and running in Boston.
I'll be waiting.