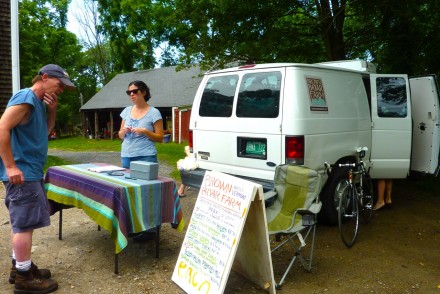 The road that leads to the truck that sells Vermont-raised heritage pork winds along a stretch of Cohasset's North Atlantic that shames Beverly Hills with its mansions.
One after another, stone castles, Tuscan-inspired villas, ultramodern constructions, and old, wooden, 20-room houses lie like jewels set on a watery edge of sea grass and rock ledge.
Then a right, and another right into Holly Hill Farm, and there, in the barn yard, next to the horse corral and the farm stand, is the Brown Boar Farm truck.
People come from all over to buy Brown Boar's pork at the farm one Saturday a month: not only because it's so delicious, but because the pigs are humanely raised on a small, family farm in Wells, Vt.
The farm's two heritage breeds — Tamworths and Berkshires — spend their time rooting around the 106-acre farm's fields and woods for acorns, roots, tree stumps, and more. The farmers supplement the hog's foraged diet with grain and whey.
Although these breeds love being outside, even in cold weather, they have free access to various shelters constructed throughout the farm, but are never constrained from being outside. Fresh spring water is available all over the property (which is fenced so the animals can be rotated among areas), and the pigs can give birth wherever they want: either inside on hay, or outside in nests they build from leaves.
Father and son Peter and Christopher Burrows, originally of Scituate, bought the farm in 2001. Christopher found it while studying farming at Green Mountain College in the next town over. The Burrows decided to start raising Tamworths after having bought a couple to clear overgrowth and seeing how happy they were when allowed to forage freely. Today, they have about 30.
Heritage is the term used to designate breeds of livestock that descend from various original breeds brought to America from Europe by the colonists. Tamworths and Berkshires have evolved to thrive in a climate like Vermont's and are extremely hearty when allowed to live naturally.
Brown Boar's South Shore sales are orchestrated by Peter's daughter and Christopher's sister, Scituate's Meaghan Swetish. Swetish makes year-round, monthly deliveries to Holly Hill Farm and Plymouth Farmers Market. In the warmer months, she also sells at the Marshfield and Bridgewater farmers markets.
Swetish sends out mass e-mailings to let people know when the truck will be where — and to take orders. Ordering ahead of time helps the farm know how much of which cuts to bring, but Swetish says there is always extra for spur-of-the-moment shopping.
The taste of Brown Boar's pork is not lost on the culinary world. Top Boston chef Barbara Lynch buys a whole pig (about 200 pounds) from Brown Boar monthly for use at one of her restaurants — The Butcher Shop. Lynch and company butcher the whole hog in house. Brown Boar also sells to other selected restaurants, including Scituate's Oro.
The Burrows have their pigs slaughtered (generally two a month) at Eagle Bridge Custom Meat & Smokehouse — a humane facility about an hour by car from the farm. This means that after the farmers drive the animals there, they are treated well.
Experts say that an animal's consciousness is very focused in the present moment and if given food and water upon arrival in a new place, it will stay calm and contented. The pigs are slaughtered that day with a bolt to the head that kills them instantaneously. As hard as this may be to ponder, it is a fact that humane slaughtering is a far cry more humane than the alternative.
"It's as stress-free an experience for them as it can be," said Swetish. "The whole operation at Eagle Bridge is transparent. Farmers are welcome to walk the kill floor and the whole place."
Eagle Bridge also butchers the pigs, packaging and freezing every part of the animal, and makes the farm's wonderful sausages.
"I've been driving down here for about a year," said Michael Horan of Stoughton, while buying several different cuts at Holly Hill last month. Among Horan's purchases were some heart, liver, and trotters — for his dogs.
The farm's Italian sausage, both sweet and hot, is very popular. They come five to a one-pound package ($8) — one of the more costly items in a product line that is priced very competitively. They're delicious. I use one or two sausages to add tremendous flavor to a simple marinara.
A little bit of fine meat goes a long way.
To get more information about purchasing locations, a pricelist, or to place an order to be picked locally, contact Swetish at meaghan.Swetish@brownboarfarm.com or 781 545-6065.