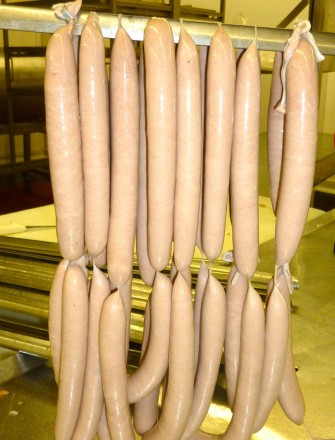 You have to pity the poor hot dog.
Not since… I don't know what… has something been so loved and hated at the same time.
Millions of Americans absolutely adore this virtual symbol of the quintessential American holiday yet denigrate them, and themselves, for eating them.
So, being an inveterate hotdog lover who's devoured quite a few since the Fourth of July, I'm here to testify to the honorable culinary tradition from which they spring (in case you don't know).
Hotdogs, members of the sausage family, are a type of preparation known as emulsified forcemeat and are related to such respected delicacies as pate, mortadella, and bratwurst — as well as many a lovely stuffing used in a number of foods.
Emulsified forcemeats are made by emulsifying lean meat, salt, water, and fat into a fine puree in the big bowl of a chopping machine. Ice is actually used, rather than water, since friction from the chopping causes heat, and the meat mixture must remain colder than 60 degrees or the fat will separate from the protein (think water and oil).
Even though I've long since gotten wise to the amazing fact that the South Shore seems to have at least one of every type of great culinary creator, I was still surprised to find that we have a master sausage maker!
Hingham native and resident Dave Nosiglia, owner of the Smokehouse retail store in Norwell, manufactures about 70 types of sausage and smoked specialty meats at his small processing plant in Mattapan, including a fantastic classic hotdog he calls a wiener. Nosiglia learned his trade in Germany where he apprenticed for three years soon after graduating from high school in the late '70s.
Nosiglia's hot dogs are an emulsification of lean hindquarter beef, water, and fresh ground pork fat (not some sort of processed lard, in case that's what you're imaging). Salt and spices (including white pepper, paprika, nutmeg, and all spice) are also added to the mix, which is then shaped inside natural casings, cooked in a hot smoker, and cooled.
"It's like making a bread dough — then after they're cooked, they're like bread," said Nosiglia about his hot dogs.
I didn't quite get this until I watched him make his wieners.
The hotdogs are made in an enormous chopper that has a bowl that rotates as the mixture works — a lot like dough in a Kitchen Aid. The beef, ice, and spices are added to the chopper first and processed for several minutes before the fat is added. Sodium nitrite – a curing, preserving agent – is also added. If you don't like the idea of nitrites, Nosiglia also makes an organic wiener in which a costly freeze-dried celery juice powder is used in its place.
As the meat "dough" gets close to being the right consistency, the sausage maker pokes it repeatedly to see how it's coming (like you would a bread dough).  At one point, near the end, after adding a bit more ice, he shuts off the machine and it's done.
From there, the mixture is transferred to another machine that forces it through a die into a long length of natural casing. Workers, then, somehow twist and twirl the casing to create individual links. And, finally, after a large stainless rack is filled with wieners, the whole thing is rolled into the smoker, which looks a bit like a walk in refrigerator, where they get smoked in beechwood and cooked for about three hours.
Nosiglia sells his wieners and many of his meat specialties wholesale throughout New England. His only retail outlet is in Norwell, although Mary and Robert Gonsalves, who love Smokehouse products, sometimes sell them at their wonderful shop, Bloomy Rind, in Hingham Square.
"I would fight for the hotdog – I love good hotdogs," said Gonsalves, getting right into it when I stopped into his shop a couple days ago raving on about the wieners from the Smokehouse. Gonsalves, a graduate of the Culinary Institute of America and a brilliant chef, was the executive chef of Todd English's celebrity restaurant empire for 12 years, and knows whereof he speaks.
So, while there are indeed crummy hot dogs out there, a good one is a thing of beauty and a preparation that takes skill to do well.
So pity the hot dog no more but give it its rightful due.
Hear! Hear!