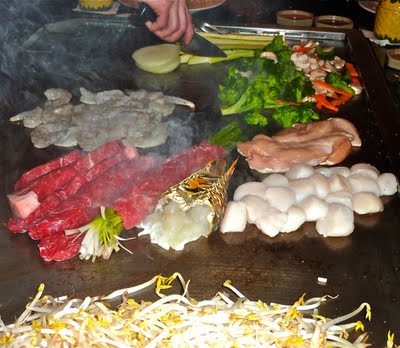 Before you even approach the hostess at Braintree's new Tokyo Japanese Steak House, you have to make a choice: do you want to go left or right?
Nod your head to the right, and you can sit in a booth at a granite table with an electric burner embedded in its center. Go left and take a seat – theater like — at one of the restaurant's hibachi cooking grills.
It all depends on whether you want to have a chef entertain and cook for you or whether you want to entertain yourself cooking your own meal shabu style — in a simmering pot of broth.
Of course, you could also sit at the sushi bar — or in the regular bar — but if you do you won't be able to have the kind of interactive dining experience that is Tokyo's main attraction.
The 300-seat restaurant, which opened last month in a stand alone building in the South Shore Plaza parking lot, is one of the few places around that offers both hibachi and shabu meals.
Although the hibachi scene may not be hip enough for some, come on: It's really fun. I'm betting that almost anybody would have to work hard not to get a kick out of the skill and theatrics with which the chefs cook the various orders for each table of eight. I saw solemn faces crack open with absolute glee, what with our chef's spatula egg tossing (for the fried rice); his pitching veggies into customers open mouths; and the tall flames he ignited with his squirt bottles.
And the food is good, light on fat, and vegetable heavy — on both sides of the restaurant. On the night we had hibachi, my friend ordered sirloin ($18) and I had the chicken-scallop combo ($19).
Each entree comes with a tasty bowl of very light and brothy chicken-based soup; an iceberg salad with a customary Asian ginger dressing that I love; and three grilled shrimp.
Once the orders have been taken and the drinks, soups, and salads dispensed by a small army of servers, the knife- and spatula-wielding chef arrives center stage with his stainless steel cart of food and begins cooking.
The scallops were fabulously, sweetly delicious: I'm longing for more of them. They were deeply caramelized yet perfectly cooked. The shrimp were flavorful but a touch overdone and the steak was tasty but didn't have the sear I would have liked. The white meat chicken was good and the plentiful mass of veggies was wonderful – broccoli, zucchini, mushrooms, carrots, red peppers, and mung bean sprouts.
When giving our order, we hadn't realized that fried rice ($2) and soba noodles ($4) were extra, but they were good – especially the sweet and savory noodles.
Across the restaurant in "shabu shabu" land (shabu shabu is an interpretation of the swish swish cooking action used in the hot pot) the scene is different but the lively, fun atmosphere is similar. Each party is seated at its own booth at a table dominated by a stainless steel bowl holding two differently flavored simmering broths.
Dinners include the main protein of choice along with noodles (udon, spinach, vermicelli, Japanese potato, or mung bean) and an enormous plate of raw vegetables, including watercress, tomato, a sweet hunk of corn on the cob, carrots, spinach, mushrooms, turnips, and even taro. Servers set you up with bowls of soy sauce and tiny dishes of four condiments – chopped garlic, hot pepper, scallions, and an outstanding barbecue paste (the best I've ever had) — so you can mix your own dipping sauces. Dinners also come with a basic meat broth, or you can order differently flavored versions. We chose a miso ($3) and the spicier Thai tomyum ($3).
One rib eye dinner ($17) and a side of salmon filet ($5.50) was plenty for two of us.
And that's it: You turn the burner up or down to keep the broths between a simmer and a boil, take your chop sticks, fork, and/or little tea strainer-like tool, and swish swish your food in the broth to cook.
The rib eye – sliced almost as thin as deli meat – is done in 30 seconds, max. I loved the salmon and the vegetables, but found the rib eye less delicious than that wonderful cut of meat would be on a grill.
I would have liked better dipping sauces than the ones I was able to concoct from my little pantry of ingredients. Actually, I think the poached shabu foods would have been tastier with the delicious, creamy dipping sauces that are served with the hibachi meals: one tasted of wasabi and the other of ginger. (I would have asked for them if I'd known: we had hibachi on a subsequent night.)
Not realizing how much food we were getting, we also ordered some very nice hamachi sushi ($5).
There are many other kitchen-made dishes to order at Tokyo Japan, and they may be wonderful. I'm quite sure, though, that when I go again, I'll sit at a hibachi table and order scallops.
250 Granite St., Braintree
Sunday through Thursday, 11:30 a.m. to 10 p.m.; Friday and Saturday, 11:30 a.m. to 11 p.m.
781 380 4040