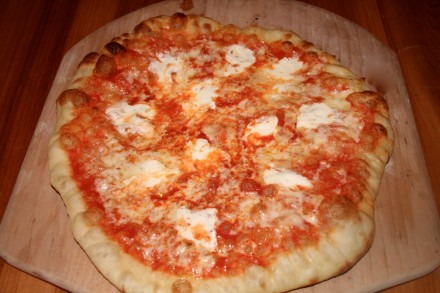 I can't tell whether what I did last weekend was clever or ridiculous.
Inspired (obsessed?) by a recent revelatory and mouthwatering encounter cooking pizza in a friend's wood-fired brick oven, I got to wondering if pizza could be cooked on a gas grill and come out better than what I can make on a pizza stone in my oven.
Hey, I know that gas grills have nothing of the raw, elemental appeal of a wood-fired brick oven. But I don't have a brick oven, and I do have a gas grill.
So I went to the wizard — Zee In-tair-net — and read postings from several people who grill pizza on gas grills using a two-part method: They cook one side of the dough on the grill, remove it, and cover the cooked side with the topping. They then grill it again, raw side down.
But, I didn't want to do it that way.
I wanted to grill a pizza, topping and all, in one maneuver to capture some of the magic that happens inside a brick oven.
Meanwhile, the conviction that I could do this was inflamed by what I'd recently learned about the principles of cooking, specifically, the conduction and radiation of heat, from Alton Brown's great book, "I'm Just Here for the Food."
So I understood that bricks in a brick oven absorb the heat the fire emits. They suck up such a tremendous amount of heat, in fact, that it can take hours for an oven to reach the desired temperature (usually around 700 degrees). But, once it reaches the target temperature, the stones act as heat sinks, holding and slowly radiating the heat — even though the front of a wood-fired brick oven is always open. Wouldn't stones work well for holding a high temperature in a gas grill when the lid has to be lifted?
My first thought was to use a pizza stone in my Weber, but I figured that the stone would get so hot, that the pizza's bottom would burn before the top could get cooked. I also realized that a single pizza stone wouldn't be large enough to hold the heat once the lid was lifted.

What I needed, clearly, was a little heat-absorbing, heat-radiating cave inside my grill.
Back to Google for a tenth search, where I found some real inspiration: a guy who did just what I wanted to do! And, although his grill was bigger and had a few key advantages, it was exciting to see how he'd packed it with firebricks and made a gorgeous pizza in just a few minutes. (Check it out here.)
Never mind that his grill has a burner in the rear that heats the box (thus allowing food to be grilled using the indirect method), his example was enough to keep me going. (Indirect grilling is grilling on a surface without flames directly beneath it.)
Again to the web, where I found that Quincy's TLC Supply, a masonry yard, had firebricks in stock. The guys there were nice, explained that regular bricks and stone crack under high heat, and sold me 10 firebricks for $17.
At home, I assembled a small cave [at left] inside my Weber using firebricks and a pizza stone, and baked a couple 7-inch pizzas. The first was burnt to a crisp when I checked it at after three minutes. The second cooked pretty nicely in 90 seconds, but the oven was too small, so I assembled another.
For this one, I used a metal oven rack to support the top layer of bricks on the next cave [below].
Throughout, I kept notes on temperatures (600 degrees as registered on the Weber's thermometer); the status of burners on and off; cooking times; and number of lid liftings. I also kept dough weight, size, and toppings the same on seven of the nine pizzas I made.
So, how'd it work?
I couldn't get a spectacular or consistent result.
Most of the pies came out good [one of the more successful efforts shown here], better than I can make in my oven, but I couldn't be sure the next one would be the same. And they tended to burn on the bottom before the top could get browned prettily. The best I could do was make a good pizza with a crust that was a tiny bit too tough on the very bottom to be great.
I think that if I had a large gas grill with burners arranged so one side could be turned off and one on (allowing for indirect grilling) I could nail a great pie. I'd build the brick cave on one side; bring the oven to its highest temperature; turn off the burners on the side under the brick cave; and cook the pizza in three to five minutes. (I'd also add a bit of wood to the fire to lend a smoky flavor.)
So.

I still want a wood-fired brick oven, but don't want to spend the $3,000, or more, that they cost.
Maybe, I can build one myself with help from edible South Shore Food Editor Paul Marcoux of Plymouth, who made hers for $30 in materials! After this past weekend, I can kind of conceive of it. And, until then, when I really want a pizza, I'll probably pile the bricks in my Weber and make one.
(For a look at an insane brick oven a guy in California made out of a Weber kettle grill you will never forget, check this out.
And to see the mother of all wood-fired brick ovens, go to Bertucci's on Derby Street in Hingham or Franklin Street in Braintree. Their ovens are gorgeous and enormous and you can watch pizzas bubble up and cook in minutes.)