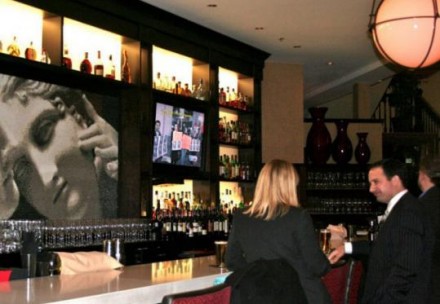 The new Alba lends a sense of big-city style to downtown Quincy.
Handsome Alba, with its dark wood and leather, high multi-level ceilings, and weighty stone presence lends a big city sense to downtown Quincy's Hancock Street strip. Situated among less substantial physical spaces – a variety store, a nail salon, a tiny stringed instrument dealership – the new Alba (it relocated from across the street in 2008) is an oasis of style in a tired area. With its white tablecloths, heavy finishes, and deep-set windows, Alba adds a lovely sense of old world warmth to the small city center.
The menu of this Mediterranean steakhouse ranges from appetizers to salads and sandwiches, full entrees, late-night dishes for $4.50 each, and big-time ala carte steak entrees (a 30 oz. grilled bone-in rib eye for $35.50 tops it out). Some menu changes will debut next week, (week of 1/31) reflecting the taste of new Chef Stephen Coy, (cq) who came on board after I visited late last month. And, like many restaurants today, Alba is offering a special three-course menu Sunday through Thursday for $25 and a 10 p.m. to midnight special menu of small dishes. (Quincy is one of the only places on the South Shore with a few options for late-night eats.)
The restaurant was lively and half full during dinner the Wednesday after Christmas. The space is large with 110 seats downstairs, function rooms upstairs, and a (currently unimaginable) rooftop patio. A dinner party of 18, seated at a long table, slid easily into place in the spacious dining room.
When I went back for brunch during a subsequent Saturday snowstorm early this month, the restaurant was understandably empty except for a very buff guy enjoying his omelet at the bar while glancing between his Blackberry and a television – sound off. I was totally comfortable sitting alone at a leather banquet corner table in the bar.
The best dish I had in two visits was a fantastically delicious sirloin (six or eight ounces – too much for me to finish) that came with the weekend brunch steak and eggs ($11.50). The eggs were good too — cooked a perfect over medium, which isn't that easy to get: whites solid, yokes runny.
Alba serves Creekstone Farms (cq) natural line of beef, which comes from animals fed vegetarian feed on farms certified to use humane husbandry standards and no antibiotics or hormones.
On our dinner visit, we started with a great white bean and escarole soup ($6.50) which came as part of the three course special that night.
We enjoyed the black sesame seared ahi tuna ($10.50) appetizer. The slices of fish were generous and edged in a dredging of sesame seeds that had been toasted to bring out their flavor (which I love).
Sometimes it's hard to beat fries and a hamburger — and the one in the Alba sliders ($10.50) was great (bacon criss-crossed on top) in its shiny brioche bun. So were its mates: a good lobster salad and a barbequed chicken (that looked like pulled pork) with an apple slaw on top. This filling plate of sandwiches comes with great French fries.
The evening's special salmon (part of the three-course $25 menu) was a large, grilled filet sitting atop some round, nicely al dente spinach raviolis and a layer of fresh, wilted spinach. The dish was nourishing – with some baby veggies too — but lacked seasoning.
Next was another favorite dish of mine: a half chicken cooked under a brick ($18). This one was crispy and delicious. The mushroom risotto, though, was undercooked: it needed more time on the stove to get creamier and let its good flavors meld.
Here, again, the chocolate molten cake I adore: a dark, warm cupcake-sized confection that transitions from moist cake into a near pudding consistency in the center. And the crème brulee (one of the special menu dessert options) had the delicate vanilla smoothness I love.
I'm interested in eating at Alba again under Chef Coy, who was the sou chef at Newton's Bokx 109 American Prime.
Prior to Coy, Keka was without a chef for a while, making due with a little help from some friends, including Chef Paul Wahlberg (who had a bit of free time after leaving Bridgeman's in Hull last year to start work on his own restaurant). I very much like Alba's atmosphere and its diverse menu: it's a solid, upscale venue in the heart of downtown Quincy.