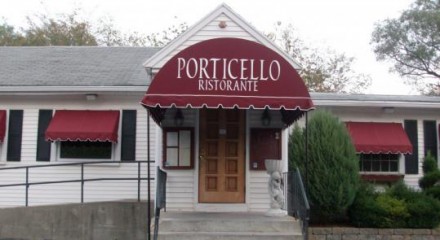 There's no scarcity of great restaurants in the suburbs, but they are fewer and farther between than in the city. So, when we heard about a good one, we made the jaunt to Easton to check out Porticello Ristorante.
It was easy to find on Route 138, and its classic white clapboard exterior and red awning conveyed a familiar coziness on a fall evening in New England. Inside, to the left, a large semi-circular wooden bar dominated a room crowded with drinkers and diners. Along with plenty of seating at the wide bar, there are four tables in the bar room — including a low one for lounging in inviting leather chairs. The large dining room sprawled to the right and we were seated in a quiet spot in a back corner near a private room.
I never tire of dipping bread in good olive oil and this one was deep green on a white saucer with a little island of parmesan along one edge. The bread was warm and the focaccia soft and light – which might not be the ideal for focaccia but I liked more than crustier versions.
We started with the P.E.I mussels ($10) in wine, butter, garlic, and parsley which couldn't have been better. They're tiny – most are no longer than a quarter – and coral pink. The little sea-flavored bites are perfect in garlic, butter, and wine sauce and these were a spot-on rendering of that classic recipe.
The crowd on this Friday night was mixed. A middle-aged couple near us ordered, ate, and left before we'd had our main course (regulars I think). A youngish couple to our right took it slowly over wine, and a large table of older women talked and savored many courses. The restaurant is roomy and the acoustics are great so it's effortless to hold a private conversation even if the dining room is crowded.
Sometimes a dish just grabs you and is the best thing you've eaten for a couple weeks. That's how the linguini all'amatriciana ($13) hit me.
Some Italian cooks swear that amatriciana cannot be great unless it is flavored with guanciale – a cured bacon made from pig jowl – rather than the pancetta used here. But I can't imagine how this dish could have been better. Guanciale is nearly impossible to find in the U.S. and pancetta added the base and creaminess to Porticello's version that guanciale is purported to impart. Chunks of fresh tomatoes added alternate bites of wetness to the thick clingy sauce and the heat of crushed red pepper followed a mild sweetness in the dish.
Most of Porticello's pastas can be ordered with a choice of linguini, fettuccini, penne, spaghetti, angel hair, or orecchiette.
After two home runs, it's hard to judge the entrees.
The chicken marsala ($16) is very good. It is two plump grilled filets of chicken breast covered with sautéed mushrooms in a dark and slightly sweet marsala reduction. I'd order it again.
The rack of lamb ($30)– the most expensive item on the menu – is tasty but would be better if it had more of a sear on it. The light mint reduction that the two, five-rib racks come with imparts a very clear mint flavor that I like. The dish arrives with a mass of steamed vegetables — broccoli, cauliflower, roasted red bliss potatoes, and carrots — which needs a drizzle of olive oil to be very satisfying.
The same side of vegetables is served with the grilled swordfish — ($26) the only disappointment of the evening. I can't taste the lemon, basil, or garlic the menu advertises: The kitchen seems to have neglected the fish almost entirely.
Dessert is a good crème brulee. Other offerings included a molten chocolate cake our server recommends, but we're too full to consider it.
Porticello was named after the town on the northeastern coast of Sicily where the owners are from – brothers Mario, Placido, and Sal Sanfilippo. (cq) Mario and Placido grew up in Sicily and were 10 and 9 years old, respectively, when the family moved to Dorchester in 1972, where Sal was born. Armed with a lifetime of family recipes and years working in kitchens, they opened Porticello in 1998. These guys can cook.