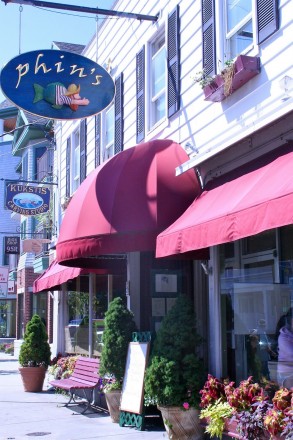 Sitting at a bare wooden table at Phin's Restaurant in downtown Scituate waiting for my lunch last week, I wasn't expecting much. The restaurant's interior is so uninspiring that I couldn't imagine that the food could be good. But it is. It's very good.
Just for the heck of it, I ate lunch, dinner, and breakfast there (in that order) over the weekend. Because my trusty dining partner had to work at the last moment and everybody else had plans, I ate alone – which felt fine in Phin's diner-like atmosphere. I sat at a table for two in the dining room for lunch; at a window table in the bar for dinner (best seat in the house); and had breakfast at the bar itself since the restaurant was packed.
I'm sure it wasn't surprise that made my lunch of crab-crusted haddock ($13) taste so delicious. It had a nicely crispy lump-crab topping which was flavorful enough to season the whole filet. And the delicate layers of gazpacho, sautéed zucchini and squash, and cubed avocado it came with were refreshing and light. I ate every bite.
By this point, I knew I was in the hands of a good chef – which seemed incongruous in the setting.
Early evening's candles, little white lights, and the sparkle of wine glasses on the tables added some much needed atmosphere to Phin's dinner set. I was served by the bartender who turned out to be the brother of owner-chef Aaron Pratt. He had just the right touch to make a single diner feel comfortable while not invading their privacy.
While two young women had drinks at the bar, I ate a delicious baby spinach salad ($4 as a side, $8 as a plate) lightly coated with a honey balsamic dressing that was distinctly tasty. The bacon in the salad was crispy, the mushrooms thinly sliced, and I liked the half-boiled egg on top.
Phin's pan-fried Spanish artichoke hearts appetizer ($7) was pretty darn good considering they originated in a jar — the way they do almost everywhere. (To dismantle this prickly vegetable and uncover its heart is so labor intensive I've rarely had them made fresh anywhere but in a home kitchen.) Phin's were good enough that I ate three of them – and the burst of basil flavor in the unassuming-looking basil aioli was shockingly great.
Main course, big deal, most expensive thing on the menu: a 10-oz. filet mignon ($24) with a cabernet reduction, mashed potatoes, and fresh string beans. The filet was excellent – a sprinkle of fresh pepper from a large grinder and I ate it with a butter knife. (Took home half.) And the sides were just right.
Equally delicious is Phin's Chicken Gruyere ($15), which I ordered to take away — to maintain my 007-like anonymity (as someone reviewing the restaurant) and immediately tasted in the car. The dish had two thinly pounded chicken cutlets covered in a sauce with a mass of beautifully caramelized onions, wild and domestic sautéed mushrooms, and Marsala wine. The title cheese was well integrated into the sauce because I couldn't detect it. With the mashed potatoes that were served with the dish, it was the perfect comfort food.
I was too full for dessert.
For a single diner it was fun having breakfast at the bar because it was easy to talk to the people sitting to either side. The guy on my left had a custom-looking breakfast of smoked salmon, capers, cream cheese, and red onion on a single piece of toast with a side of scrambled eggs. He looked like he was enjoying it so much as he read the Sunday Globe that I asked if he ate there much. "About twice a month," he said.
The fisherman's breakfast ($9.95) I had was okay but didn't look as good what everybody else was having. It comes with eggs, homemade potatoes, baked beans with large tasty nuggets of sausage, toast, and crab cakes.
On Thursday and Friday nights Phin's has two great deals in addition to the regular menu. On Fridays you can get two entrees from a group of specials for $25 total. And on Thursday nights Pratt offers two, three-course meals with a bottle of wine for $50. The wine list for this special includes eight labels from Italy, California, Washington, and Australia.
The restaurant was named in honor of Pratt's ancestor, Phinneas Pratt, who arrived on the South Shore in 1622 on a ship called the Swallow. Aaron says he's transformed the nuts, corn, and shellfish that saved Phinneas from starvation into such dishes as panzanella salad and pasta primavera.
The menu is always changing, said Pratt, who went to The College of Culinary Arts at Johnson & Wales University. Prior to opening Phin's in May 2007, Pratt worked as chef, sous chef, or banquet chef in several restaurants in Boston, San Diego, and Seattle. His last job was at the Barker Tavern. (cq—it's in scituate)
Phin's is unlike any place I've eaten before – a restaurant that looks like a breakfast place but serves fine food. Check it out.
Phin's, 95 Front St., Scituate
Breakfast & Lunch: Wednesday through Sunday, 7 a.m. to 2 p.m.
Dinner: Wednesday through Sunday, 5 to 10 p.m.
781 545-1110, phinsrestaurant.com