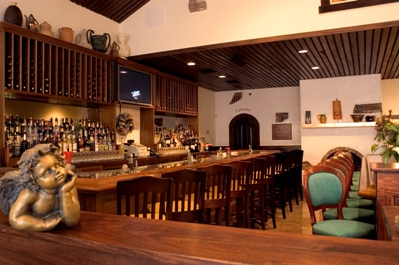 The bar at Trattoria San Pietro in Norwell
If it's true that a taste for simple rustic dishes is emerging as the culinary zeitgeist of the moment, Trattoria San Pietro is likely to become even more popular than it already is.
First clue: Instead of serving a plate of olive oil with the crusty Italian bread, a bottle of it – infused with fresh herbs and spices – lives on the table.
Second clue: The gamberi e rapini (shrimp and broccoli rabe, $15) appetizer does just what an appetizer is supposed to do: excites the taste buds. A mass of broccoli rabe is tender, and just the right amount of heat and time in the sauté pan has chased away its characteristic bitterness with a hint of caramelization. The flesh of the three large shrimp is springy, and whole cloves of baked, peeled garlic are easily mashed and spread on the grilled bread that comes with the mix.
Third clue: The place is filling up, and I can't help but notice a couple of women who look very much like my mother's older sisters, who were born in Italy.
By the time our primo piatto arrives, which the kitchen has kindly split for us, I'm no longer seeking clues.
How can you not begin to fall for a kitchen that delivers spaghettini alla carbonara ($15) truly al dente? Then, to have steam rise from it when you dig your fork in, is to start a love affair. This is the ultimate comfort food – bacon, eggs, and cheese pasta. It is as good as carbonara gets: I could die happy after eating it.
A sweet waitperson comes around with a hand-cranked Parmesan grater and a large pepper grinder after each course is delivered.

As we sit, I think about the menu's mention of organic eggs in the carbonara and start to get a picture of Vincenzo Nocera, who started the restaurant in 1993.
Years ago, while waiting for a table, I talked to him a bit (in Italian; mostly, I listened) so I have some idea of the man, and suddenly I understand. He buys organic eggs because they taste like the eggs he grew up with in the village of Siano, near Salerno, south of Naples – where his family had two restaurants. A few days after dining at the trattoria, when I speak to Nocera, he talks a lot about ingredients.
"People say this is just like my grandmother made,'' said Nocera, "but that is not true, it's better than she made.''
Why? Because his grandmother didn't have the money to buy the fine ingredients he can. Her meatballs were ground beef, he says; his include veal and sausage. When his source for pancetta went out of business, he began making his own, which hang by string in the kitchen. The olive oil: first-press extra-virgin Colavita. The New Zealand lamb – the best he can get.
On to main courses, which can't be as good, can they?
Yup. My agnello alla brace – wood-grilled New Zealand rack of lamb with mint and balsamic reduction ($27) reduces me to hand-held gnawing and I'm almost giddy at the collection of grilled vegetables that come with it. I have two whole medium-sized roasted potatoes, two little carrots, fresh pea pods, three asparagus, a scallion, large diagonals of fire-stripped zucchini, and summer squash.
My trusty dining partner's thick grilled swordfish is every bit as good. The fish is topped with irregularly chopped fresh garlic, mint, and aged balsamic vinegar, which reminds me of the use of mint in Italian cuisine. I had forgotten. The fish is served with the same menagerie of grilled veggies.
The wine list is large and includes 14 wines by the glass ($6.50 to $11), some domestic bottles, and choices from various Italian regions, including three from Calabria, which is rare.
Dessert is the only course that disappoints, and it does that thoroughly. One look at the pretty display of confections on a rolling cart and I'm sure they're all from the North End, which the waitress later confirms. We sample a strawberry shortcake-like cake ($5.75), but I have no interest after such a meal.
Nocera opened Trattoria San Pietro in 1991 at 515 Washington St. When the lease expired, he built his own building up the road and moved in 2003. (He did much of the magnificent outside stone work himself. (above)) He also owns Café Strega and Tuscany Tavern in Plymouth.
He now co-owns Trattoria San Pietro with Anna Duarte, who also owns Taranta in the North End with her husband. Her parents were born in the same village as Nocera, and she has worked with him since she was 21.
"The food is from our town,'' said Duarte. "Vincenzo is the main brain, he created the food, he teaches everyone. He makes everything.''
Trattoria San Pietro; 376 Washington St., Norwell; Open Monday through Thursday, 4:30 to 10 p.m., Friday and Saturday until 11 p.m., Sunday until 9 p.m.; 781-659-2009; trattoriasanpietro.com
Photos by Greg Klim