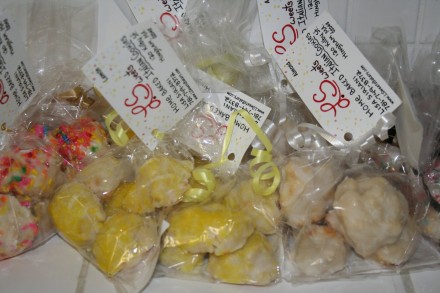 I can't think of anything more quintessentially sweet than a cookie.
Not sweet as in sugar, although of course cookies are sweet in that way too. It's their personality that I'm referring to — think about it: In the holy trinity of desserts, pie is good, friendly, filling, and true. Cake is celebratory, all weather, and queenly. And cookies? Cookies are the kid next door; they're the affectionate, humble, take-me-I'm-yours confection. Cookies are sweet.
Cookies have been sweet in another way to Hingham's Lisa Siriani who has a thriving, expanding business baking and selling four flavors of Italian cookies based on her grandmother's recipe.
Siriani and her family live in the house where she grew up. When she was little, she would help her grandmother make hundreds of cookies.
"We covered the beds with sheets so they'd stay clean and filled them with trays of cookies to cool," said Siriani.
Why would her grandmother make hundreds of cookies?
"For family events," said Siriani, whose very large extended family still lives on her street. "That's what you did. Someone got married you ate, someone died, you ate, something happened, you ate."
The cookie's are so second nature to Siriani and the business has taken off so well, that although she's very happy about it, she doesn't quite know what to think.
"It's just a cookie," she teases repeatedly. She's very playful as she shows me around her professionally outfitted home kitchen.
On the one hand, she sees her cookies as so simple she can't quite understand how they could be so popular. But on the other hand, she knows that she's never been able to find them anywhere else. In fact, she's doesn't think anyone will make them like she does even if they have the recipe.
It's hard sometimes to see what's right in front of you, what's always been right in front of you.
It's not hard, however, for her large family who come in and out of her house all day long sneaking cookies as she bakes one tray after another.
"They hang over me," she says. "They come in whether I'm here or not. My husband will come in and take platesful. I have no control over my product."
That's clearly another one of Siriani's joking teases: She knows exactly how much of each type of cookie goes to each of her customers – we're talking many hundreds a week. Not only that, but she knows which towns like which flavors – the anise, almond, lemon, or vanilla.
According to Siriani, it breaks down like this: almond is most popular in Norwell, where lemon doesn't sell.  Cohasset, however, likes lemon and almond — whereas Hingham favors anise and vanilla. Milton likes them small, Hullonians like them all — and so do her buyers in Weymouth, as long as they're large.
Siriani packages her cookies in cellophane bags or paper boats with ribbon ties. L. Sweets Bakery cookies come in various sizes, including packs of five cookies or 12 drops, each of which totals the same three ounces. She also sells larger packs of three. They're all incredibly inexpensive: $2 to $2.50 a pack.
No matter which size she's making, Siriani, who draws (beautifully) and plays the piano, wants her cookies to look pretty, insisting that people shop with their eyes.
When Siriani was a kid, her family would eat the cookies without the glaze which is what gives each cookie its flavor. I love them plain too: the cookie itself is just delicious.
Here's her recipe:
Cookie dough:
6 cups flour
1 ½ cup sugar
6 teaspoons baking powder
1 ¼ cup melted butter
4 eggs
½ cup milk
Glaze:
powered sugar
water
anise, vanilla, lemon, or almond extract
Combine the dry and the wet ingredients separately. When mixing together, touch them as little as possible. Siriani mixes them "like they were a bowl of soup." Pinch off spoonfuls of the dough-like mixture and bake on a cookie sheet at 350 degrees for 10 minutes.
Mix the glaze to the consistency and flavor level that you like.
When the cookies are still warm, float them upsidedown in a bowl of the glaze for about a minute and let them dry on a wire rack. Sprinkle with jimmies or colored sugar or nothing.
Have a cookie.
L. Sweets Bakery cookies are available at the Fruit Centers in Hingham and Milton, Norwell's Bo-tes Imports, That's Italian in Weymouth, and the Hingham Farmer's Market. www.lsweetsbakery.com