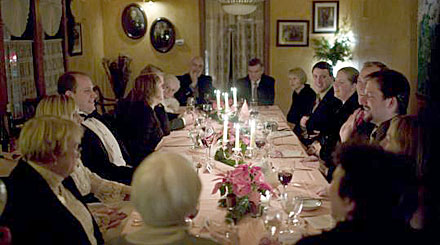 In an antique house in a quiet neighborhood a few minute's walk from Plymouth's main street is a most rare and wonderful South Shore eatery.
Chez Ducrot — French for "the home of the Ducrots" — is indeed the home of Linda and Philippe (cq) Ducrot. Philippe, however, happens to be a fine French chef and on Friday and Saturday evenings, the couple's home becomes Bistro Ducrot where five tables of guests dine on a four-course prix fixe menu ($42).
The rest of the week, Chez Ducrot is available for private parties, which take place in one or more of the home's four beautiful (transformable) dining rooms. The couple's Our House Services, Inc., (cq) also caters special events, offers food- and wine-related activities, including cooking classes, and hosts occasional tours to Provence, France, and Quebec, where they are this weekend. (cq: 7/18-19)
On a Saturday night late last month, we found ourselves opening the side door of 40 Russell Street on the thin guidance of a tiny sign. Inside, the entranceway was discretely stocked with cutlery and a kitchen with a man in white was visible to the left. We entered a pretty French provincial-style dining room to the right.
Rather than a typical breadbasket, we were met with a plate of parmesan and black olive cookies. Savory cookies were totally new to me and I found them very neat, delicious, and pleasing.
As the four other parties in the dining room went about their meals, we were served an open-faced mushroom tart – it had a single, round, light-as-air crust smothered in sautéed mushrooms. The salad of organic baby spinach it came with was bright and delicious with a mustard vinaigrette.
The most unusual and tasty dish of the evening was the crab cake course. It was oblong and covered in kataifi (cq) – which the chef described as a shredded filo dough or Moroccan vermicelli. It was wiry looking (like shredded wheat cereal) with an abiding and satisfying crunch that didn't come from being fried. The substantial dish was served with organic arugula – lovely – and a very simple, fluffy couscous.
The main course of the evening was a fine filet mignon in a red wine reduction. It was served with very delicious new roasted potatoes.
Dessert was a modernized tiramisu – according to the chef. It had only one cakey layer (ladyfingers soaked with liquor, chocolate, and coffee) at the bottom and was quite like a mousse – preternaturally creamy and great.
The entire meal (except for dessert) was light on butter and cream, which surprised me. Eating at Bistro Ducrot and talking with the chef and his wife made me realize that my conception of French cooking has been embarrassingly limited.
The rich haute cuisine for which the French are celebrated (and sometimes vilified) is only one layer of the country's culinary heritage. There are also (of course!) the cuisines that arose in hundreds of small French villages over hundreds of years: The provincial cuisine characteristic of people without enormous super markets, as we know them, who relied – and still rely — on available resources purchased daily.
Ducrot has worked in many top restaurants in Paris (including the Polo Club) and several American cities and holds three culinary degrees. He was raised, however, in the simple bistros of Marseille, a seaside city in Provence, France, and he has the heart of a country cook — and a technique that melds a range of influences pre- and post-dating the famous Escoffier.
"The bistros are places where the day's menu is written on a blackboard and it's maybe fish off the guy's brother's boat and the vegetables from his sister's garden," said Linda, who grew up in a rich family food culture in Newton with Italian-born parents. "This was Philippe's dream – to serve people in his own home in a town by the sea using all fresh food from his garden or grown or raised locally."
When guests reserve, Linda notes if they have any food restrictions or preferences. The chef consults the reservation list for the evening before going out to shop and fashions his menu from what he finds. His priorities when shopping – and he visits many markets and suppliers – are to choose, if possible, foods that are organically- or locally-grown and as natural as possible. (He periodically offers a class in marketing and developing menus based on a day's finds.)
Beverages, which are priced individually, include a nice French wine list – we had a good glass of Cote de Rhone – soft drinks, rose and lavender teas (hand carried from France), and French press coffee.
Bistro Ducrot has been run entirely by the couple since they opened in 2005.
"I tell people that it's just Philippe and me, the service is very slow, so if you need anything call out or come into the kitchen," said Linda. "Do what you would do in the home of a friend."
Chez Ducrot, 40 Russell Street, Plymouth
781 747-4148 Friday and Saturday 6 to 9 p.m.