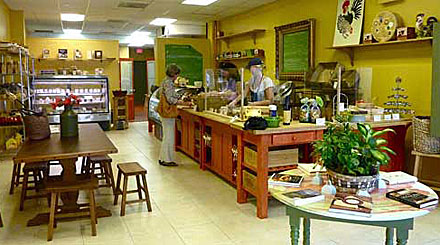 We've got a new chef on the South Shore.
A great chef, actually: one who trained at the Culinary Institute of America, cooked at Boston's L'Espalier, and comes to us directly from 12 years as executive chef of the enormous, celebrity restaurant empire of Todd English.
And what's more, this man — Robert Gonsalves — is not (and this sounds lamentable, but wait…) cheffing at a restaurant now.
Instead, he and his wife, Mary, have opened a gourmet foods and specialty cheese shop in Hingham Square called Bloomy Rind.
Why this is more exciting to me than if he had opened a restaurant is because Bloomy Rind has a very nice kitchen in back. And, because Gonsalves doesn't have to turn out 200 covers a night (the insanely difficult task of a restaurant chef) he can focus his culinary creativity on devising an ever-changing parade of daily side dishes, salads, unique sandwiches, and other amazing accoutrements to take away – or snack on – at Bloomy Rind.
I've stopped by the pretty shop several afternoons since discovering it last week, and every day I've tasted a different delicious dish – and learned something new.
Do you know how much knowledge a great chef has?
How they know how flavors play off each other and how to manipulate the various properties of foods to get them to taste this way and that? How they can modulate the alchemical reactions that occur through the combining of various categories of foods, or the proper application of heat's multiple forms, or how bitter goes with sweet, or the way flavors are built and layered using techniques as old as the first hungry mother who found a way to use every edible scrap that came her way?I don't know this stuff, but I know enough to know that Robert Gonsalves does.
You mention a dish or notice an ingredient, and words about a recipe or technique tumble from Gonsalves.
After running the show at such a high level for so long (ask him about Eva Longoria or some of the greats he's cooked for), I get the impression that it's as natural as exhaling for Gonsalves to turn out an asparagus bread pudding, a farro salad with truffle oil, or an egg white frittata so delicious they're startling.

It's second nature for this man to poach a batch of fennel bulbs in seasoned olive oil and then use the oil to flavor a pasta and the fennel in a sandwich or side dish. It's like falling off a log for Gonsalves to slow roast trays of thinly sliced zucchini and cherry tomatoes with garlic and herbs to use in sandwiches – nothing to him to shuck a bushel of fresh peas for his pea guacamole.
He'll make a citrus marmalade to go with his homemade foie gras ("I never heat it higher than 99 degrees."); a plum jam for one of his sandwiches; pumpernickel croutons for his salads; or slowly steamed beets with blue cheese, from a tiny farm in Vermont, with the ease that I make a bowl of cereal!
Yet cooking is only half of Bloomy Rind.
The Gonsalveses are fine food and cheese aficionados and know where to procure the best products — including artisanal, mostly domestic, cheeses.
When the couple began flirting with the idea of opening their own place last year, they visited every cheese shop and out of the way little cheese-maker they could find in the Northeast. After tracking down dozens of hidden farms along the Vermont cheese trail, in Connecticut, New Hampshire, and New York City, the Gonsalveses had decided what they wanted to do.
And they've been doing it for just two months now – seeing how it goes day by day.
"It don't know how this will evolve, it feels like a new concept" said Gonsalves. "I'm remembering specialty places in Rhode Island where I grew up where people hung out and talked — ate something, had a cupcake. We want this to be somehow more engaging than a restaurant."
Mary, too, is clearly excited by her experience of retail – liaising with both the small cheese makers she buys from and the new customers who find the shop.
"Every cheese has a story and with retail it's great because now I also get to hear the other side of the story — what the people do with the cheese," she said. "They come in and tell me!"
People are already trying to order ahead, but the couple isn't interested in any kind of catering. They want to stay with a high-quality daily shop experience. There's a big stainless steel table in the kitchen with room for many people. Cooking classes are definitely on tap. Who knows what else?
The Gonsalveses have a built it, and now the food lovers can come. Let's see where it goes.
21 Main St., Hingham, 781 740-1001, bloomyrind@gmail.com