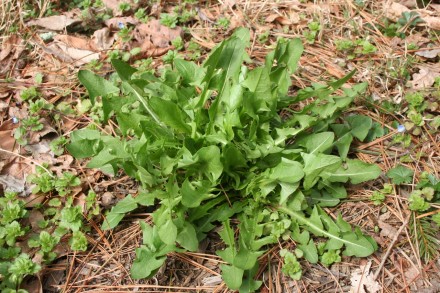 I cannot understand why — what with all the locavores and food bloggers out there going on and on about ramps, fiddleheads, and morels this time of year — nobody's raving about how great dandelion greens are.
Am I missing something? I think they should top everybody's list of wild foods: they're nutritional superstars, widely available, free, organic, and delicious. I love them.
But I haven't loved them enough to make the enormous trip from my couch to the back yard to pick them until this year.
Why? Some kind of constitutional inertia, I believe, that followed from the fact that I didn't know what time of year they were at their best for eating.
That I did nothing to uncover this elementary bit of information for so long is a sad example of the difficulty I have getting balls rolling.
Until this year, that is, when I suddenly couldn't stand not having a nice salad of oh-so-free dandelions the way I had them as a kid.
My mother was Italian and always made dandelion salads. But only at a certain time of year, and I was too busy back then (with boys mostly) to clock when exactly she was out there picking them. Then, by the time I cared, my mother wasn't around anymore. And, although it should have been the simplest thing to find out when to pick them, I'd been stumbling along not picking them, out of ignorance, for so long it was hard to get going.
Finally, this year, my desire to eat what was free for the taking prompted me to find out that early spring is (of course) the time to pick and eat dandelion greens.
Still, when I went looking, I was unsure if certain plants were dandelions since some of the barbed leaves have rounder ends than the majority that are pointed and spiky.
So, I was a little cautious: I mean, you hear stories about people getting deathly ill from things like toxic plants.
On a couple different days, I picked some leaves, brushed them off, ate them and didn't get sick or die, which was encouraging.
But, what if they were neither dandelions nor killer plants but instead some heretofore undiscovered herb with aging accelerant properties or one that thins the skin?
You have to understand that I grew up hearing my mother and aunts predicting the many gruesome ways their eldest sister, my Aunt Mary (who was born in Southern Italy), was going to die from eating the wild mushrooms she picked every chance she got.
So, needing reassurance, I called a friend who had a friend who forages a lot.  And this man was nice enough to show me around a dandelion plant!
Paul Trojano, a Norwell native who owns the great Caffe Graffiti in the North End right on the Greenway, met me at his parents' house in Norwell last week.
Trojano does most of his foraging in Vermont, but he knows his way around the South Shore, too.
We didn't have much time together, but I got exactly what I wanted: assurance that the two different looking leaves were the same plant. That and the fact that dandelions will be tasty between now and when their fronds flower, which should be about a month from now.
On our short walk around, we also picked some wild chives, which are all over the South Shore this time of year. They're delicious, too, and Trojano put them in a sweet citrus vinaigrette he made to dress the dandelions.
The sweetness of his dressing came from maple syrup Trojano tapped himself in Vermont along with some honey he raised.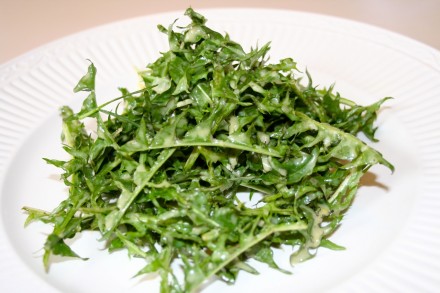 My mother, like many Italians, dressed the dandelions in a more astringent, sharper dressing of four ingredients: olive oil, red wine vinegar, salt, and pepper.
Tojano's sweet citrus vinaigrette is a much better balance with the very slightly bitter taste of the young greens.
Funny, though, Trojano didn't seem too interested in eating the salad he made me (maybe he wasn't hungry for them in the morning?). And when I raved to our mutual friend (a real foodie) about how great the dandelions were, he shocked me with his lack of enthusiasm.
"I'm more of a fiddlehead guy," he said.
What?
Oh, jeeze: fiddleheads. They're out there, too, right now.
I'm going to find some. I am.