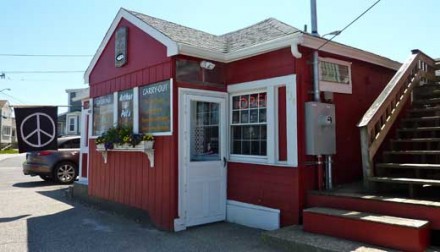 It's the first sunny day since Arthur & Pat's opened for the season, and we're finally here for breakfast after a long winter's wait.
If you've never been to this Marshfield institution, go before the Food Channel discovers it and you can't get in the door. It's the quintessential New England summer shack – but with really fabulous food. The lopsided, ramshackle, weather-beaten red building is pure beach dive (the best Hollywood designers couldn't do it better) but here's the thing: The food doesn't match the picture.This menu isn't confined to summery boardwalk foods — fried clams, fish & chips, or "nasty dogs" — although it does these classics better than almost anywhere. Chef and co-owner Art D'Allessandro doesn't let any restaurant concepts confine his passion for serving a genre-busting bill of fare. D'Allessandro cooks the foods he loves, offering daily and special dishes that range from homemade garganelli to a delicate eggplant pesto sandwich layered with slices as thin as crepes, to quinoa and crab.
Mutual friends had raved to me about Arthur & Pat's for ages before I finally ate there for the first time a couple years ago. And (full disclosure) I knew co-owner De D'Allessandro, the chef's sister, through said aforementioned friends. I'd also eaten D'Allessandro's food at a party he'd catered, so I knew how good it was.
What I didn't know was that D'Allessandro mixes it up right there at the restaurant. I'd assumed his catering was one thing and his short-order restaurant grill work another, but the chef gives it his all, every day. Arthur & Pat's food (and ambiance) has won the siblings the allegiance of many, including some of the area's most experienced diners: Tosca chef Kevin Long is a regular, as are Aerosmith's Joey Kramer and Steven Tyler (who held a party at the restaurant in early April). Flowers on the bar on opening day were a gift from Kramer, whose yellow Ferrari (or other exotic car) is often parked outside.
Arriving for our first breakfast of the season, the irrepressible De exuberantly guides us through the breakfast menu, which is colorfully posted on walls and ceiling amid various fun photos and Aerosmith memorabilia.
The huevos rancheros kills: great black beans, great guacamole, good, grainy, real whole-wheat toast, perfect eggs, as ordered: yokes runny, whites solid. The special banana bread French toast has us all elbowing each other as we reach for bites, while a stack of blueberry pancakes disappears before I realize it's been ordered. One of us, on a weekend caprese kick, has a caprese omelet with buffalo mozzarella, fresh basil, and tomato, while a roasted red pepper, provolone, and proscuitto omelet doesn't last long on the plate.
Lunch, a few days later (late last week), really showcases Arthur & Pat's versatility.
As De smoozes with longtime customers, Phillip and Valerie Vitali of Scituate, at the next table over, we tuck into an exquisite bowl of lobster soup with a fine sherry perfume, tender chunks of meat, and fresh chives sprinkled on top. It's hard to move on from that, but one bite of the garlicky shrimp salad and I'm in. This is a wonderful romaine salad with perfectly-cooked, medium shrimp, a light dressing that imparts a mild garlic flavor, and deliciously packed with tasty nuggets: buffalo mozzarella; slightly browned, roasted garlic cloves; inch-long cuts of asparagus; house-roasted sweet red peppers; dry roasted cherry tomatoes; and shaved Parmesiano-Reggiano.
By all accounts, this restaurant's been going strong since the D'Allessandro's parents, Arthur and Pat, opened it sometime in the '70s. I can't tell you what year that was because De thinks it was 1972 and Art thinks it was '78. And although I don't suppose it matters, Pat's real name was Olga, which she didn't like, although she reverted to it in her later years.
In any case, from the look of the old photos of Arthur and Pat on the walls, there's little doubt that the kids didn't fall far from the tree. Arthur & Pats has been a friendly, up, easy place to be for somewhere between 32 and 38 years, and with De at the helm, people get to talking.
The Vitali's and I compare notes on area restaurants, and it's clear they've been around. After starting with fried clams, which are Valerie's pick for the best in the area, they ask De to choose their lunch for them, to serve them whatever she wants: but she balks.
"What if you don't like it?" she says.
"That would be a first," Phillip answers, smiling.
I love this place. It's classic coastal New England at its most glorious time of the year. It's spring and summer on a plate; an unpretentious striving for excellence; a good job well done.
So, If you're reading this on a new spring day and you have any time at all, go for it: Get in your car, smile to yourself, lower your windows, blast your radio, and head to Brant Rock and Arthur & Pat's. I may be bias, but I doubt very much you'll be sorry, not for a single minute.
Arthur & Pat's, open daily 7 a.m. to 3 p.m., 239 Ocean St., Brant Rock, MA 02020, 781-834-9755.
Joan Wilder can be reached at joan.wilder@gmail.com, or follow her at twitter.com/joniwilder.