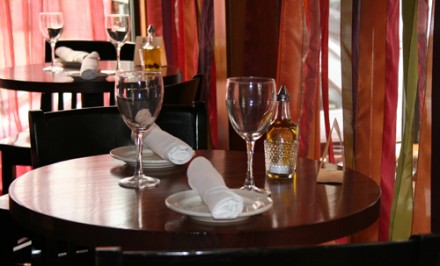 If you're looking for a place to have an intimate dinner in a friendly atmosphere, go to Bernard's in Cohasset and sit in the glass-enclosed room up front. With the lights down low, it feels a bit like being in a kid's tent – all cozy and hidden away with a spy's view of everything in the lamp-lit village outside.
From the exterior, Bernard's doesn't look like much. But open the door and the small, 49-seat bistro comes alive with a warm, casual feeling. On a recent early Thursday night, the place was quiet and the banter among chef-owner Bernie O'Neil, the server, and some diners made it seem as though half the people were regulars.
The dining area and small bar in the main room are separated from the glass greenhouse room by a wall of pennant-like strips of jewel-toned curtains that lend a note of rococo festivity.
As Rod Stewart softly crooned an old standard on the sound system, a small dish of creamy, truly delicious hummus with olive oil arrived, along with some nicely warmed Italian bread.
Shrimp tempura with balsamic reduction ($12) came next. The batter on the three large shrimp was light and the dark musky sauce added a sweetly sharp bite. The dish was festooned with a mass of crispy fried leeks that I enjoyed.
The duck nachos ($9) were the only disappointment of the evening. The small plate of four tortilla triangles covered in a mixture of duck confit, napa cabbage, ginger, sesame, and soy sauce was nearly tasteless.
All of Bernard's salads can be ordered as larger dishes by adding grilled shrimp, chicken, scallops, or salmon, at an additional cost. The mixed green salad with apples and walnuts ($7) was great. I loved that the plentiful walnuts were chopped fine and clung to the lightly dressed mesclun mix, apples, and tender pieces of grilled chicken breast.
The linguini with shrimp and scallops in tomato, herb, and crab sauce ($20) was steaming hot. The scallops, especially, were sweet and delicious and the sauce itself was thick with crab, almost like a stew.
The black sesame-crusted salmon with roasted tomatoes, zucchini, spinach, and saffron ($19) was very good, its pale orange sauce just enough to add some wetness to the large roasted potato (with a salted skin) while also flavoring a fabulous measure of fresh vegetables: green beans, zucchini rounds, fennel, spinach, and grape tomatoes.
I found the salmon too rare — a few bites in — and told our server. When the dish was returned only minutes later, the chef had arranged it all anew on a clean plate and had cooked the fish just the bit more it needed.
The cod with shrimp in very light lemon asparagus butter sauce ($20) was equally good. The fish was done perfectly and split into large translucent flakes when I took a bite. The two shrimp were springy and nicely done, and the whole dish came with the same supporting cast of wonderful potatoes and veggies as the salmon had.
O'Neil has a degree from the Culinary Institute of America and opened Bernard's in 1998 after working in several area restaurants, including Saporito's under its original owner, Maryann Saporito. On weeknights he's often the only guy in the kitchen; other times, he has one or two cooks with him.
He changes his menu essentially twice a year, and even then he doesn't change everything because so many of his regulars, he said, don't want to lose their favorite dishes. Still others are already asking for some of his winter comforts, like the cassoulet that I'm eager to try.
On the Thursday we visited, Bernard's had only two desserts — a reasonable offering for a small, family-run place, I thought: crème brulee ($7) and a chocolate truffle ($7) with gorgeous whipped cream. We ordered both for the table, and both were wonderful, but the crème brulee was so spectacular that I cannot get the memory of its taste out of my mind.
Bernard's is a lovely little restaurant reminiscent of a European-style family place, and a warm idea to consider during the fall and winter nights ahead.
Bernard's is located at 107 Ripley Rd., Cohasset. Open Wednesday through Sunday, 5 to 10 p.m. Major credit cards accepted; 781-383-8300; www.bernardsonline.com