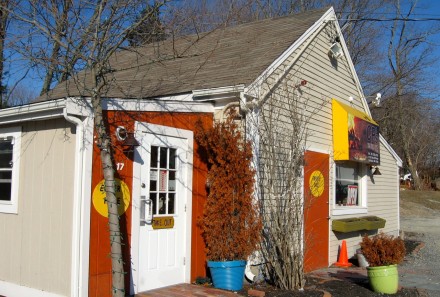 IN THE KITCHEN
You don't often see pizza and jambalaya on the same menu, but, hey, why shouldn't a chef cook what he loves? CP's Wood-Fired Pizza owner Christopher Patrick has been doing exactly that since last August, when he bought the small restaurant from his former boss, chef Jimmy Burke. Patrick, who went to Louisiana State University in Baton Rouge, learned how to cook Creole fare in New Orleans — then Italian in Boston, where he worked at Pizzeria Regina for 10 years. When Burke and his wife opened what was then JW's Wood-Fired Pizza in mid-2013, Patrick was their head chef.
The Braintree resident is passionate about wood-fired cooking and about owning his own place — always a promising sign in a restaurant. He cooks everything in the large custom-built wood-fired oven — meats, vegetables, even desserts: everything is fire-roasted. A pizza takes only 4 minutes to cook at full heat (about 700 degrees), whereas a sheet pan of meatballs takes 10 — when the fire burns down and the oven's temperature is a relatively cool 450.
THE LOCALE
CP's is a stand-alone, pretty little one-room building that used to be a storage shed for Raymond's Paint until Burke renovated it. The interior has a counter that divides the rustic wooden space into a tiny waiting area and a kitchen. The brick oven is 4 feet wide, and can hold about half a dozen pizzas. Everything is takeout — but in the warm months you can take your takeout just a few steps and eat on a couple of picnic tables next to the tiny place.
ON THE MENU
Pizza with all kinds of toppings is CP's main offering, but there are also a handful of sandwiches, salads, desserts, and sides, including bowls (actually takeout paper pints) of gumbo ($7.50) and jambalaya ($7.50). Pizzas range from $12 to $16, and, during lunch, CP's sells a few by the slice: margherita ($3.25), pepperoni ($3.75), and one or another specialty pie of the day ($4.25).
The margherita ($12) is covered with shredded fresh mozzarella — no cheese-free bald spots here — much tastier than pizzas at other upscale places that use fresh mozzarella cut into silver dollar-sized slices. The crusts are thin, the edges thicker and crispy.
Toppings include almost anything you can think of, including pineapple, pancetta, and even breaded chicken. And every pie is finished with fresh basil and an olive oil drizzle.
The meatballs are very tasty in CP's meatball sandwich ($6), which is made with inch-thick slices of grilled brioche — very nice — but where's the meat? Our sandwich had very little. Same thing with the caprese sandwich ($6) — only enough thin slices of mozzarella, prosciutto, and tomato for half the bread it came on. The jambalaya, however, was richly flavorful with just the right amount of everything.
That Patrick cooks from scratch is evident in the roasted garlic pizza ($13), which is covered with soft, mellow whole cloves of the aromatic bulb — too many for my taste, so ask for less. The red pepper and sausage pizza ($15) is good, too: I'm guessing they're all good, depending what you like on your pizza.
Don't forget to ask for the free chocolate chip cookie that comes with any pizza order — they melt nicely on cue when packaged on a hot pizza box. Or buy one for 75 cents.
And, if cookies don't do it for you, try CP's pretty darn cute s'mores ($4 for an order of four). This cross between a New Orleans beignet and a cannoli is made with cinnamon- and sugar-sprinkled dough rolled up with Hershey's chocolate and marshmallow, then baked. Inexpensive and fun, and kids will love them.
CP's Wood-Fired Pizza, 17D New Driftway, Scituate, 781-378-2743, cpswoodfiredpizza.com.
Joan Wilder can be reached at joan.wilder@gmail.com