Even a mediocre french fry can hit the spot, but a real one — made from raw potatoes and deep-fried perfectly — is one of life's simple pleasures.
The new JW's Burger Bar has some.
Cut from russets daily, they're thinish, crispy on the outside and meaty on the inside. But they're not the only thing that sets JW's apart from the other new burger places around.
This Scituate eatery is the latest offering from South Shore restaurateur Joanie Wilson and her husband, chef Jimmy Burke, whose first restaurant, Allegro, broke culinary ground in Boston when it opened in 1981.
Since then, Burke has opened a string of great restaurants — currently putting most of his energy into the couple's outstanding Italian place, Orta, in Pembroke. Although JW's is largely Wilson's baby, Burke has designed much of the menu, and his award-winning touch is apparent.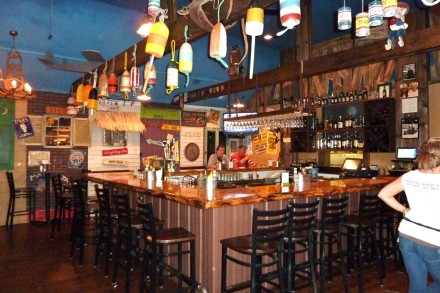 JW's shares the former Raymond's paint store building with a dance studio, and the division of space is quirky. A walkway leading to the side rear of the building brings you to JW's front door and entry into a narrow interior hallway. The high-ceilinged main room houses a shiny, blond wooden bar and extends into a shack-like, side-room dining area.
The whole space is hung with paraphernalia and ephemera with a sort of western, nautical, retro, tropical theme — all of which conveys a lively, wacky vibe. Best of all, there's a great patio out back.
In case you're confused about the name: JW's Burger Bar opened as Backyard Burger Bar in December. Last month, however, the couple was forced to change the name when a chain of Tennessee burger joints with a similar name threatened to sue.
Although this is predominantly a burger place, a close reading of the menu will reward those who don't want burgers, or want to eat lightly, or are even vegetarians.
The veggie burger ($10) is a truly delicious original, not some frozen cardboard stand-in. Although it's a bit crumbly, it's a tasty lentil-, barley-, and vegetable-based patty topped with homemade salsa.
Other lighter options include an excellent grilled Bell & Evans (antibiotic- and hormone-free) chicken breast sandwich ($8) and several salads that can be ordered with various protein add-ons. A Caesar ($7), for instance, with a salmon burger or chicken breast on top (add $8) is a very nice meal.
The peel-and-eat wild shrimp ($9) are beautifully springy and clean-tasting, their dorsal veins cut out through the shell. They come on a small bed of mesclun with lemon and a cocktail sauce with plenty of horseradish kick. The fried shrimp in the appetizer ($8.25) are light and crispy, although I prefer a more savory batter — this one reminds me of beignets. Still, you want to keep biting into another one, and the house-made tartar sauce is a big cut above the average while absolutely delivering the flavor of the condiment so many of us love with fried fish.
Which reminds me: Another tasty departure from burgers is the fried fish sandwich ($12), which is large enough to be, basically, fish and chips with a bun.
And the beef burgers? They're good. According to John Dewar at meat distributor T.F. Kinnealey Co., in Brockton, the "natural" beef comes from Nebraska from animals that are not administered growth enhancers or antibiotics.
We've enjoyed the burger ($10) and the bacon cheeseburger ($13) – half-pounders big enough to have a pink middle (unlike fast-food burgers, which can only come well done). Turkey burgers ($11), which can be stultifyingly bland, are moist and flavorful, too.
The restaurant's ribs ($14) are pretty spicy, and the hunk of seductive, diner-style grilled cornbread that comes with them is a sweet contrast. Worth mentioning, too, is the cooling house cole slaw. And, if you like barbecue, try the pulled-pork sandwich ($10).
Desserts are confined to a few selections of cupcakes from the superb Pembroke-based JennaCAKES. But on three visits, we were too full to remember to order one.
Next time — out on the patio.