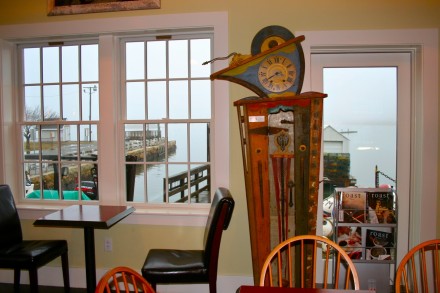 Say it's a clear, sunny day.
Or, a cold one with light snow falling.
Hey, it could be raining or blowing a gale, it doesn't matter: The water views from Hingham's new Redeye Roasters Café & Espresso Lounge are beautiful.
And so is the interior of the cozy new café. The space, which occupies two-thirds of the Bare Cove Marina building, is fitted out with repurposed old wood, pendant lighting, decorative found pieces, and giant burlap bags of coffee. On the far side of the windowed room sits the bright red roasting machine where owner Bob Weeks works his magic — turning what are actually the green seeds of a red fruit into the cherished thing we know as coffee.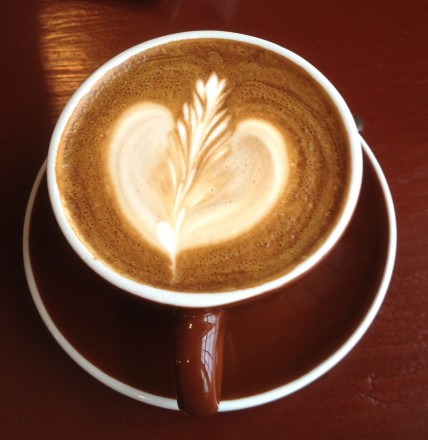 The journey that led Weeks to the café, which opened Dec. 3, was a path with heart.
After losing his job at a top Boston ad agency in 2006, the art school graduate decided to focus on what he loved and expand his coffee-roasting hobby into an occupation. Incorporating as Redeye Roasters, he began selling beans to local businesses. A couple years later, he opened a café truck thinking he'd sell to travellers at the Greenbush commuter rail station. When that didn't fly, (most arrived too late to buy coffee), the vision began to form: Open a real café.
After searching Hingham center and Square for more than a year, Weeks realized what he wanted.
"Everyday I'd pass the Bare Cove building and think, 'I need to be right there,'" said Weeks. "Finally, one day I stopped at the marina… asked a guy if he knew who owned the place… got Nick Bonn's name and number…and called him."
After signing a lease with Bonn, Weeks began to gut the space in June. Much of the cafe, including the bar, was built by folk artist and furniture maker Rich Dunbrack, from Martha's Vineyard, and captures the magical feeling that Weeks wanted.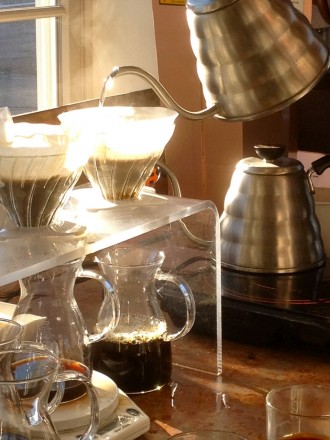 And the coffee? Frankly, I've been ruined by Redeye's crazy good, creamy lattes (made with Hingham's Hornstra Farms milk) and can't seem to find a cup as tasty anywhere else. They're always a bit of a unique event, too, topped with the South Shore's only "coffee art:" pretty surface designs made by pouring steamed milk carefully over espresso. My other Redeye favorite is the cold-brewed iced coffee, aka a "toddy," which, until now, were a once weekly summer pleasure procured from Weeks' café truck at the Hingham Farmers market.
Along with various other espresso and hot drinks – which are all comparable in price to the corporate coffee chains — Redeye's menu includes several daily brewed coffees; individually prepared filtered coffees called "pour overs;" and French pressed coffees. The café has an evolving pastry case that sometimes includes offerings from local bakers, and great gelatos and sorbet from Cold Fusion Gelato. Redeye also sells Somerville's fine Mem teas, served in little porcelain pots, and a choice selection of cold drinks.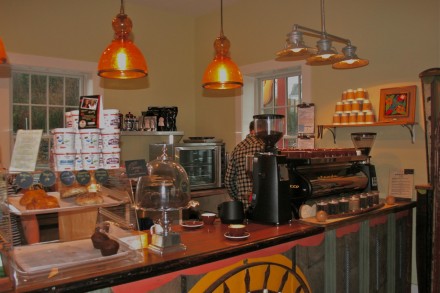 A self-admitted coffee geek, Weeks talks about the characteristics of coffee the way a sommelier talks about wine. He's passionate about the science of roasting and exacting about extracting the best flavor possible from each particular bean. Some mornings, you'll see the staff blind tasting a few different brews to see whether Weeks wants to carry them.
But if coffee science is the backbone of a café, its people are the soul, and Weeks has that covered, too. An easy-going guy, he's assembled a smart, friendly staff that seem to love the place.  Their warmth sets the tone for Redeye to be what a great café is: a welcoming place to take a break, shoot the breeze, consider the day, and sip something out of this world. Stepping into Redeye, you can leave your mind behind, come to your senses, and smell the coffee any day of the week — no matter what the weather is.
3 Otis St. (Route 3A), Hingham
Monday through Friday, 6 a.m. to 5 p.m.; Saturday, 7 a.m. to 5 p.m.; Sunday, 8 a.m. to 4 p.m.
781 740-2545
Accessible to the handicapped
Major credit cards accepted