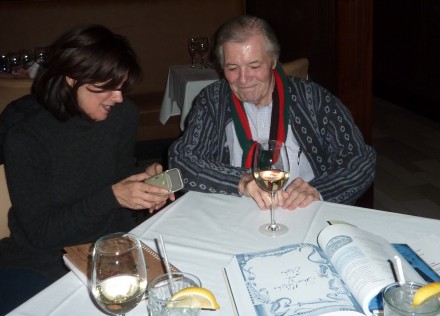 As Jacques Pépin made the rounds of the 120 guests attending the celebrity chef dinner at Hingham's Summer Shack last Monday, guest after guest embraced the legendary chef – metaphorically or literally.
"We just love you!'' said a woman as she held Pépin's hand in both her own.
An exceedingly social creature, Pépin matched this outpouring of affection with the open-heartedness that characterizes all his work: the 21 books; decades of magazine articles; university and culinary school teaching; and the hundreds of PBS cooking shows that began long before anyone had even thought of the Food Network.
Among his vast accomplishments is a decidedly local one. Pépin and longtime friend Julia Child founded the country's first master of liberal arts in gastronomy degree program at Boston University in 1993. The program combines cultural studies with the university's Culinary Arts Program, which was founded by Child, Pépin, and Summer Shack owner-chef Jasper White.
"Jacques is the best teacher of technique in this country,'' said Rebecca Alssid, director of BU's Food and Wine program.
"I am more a teacher than a chef,'' said Pépin, as a line of adoring fans waited to have him sign his new book, "Essential Pépin: 700 Recipes From My Life in Food,'' before being seated for the one-time, $250 prix fixe dinner.
The book is illustrated with 300 of Pépin's charming drawings – he's been painting for 50 years. And rather than a simple collection of his greatest hits, many of his recipes have been simplified for this edition.
"I like to simplify,'' said Pépin, who experiences cooking as an ever-changing pursuit that continually presents in new ways. White expressed a similar sentiment, likening the appeal of cooking's infinite variety to the limitless music a composer can create with the same 12 notes.
In the process of revisiting decades of recipes for the new book, Pepin saw many of them differently than when he originally wrote them.
"I'd look at a recipe and say, 'Why did I do that?' And find a slightly simpler way.' ''
Jasper White, owner of Summer Shack, with Jacques Pépin, the first celebrity chef in his winter series.
According to the man many remember from his TV series "Julia and Jacques: Cooking at Home,'' the freedom to forge new approaches emerges only after a cook has mastered his medium. For this, Pépin knows that repetition is the key.
"For the professional chef, you must repeat, repeat, repeat techniques until they become part of you, part of your DNA, and the knowledge is in your hands. Until then, you can't concentrate on the texture of the dish, the flavors, the combinations,'' he said.
Along with this emphasis on technique is Pépin's equally strong insistence that respect for food and pleasure must accompany any good cooking experience.
"Young chefs who come to me and say they want to write books and create television shows will be disappointed because that is unlikely to happen. You have to love cooking, feel gratified feeding people – and then being a chef can be a nice life.''
For people who don't cook but want to learn, Pépin takes a page from Child's book. "Do you have a friend that cooks? Ask if you can go to their house an hour ahead and watch them cook. By the second glass of wine, even if the chicken is burned a little bit, who cares? It really doesn't matter that much. Relax. You are creating pleasure, you are supposed to have pleasure yourself. You have to look at cooking as a fun thing, then you get better at it.''
While Pépin's hundreds of shows and exquisitely detailed cookbook instructions offer a wealth of technique, technology has put a wondrous tool in the master teacher's hands: The book comes with the three-hour DVD, "All the Techniques That Cooks Need to Know.''
"I'm dean of studies at the French Culinary Institute for 25 years in New York and a teacher at BU for 30 years,'' said Pépin. "All those schools are very expensive, and basically most of the techniques we teach are on this tape,'' he said.
"With the tape you can watch it again, put it back, put it back, stop it – and then you can see, 'I think his knife is a little more flat when he scraped the butter.' This is invaluable.''
Monday marked the first of Summer Shack's second season of celebrity chef dinners. The general procedure has the visiting chefs teach their recipes to Summer Shack's staff and cook the dinner with them.
In this case, White's staff cooked Pépin's menu. Over dessert – an ethereal frozen Grand Marnier soufflé – Pépin loudly clinked his glass to get everybody's attention and praised White and his crew.
"They did it better than I could have,'' said Pépin, eliciting a cheerful "no'' from the crowd. White went on to applaud his friend and introduce his kitchen staff. Half the guests were standing and applauding while this warm exchange continued.
The meal began with a lovely amuse-bouche of molasses-glazed salmon and fennel salad on brown bread, accompanied by Grand Brut, Perrier-Jouët.
Next, was Pépin's tender mushroom-stuffed escargots with a bright frisée salad, an old recipe from his days at Plaza Athénée in Paris. White did a brilliant job with Pépin's lobster in artichoke hearts – a dish that required cooks to trim six cases of artichokes down to the luscious meat at their cores.
The main course was chicken ballotine with a turnip and potato purée sided with smoky turnip greens. A Pouilly-Fumé and a California pinot noir were poured freely.
Although White and Pépin can't remember exactly when they met, they were both close friends with Child.
Pépin met her in 1961, when she "was totally unknown.''
"Julia had sent her manuscript to a friend of mine – Helen McCall, editor of McCall's in New York. When Helen asked me to look at it, I did, and we thought it was very good.
"Helen said, 'Well, the woman is from California and she's coming to New York next week, why don't we cook for her? It's a big woman with a terrible voice.' That was Julia.''
And that's Jacques.