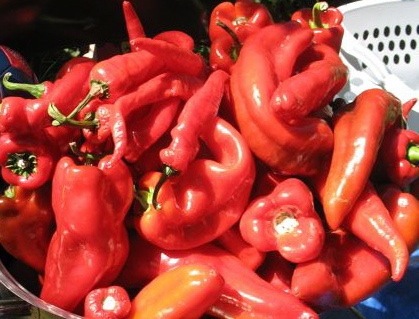 Once a year, in September, Maria Rodrigues makes enough fantastically delicious hot sauce to last her family a year.
It takes a lot of peppers.
"I get four bushels – the long red ones," said Rodrigues, who's been making the sauce since she was girl in the Azores.
Having heard big raves about this hot sauce from a friend on the Cape, I visited Rodrigues in East Falmouth last week to see how she makes it.
Using tarps on the ground in her backyard, laundry baskets, and enormous bowls, Rodrigues starts the three-day process by washing the banana-sized red peppers with the garden hose. As they dry in the sun, she starts gutting each pepper, one by one, wearing plastic gloves ("I learned my lesson about wearing gloves the hard way," she said).
Once all the peppers are cleaned, she puts them through a Cuisinart meat grinder along with 10 large bulbs of garlic. She then mixes two pounds of kosher salt into the resultant mash, covers the bowls, and leaves them overnight.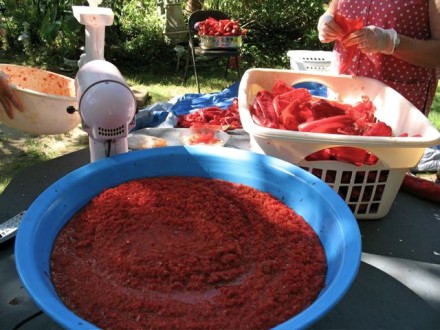 The next day, Rodrigues divides one quart of extra virgin olive oil among her enormous bowls of pepper mash. Again she stirs and covers them and leaves them to sit for another night.
By day three, the mixture has begun to ferment.
As she spoons across the top of one of the bowls, little bubbles trail along the surface.
"See, it's fermenting," Rodrigues said.
By the end of Day Three, Rodrigues ladles her fiery sauce into assorted gallon and quart bottles. She then covers the surface of each container with a little salt and a bit more olive oil. Finally, she screws on their lids — lightly — and puts them in her extra refrigerator where they will keep beautifully until next year.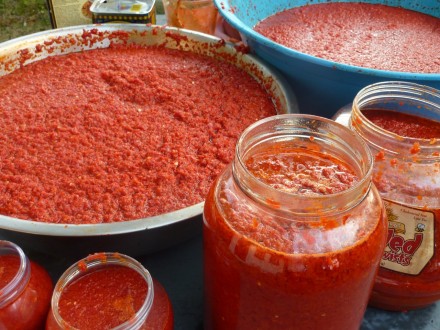 "You have to keep the tops loose for a few days so they don't explode," she said.
Explode?
"They keep fermenting for a few days," she said.
My friend, Meg Fitzelle, from Woods Hole, who introduced me to Maria, says you have to keep the lids loose for at least a week.
"Last year, I kept noticing there was red everywhere in the refrigerator, it was like a Hawaiian volcano that keeps oozing out lava," said Fitzelle. "You have to keep the lid loose in the beginning."
When I asked Rodrigues why her simple sauce keeps without spoiling for a whole year, she didn't know. She doesn't even know the name of the pepper, but says that you can go to any of the Portuguese markets in Fall River or New Bedford this time of year and tell them you "want the peppers for the sauce."
What she does know is that she's been making and eating this sauce for more than 40 years, and it's never made anyone sick.
"I don't know what it is, we never had food poisoning. This is what I do and my sister does it the same way," she said.
What does she eat it on?
Almost everything, and you can't blame her, it's so good. I've never much liked hot sauce, but this is delicious. I've eaten teaspoonfuls on chicken and scrambled eggs. The flavor is simple: it has the taste of sweet red peppers but the heat of hot ones and a texture similar to apple sauce. And unlike all the recipes I see for hot sauce, or the ingredient lists I read on brands, there's no vinegar in Maria's sauce, which is what I like most about it.
"You broil or fry fish and put not even a tablespoon on top," she said. "We marinate meat with it too. Or, I'll come home from work and fry an egg and in another pan fry garlic and the sauce in some oil and put it on top. My daughter eats it with butter on a round bread I make out of corn and wheat flour. We didn't eat it that way growing up."
When Rodrigues was a kid, her aunt didn't even refrigerate the sauce. Instead, she covered the top of each bottle with a layer of olive oil, a layer of cheesecloth, and a layer of salt. These preserved bottles of hot sauce were stored in the dark and lasted throughout the year.
Rodrigues also preserves a small number of peppers whole. She fills the inside of the cleaned peppers with lots of salt, pours salt all over them, and piles them all in a ceramic crock topped with salt. The crock gets covered and stored in a dark place, and keeps all year. When she wants to use some, she rinses and soaks the peppers in water, slices them, fries them, and serves them to Carlos, her husband, over steak.
My jar of Maria's Great Hot Sauce has not exploded in the fridge, but I'm keeping the lid lightly fastened, just to make sure.