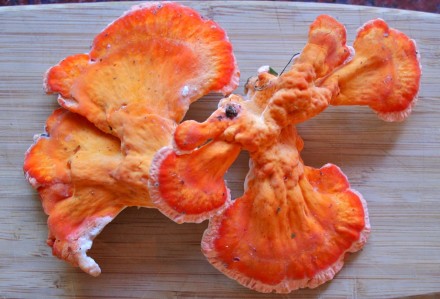 I bumped into Paul Trojano today. He lives in Norwell, has a place in Vermont, owns Caffe Graffiti in Boston's North End, and loves to forage for food.
Look what he gave me.
They're called Chicken of the Woods mushrooms.  He picked them on Prospect Street in Hingham this morning. He also got oyster mushrooms there and black trumpets in West Chesterfield, N.H., on Saturday, the day before the hurricane (Irene).
Here's his recipe for Wild Mushroom Risotto
8 oz fresh wild mushrooms such as Chicken of the Woods, Hen of the Woods, Chanterelles, Porcinis, Oysters or Black Trumpets
6 cups chicken or mushroom/vegetable stock
2 tbs. olive oil
1 1/2 tbs. butter
1 oz dry white wine to deglaze
1 medium onion, finely diced
1 1/2 cups arborio, carnaroli or vialone nano rice
S & P to taste
Finish: 2 Tbs. butter, 1/2 cup Parmigiano Reggiano, grated, white truffle oil (optional)
Slice or chop mushrooms depending on size and style of mushroom. Heat oil and butter and slowly saute mushrooms (Wild mushrooms must be cooked for at least 15 minutes), remove from heat and keep warm. Heat stock to a simmer. Heat oil and butter in a large pan and softly fry onion until translucent. Add rice and stir well. Add wine and stir. Slowly add hot stock a little at a time. Add more as the rice absorbs the liquid. This process should take about 20 minutes. Constantly stir to keep rice from sticking. About 15 minutes in, add sauteed mushrooms to rice and stock. The rice is done when it is soft on the outside, yet has a slight crunch at the center. At this point the dish should be creamy and fragrant. Remove from heat, finish by adding butter and cheese. Serve at once.
Serves four.