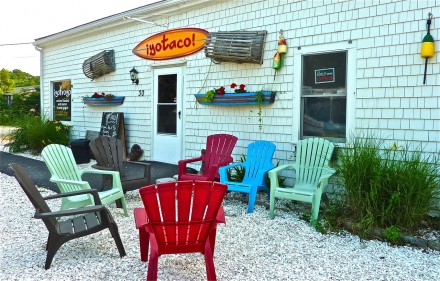 Far from the beaten track, just off the road to Duxbury Beach, is a taco shack with good, inexpensive Tex-Mex favorites for eating in (casually), or taking out, day or night.
YoTaco, which opened late last summer, has a small menu of mostly tacos, burritos, and quesadillas as well as an unusual type of frozen yogurt that's especially versatile and delicious. Nothing on the menu exceeds $9 and a good fresh dish can be had for as little as $5.50.
Owners husband and wife Kelly and Norm Laviolette were inspired to open the place after moving from Brighton to Duxbury and being unable to find the taquerias and froyo places they loved in the city. Partnering with Chef Tim Haws, they did a minimalist build out of the former Black River Fish Market — with an open stainless steel kitchen on one end and a frozen yogurt counter on the other.
The décor – if you can call it that — is breezy utilitarian: The walls are painted bright orange and turquoise, the floor is tiled in terra cotta and there are two picnic tables in the center of the rectangular space. Outside is another table and about ten Adirondack chairs that are great for eating and enjoying the peaceful wooded spot.
The simplicity of the operation and the food allows the partners to focus on freshness and flavor: they even smoke their own chicken, pork, and beef a few times a week in a big smoker out back.
Gazpacho can sometimes lack flavor, but YoTaco's is a bright savory salad of a soup – quite finely chopped — and an amazing deal at $3.
All the tacos come two to an order and can be made with either soft flour or soft corn tacos. My favorite of several – all of which were plenty good – was the seasonal vegetable ($5.50). It was packed with grilled zucchini and onions, black beans, guacamole, cilantro, and pico de gallo salsa (a fresh chopped tomato salsa that's more like a little tomato salad than a sauce).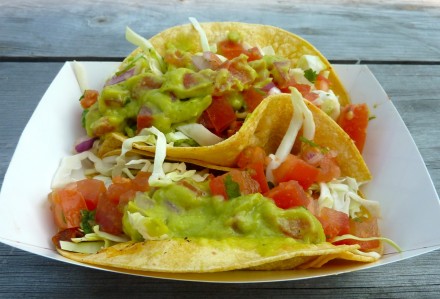 The original fish tacos ($7.50) are very nice, with grilled mahi mahi, shredded cabbage, pico de gallo, and guacamole. Delicious. So, too, are the blackened tilapia tacos ($8), which are very spicy and countered with a sweet pineapple salsa and cooling guacamole. We ordered them with the suggested soft corn tacos, which absolutely add an additional layer of flavor.
The shredded BBQ chicken tacos ($5.50) have a sweet, mildly smoky taste and come with pico de gallo. The smoked pork taco is similar ($5.50) — less sweet and more spicy — and paired with pineapple salsa.
On our two visits, the high school cooks were good – and nice — but the servings seemed uneven. Kelly is there supervising most days, however, which is a good thing: we just missed her.
The burritos are larger and come with a choice of cheese, rice, black beans, and hot sauce. The good chicken fajita burrito ($9) has fried onions and peppers in addition to everything else. YoTaco's smoked meat is very much on show in the beef barbecoa burrito ($7.50), which has large chunks of mildly smoked beef brisket. The carne asada burrito ($9) is good too, with slices of grilled steak the featured meat.
The Sonoran hot dog ($6) is cute to look at – all piled up with sour cream, salsa, bacon, and jalapeños – but tastes like a baloney sandwich.
We'd never seen the style of frozen yogurt ($4 or $2.80) YoTaco has, and like it a lot.
Each serving is made individually from a hunk of either vanilla or chocolate, rock solid, frozen low-fat yogurt and your choice of about 30 flavoring ingredients – so basically, there are 30 flavors everyday.
The blueberry froyo we ordered was made with frozen blueberries and the vanilla base. It was deep lavender with flecks of blueberry throughout. The texture is creamy but slightly icy and thicker than your average soft serve.
On a subsequent visit, the strawberry froyo was made the same, but had fewer strawberries in it than the blueberry had blueberries: next time I'll ask for extra! (Add-ons are 25 cents each.)
The partners get the yogurt from a manufacturer in Watertown and bought the costly "Swirl Freeze" machine that makes it. Kelly tracked it down after having had the yogurt at the Angora Café near Boston University.
And now you can get it in Duxbury. All right!
30 Railroad Ave., Duxbury
Daily, 11 a.m. to 9 p.m.
781 934-8226
Accessible to the handicapped
Major credit cards accepted