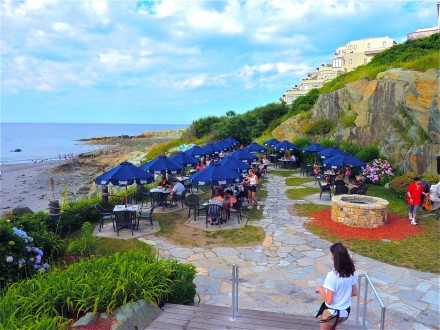 You don't really have to know much about the food at Beachfire Restaurant & Bar to decide to check it out.
Beachfire is the only restaurant in Hull right on the beach rather than across the street from it. And, although it doesn't look like much from the front, once you step inside and then out again –- onto one of the two decks or the large waterside patio — you immediately see what's so great about the place.
This is one of the only restaurants on the South Shore where there's nothing between your table and the ocean but boulders and sand.
Several restaurants — The Ocean Club and Le Calypso — have come and gone at this site over the last decade, but Beachfire seems to be doing pretty well. Hingham resident Larry DeFranco opened last July, had a good season, then ended up renovating the first floor over the winter after a Nor'easter devastated it. The new dining room is open, spare, and light-filled. In the summer, though, most people don't do much more than pass through it on route to a small deck that leads to a set of stone stairs and the restaurant's main attraction: a large patio-lawn tucked between the sea and a giant rock wall. The patio has a stone fire pit for late nights or cool autumn days, an outdoor bar, and about 20 tables with seating for 150.
There's no break between the restaurant's lunch and dinner hours and the same menu is available throughout the day. Along with daily specials, there are appetizers, salads, burgers (including a veggie burger), and sandwiches, as well as steak, pasta, and seafood entrees – almost all of which are on the reasonable side of $20.
For a real special, go on a Tuesday and get the twin boiled lobsters with drawn butter for $16 (regularly about $23, depending on market price). We had them recently and they had me humming and momentarily euphoric sitting on the deck at lunchtime, in the shade, watching people swim and sunbath. The small lobsters were cooked beautifully so the meat was tender, not chewy, and the shells this time of year are soft, so they were easy to handle.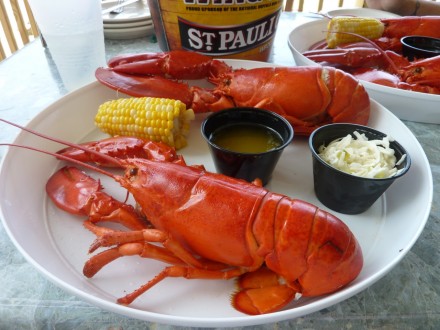 On another visit, the mussels ($11) in wine and butter were nicely seasoned and very good. Slices of green and yellow peppers floated in the mix offering a crunchy contrast that acted like a palette cleanser and made the next mussel seem newly delicious. The requisite dipping bread was a nice ciabatta, which would have been better if it'd been grilled.
The Beachfire burger ($8) comes on an especially nice roll with shoestring French fries. The fried haddock sandwich ($9) tasted packaged the day I had it and scared me off the restaurant's other fried fish. But the house salad ($5) was a crisp mesclun mix with cukes that was refreshing, although the balsamic dressing tasted bottled. This and a couple other salads can be ordered with add-ons, including grilled chicken ($4), steak tips ($6), and lobster salad ($7), which was only okay the day I had it.
Either it's me, or scallops are outrageously delicious everywhere this year, and Beachfire's ($20) came gorgeously seared atop a brown butter sauce.  They were sided with mashed potatoes and some much appreciated sautéed baby spinach.
Less great but still good, was the grilled shrimp ($16) on a skewer with some beautifully grilled, thick asparagus and nice mashed potatoes.
Beachfire offers several $5 items on a kids menu and a handful of really inexpensive happy hour and late night bar specials.
It's not hard to find something you'll enjoy eating at Beachfire and dining at a table so close to the ocean is like a mini vacation.
The time is now.
42 State Park Rd., Hull
Sunday through Thursday, 11:30 a.m. to 10:30 p.m.; Friday and Saturday, 11:30 a.m. to 11 p.m.
781 925 6488
www.beachfirehull.com
Accessible to the handicapped
Major credit cards accepted