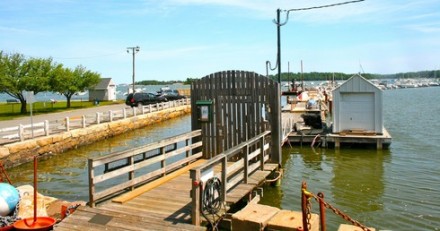 Being a café lover of the first order (there's not much I enjoy more than hanging at a great café), I am thrilled out of my mind that Hingham resident Bob Weeks, of Redeye Roasters, is planning to open a café in the Bare Cove Marina building, across from Stars Restaurant, on Hingham Harbor.
You may know Weeks from the hand-roasted coffee he sells at several local shops or from the great coffee he serves from his colorful coffee truck at the Hingham Farmers Market. The new café-to-be — Redeye Roasters Coffee and Espresso Lounge — will occupy 1,000 square feet of the side of the marina building toward the Hingham Bathing Beach, while the other side will serve as storage for marine activities. [See the view below]  "We're putting windows on the water side, so very soon you'll be able to have a coffee and look at the boats and water," said Weeks, who hopes to open by late August or early September.
Weeks, who launched Redeye Roasters after leaving his advertising job in 2006, plans to offer all types of coffee drinks, teas, pastries, gelato, and affogato. (He may be in the market for a local baker to supply the shop, so if you're that person, check him out.)
**************
In Plymouth, the historic building where the wonderful Martha's Stone Soup restaurant (cq) used to be is set to open on June 23 as a restaurant serving classic American fare.
Rye Tavern is the newest baby of partners Christopher Tocchio andKristian Deyesso, owners of Plymouth's Union Fish Seafood & Raw Bar; Boston's Church Restaurant & Nightclub; and The Regal Beagle in Brookline.
The owners have gutted the building, known as the Wright Tavern, built in 1792, and created seating for about 50, which includes some patio dining, said Brandon Babiarz, executive chef of Union Fish. The menu will be small and have a farm-to-table, seasonal focus inspired by the garden on the property.
It's great that these guys are renovating and restoring this special, remote venue at the intersection of Old Tavern Trail and Old Sandwich Road in Pinehills. The restaurant will be open at 5 p.m. daily for dinner.
**************
The former Cafe Ona (and before that Cafe Calabria) at 443 Nantasket Ave. in Hull is now Lynda's Restaurant – a breakfast and lunch place owned by Joe DiVito, who owns Weinberg's Bakery just up the road. The restaurant, which is open daily from 7 a.m. to 2 p.m., serves breakfast all the time as well as lunch from 11 a.m. to 2 p.m.
Among the many standard American breakfast and lunch dishes are some Italian favorites. Lynda's also serves espresso drinks, Hornstra dairy's local milk and chocolate milk, and soymilk. Daily specials are posted on the restaurant's Facebook page.
DiVito has been able to secure customer parking in the Knights of Columbus lot across the street from the restaurant, something the site's former incarnations didn't have.
**************
Chef Paul Wahlberg and company are planning to open a casual burger, hot dog, and frappe type restaurant adjacent to the chef's fine dining restaurant, Alma Nove, at the Hingham Shipyard late this summer, according to Wahlberg's publicist, Mindy Valone, at Boston's CM Communications.
Although Wahlberg spoke at length to a local paper last month about his plans and inspiration for the new place, he's now unavailable for comment, so we've been unable to confirm anything more than the basics.
Wahlberg opened Alma Nove last summer with partners that include brothers Mark (movie guy) and Donnie (music and movie guy).
**************
A new burger place, Wild Willy's Burgers, is planning to open later this month at 588 Washington St., not far from the Fore River Bridge. The restaurant is part of a small chain – there are six others spread among Massachusetts, Maine, and New Hampshire.
The new place is owned by husband and wife Paul and Ruth Bennett.According to the restaurant's Facebook page, Wild Willy's will be open daily from 11 a.m. (noon on Sundays) until 9 p.m. (8 p.m. on Sundays). For info about possible employment, call 617- 472-9453, or stop by the restaurant.
**************
The Quincy Farmers Market, which opens on June 24, will be selling Massachusetts wines for the first time this season.
According to Janet Little, market manager, state legislation was passed last year that allows the sale of Commonwealth farm wines at farmers markets. The city of Quincy this month licensed the farmers market to hold wine tastings and sales.
The market, which is open from 11:30 a.m. to 5:30 p.m. on Fridays, will feature wines from one of four Commonwealth wineries each week. The participating wineries are Coastal Vineyards of South Dartmouth; Westport Rivers of Westport; Zoll Cellars of Shrewsbury, and Turtle Creek of Lincoln.