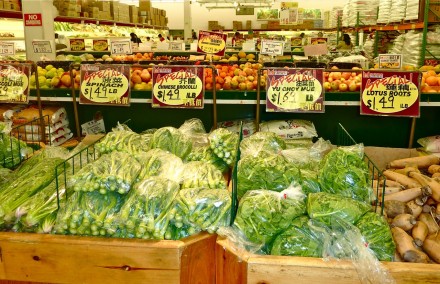 So many cuisines, so many foods unique to each, so many items labeled with words I can't read!
Few places are more packed with these mysteries than Quincy's Kam Man – probably the most extensive Asian market in New England.
"It's the largest in Boston, and Boston's the largest city in New England, so I'm pretty confident it's the largest in New England," said Quincy resident Wan Wu, 64, Kam Man's general manager and part-owner.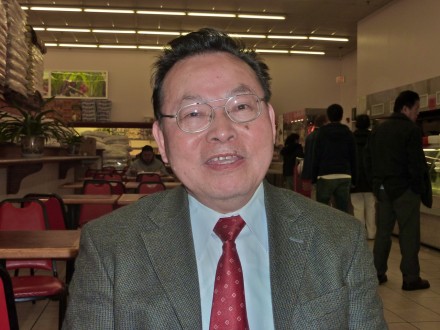 The supermarket is one of four Kam Man stores in the little dynasty founded in 1971 by Wan's brother, Wellman Wu, in Manhattan. That first store – Kam Man Food Products — is still there on Canal Street in the heart of New York's Chinatown.
There are also two Kam Mans in New Jersey, where Wellman lives. Additionally, a new Kam Man will open in Queens, N.Y., in about six months, and the brothers have just bought Super 88 Asian market in Dorchester, which will be their sixth Kam Man.
And, although the labels and the ingredients may need translation, taste transcends all: you don't need words to know that something's delicious.
Kam Man's hot prepared foods section is a good way to dip into some of the mostly Cantonese-style dishes its chef makes daily. The foods are served cafeteria style: you get your choice of three main courses from an array of dishes – along with rice and a cup of light soup — for $7.50. "Heads on?" said the woman behind the hot bar when I was choosing my lunch a few weeks ago. She was referring to little, deep-fried fish – sardines I think — and although her English was limited, she wanted to make sure I knew what I was getting.
Along with the hot foods is a barbeque section with delicious ribs, ducks, and even whole pigs.
Most of Kam Man's 80 full-time and 30 part-time Quincy employees don't speak much English – which makes it almost impossible for English speakers to learn about items while shopping.
Wan understands this, and is hoping to implement something to help the store's non-Asian shoppers become more familiar with the cuisine. "We're thinking of starting a store tour on a regular basis… or a brochure or handout," he said.
Among the tens of thousands of grocery items in the store (including an enormous collection of Asian beers), approximately 50 percent are Chinese and the rest a mix of Vietnamese, Filipino, Thai, Japanese, and a smattering of other international foods, including American. (That doesn't mean the products all originate in those countries: almost everything in the fabulous fresh produce section, for instance, is domestic.)
Wan estimates that 80 percent of the Quincy store's customers are Asian, the vast majority of whom are Chinese. The remaining 20 percent are largely Caucasian.
"According to the latest census, 24 percent of Quincy's population is Asian and of that 24 percent, 13 percent are Chinese," said Wan.
The Wu brothers were born in Shanghai and moved to Hong Kong with their family when Wan was 10, and his brother 14. Wan came to the U.S. in 1966 where he earned a bachelor's degree from the University of Rhode Island and a Ph.D. in chemical engineering from Lehigh University. Wellman followed his brother a few years later, forgoing schooling and diving right into business.
"He's the entrepreneur," said Wan, who was a research scientist at Monsanto in Springfield for 25 years before joining his brother in business for the opening of the Quincy store in 2003.
The site, a former Bradlee's, is a small indoor mall with about 15 independent Asian storefronts (a ginseng shop, a Vietnamese deli, a travel agent, a clothing store) situated between Kam Man's two big parts: its enormous grocery and its large home goods store. Together the two parts comprise about 60,000 square feet.
The housewares department reminds me of an old American five and dime — like a Woolworth's — with a little bit of everything: cookware, dishes, cosmetics, hardware, clothing, shoes, electronics, furniture, bamboo plants, guitars, and much more. It's a really fun place to wander.
The space is being renovated now, and by mid-summer the grocery and housewares will be connected, with the independent stores remaining.
And, what does Kam Man mean? "Kam" is Chinese for golden and "man" means gate, but Wan thinks the original Manhattan store was named after the small island of Kam Man, off mainland China. The island was, according to Wan, the site of the only battle the Chinese nationalists won in the civil war with the Chinese Communists in the late '40s.
"It's quite well known," said Wan.
Follow Joan Wilder on Twitter.