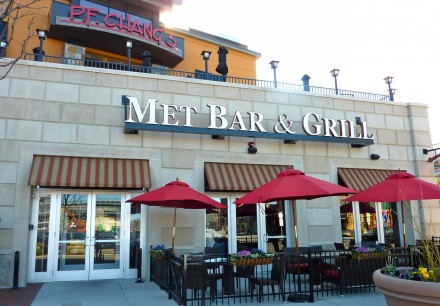 It's so easy to criticize restaurants and so hard to run them.
Turning out hundreds of dishes, fast, day in and day out is a monumental effort. And although that's the business restaurateurs have chosen, I think it's smart for diners to recognize what it takes to give them the restaurant experiences they love.
That said, the Met Bar & Grill at Legacy Place is sometimes inconsistent but it's still a fun spot to eat. The décor, too, somehow conveys a sense of fun with a big bar and a main dining room filled with five or six different types of seating each of which has its own upholstery, décor, and lighting. Along one wall of the dining room are a series of elevated circular booths backed by different murals (I've dined in Venice, Athens, and Boston), while the opposite wall is lined with small square tables, and the rear of the place has a soda-fountain-like "Burger Bar" counter with seats. In between are booths; long, curvy couches with tables pulled up to them; and various other seating situations.
The large menu meanders similarly through a big range of choices. I often wonder why restaurants give their kitchens the difficult task of offering so many dishes: it must be because they think that that's what people want. And maybe they do.
Clearly, the message is that The Met Bar & Grill has something for everyone.
Owner Kathy Trustman has three other area restaurants: a steakhouse in Chestnut Hill; a Met Bar & Grill in Natick that's similar to this Dedham place, and her newest and most ambitious outing, The Met Back Bay in Boston. Trustman grew up in the city's restaurants: Her father was the late Jack Sidell – the Boston banker credited with helping the city's earliest chef-owned restauranteurs open their own places by financing them when no one else would take the risk.
The real star of the show and the best bet at Trustman's Dedham restaurant are the burgers. A dedicated burger menu helps diners build custom sandwiches starting with a choice of burger – Kobe ($14), house beef ($9), turkey ($9.50), veggie ($9), salmon ($9), or chicken breast (acting as burger)($7). From there, cheeses ($1.50) and an extensive range of variously-priced toppings, that include exotics like fried eggs or pan seared foie gras, can be added. (All burgers come with lettuce, tomato, good fries, and superb dill pickles.)
The rest of the menu has its hits and misses, and we've had some of each.
Over several recent visits, two appetizer choices stand out. The French onion soup ($9) was a hot little crock of sweetly caramelized onions beneath deliciously baked and melted cheese. And an order of fried calamari ($10) was as good as I've ever had: tender and light. (Ask for tartar sauce.)
On the same visit as the calamari – an early Sunday evening — it felt as though the kitchen had yet to recover from the devastation that brunch service often inflicts on a restaurant. A New York sirloin ($28.50), medium rare, was flavorful but too tough. The country style garlicky, cheesy potatoes that sided it, however, won my friend's heart with their mixture of crispiness and soft potato goodness. The Kobe twin mini burgers ($12), ordered with bacon (add on $1.50), cheddar (add on $1.50), and caramelized onions (add on $.50), weren't as tasty as the full sized Kobe burger with feta and arugula ($16) we enjoyed on an earlier visit, or the regular beef burger ($9) we'd had the night before. And I was disappointed with the salmon burger: it tasted fishier than salmon does. But, the delicious foot-long, thick Kobe hotdog (a laughably ugly specimen if ever there was one) had the snappy bite of a good naturally-cased dog.
On a Saturday night visit, the swordfish chop ($22) was wondrously moist. The chop comes from a rare collarbone cut that gives it a handle and great flavor. The oregano in its herb crust was a bit domineering, but the fish was so beautifully cooked it was great anyway. The brick chicken ($18) – a half bird – was comfortingly tasty although it entirely lacked the crispy skin that brick cooking promises. And a Caesar salad with some type of pink dressing was good with Parmesan shavings. (Doesn't anybody make a fabulous crouton anymore? But, then, how can such care possibly be taken with a menu of thousands of items to prep?)
What else? Oh: the pork ribs ($20) were good if a little tough along the edges. I chewed the bones after the highly seasoned meat was gone.
Two desserts were mixed: the fruit cobbler ($8) turned out to be an only okay citrusy tasting apple pie (our nice server swore it was the cobbler); and the red velvet cake ($8) was very good with a cream cheese frosting and a dollop of real whipped cream.
But I have a better dessert idea: have the yummy Met mocha milkshake ($6). Part espresso, park chocolate, and part milk, it'll take you up and set you back down, real smooth, for the ride home or a tour around Legacy Place.
The Met Bar & Grill
950 Providence Highway, Dedham
Sunday through Thursday, 11 a.m. to 10 p.m.;
Friday and Saturday, 11 a.m. to 11 p.m.
781 467-1234
metbarandgrill.com/dedham