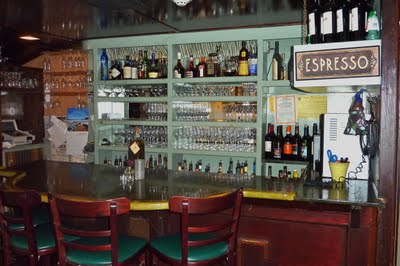 When Saporito's Florence Club Café opened in 1988, it was a shining star in an otherwise fairly lackluster South Shore dining scene.
The small, fine dining room became known far and wide, received awards and accolades, and remained at the height of its glory throughout the '90s. When Chef Maryann Saporito and husband Andy Boothroyd sold the restaurant in 2004, it was a sad day for the multitudes who loved it.
Happily, another husband and wife team bought the business and have managed the difficult task of carrying on the legacy. Both Chef Eric Stenfors (a Scituate native) and his wife, Annemarie, graduated from the Culinary Institute of America and did stints under Chef Ken Oringer before buying Saporito's. The couple creates the seasonally changing menu together, while Eric does the majority of the cooking and Annemarie runs the front of house.
The restaurant looks pretty much the same as it always has: a narrow, railroad car of a space in a stand-alone building that doesn't appear to have the strength to make it through the next nor'easter.
The kitchen is in the basement, the wooden booth seats are as ramrod straight as ever, and the little bar in the rear still sparkles with shiny bottles. In an Alice in Wonderland kind of way, Saporito's appears to be too small to fit anybody, but easily accommodates 85.
On two recent visits, guests appeared to be enjoying themselves with the high good spirits of regulars at a club.
Something about Saporito's casts a happy spell.
The chef's homemade, whole-wheat focaccia is cakey and fresh and sliced to look like biscotti. The simple bowl of olive oil that sides it is so fragrant we ask if it was infused with extra olives. (It's not, it's just high quality EVOO.)
Said focaccia transforms into grilled, herbed toast with the lovely ribollita ($11) — a minestrone with a full house of shredded cabbage, carrots, onions, and kidney beans in a tomato base.
A handful of $5 "stuzi'' — Italian bar snacks — are an amazing bargain. The three wonderful fried oysters are small, and a dollop of remoulade on top of each is enough to bring summer on prematurely. They sit over a beautifully dressed chiffonade of fennel-romaine salad with capers that is more of a slaw — and delicious.
Another of the stuzi, a large, crispy arancini ($5) — rice balls with a creamy middle — comes in a bowl of sweet tomato sauce.
The Caesar salad ($7) is dry from too much of a good thing — freshly grated parmesan (I prefer the fennel-romaine salad). The croutons were made from the wonderful house focaccia, but they're not baked or sautéed into the crunchy brittleness I wanted.
The ultra-thin Margherita pizzetta ($10) is covered with slices of fresh mozzarella, sweet red sauce, and fresh basil. The handmade pizza would have been outstanding if baked another couple minutes.
All the pasta dishes can be ordered as half portions, which are so big you wonder what the whole order could look like.
The orecchiette ($9 half/$18 full) with (fantastic) homemade sausage, oven-cured tomatoes, and broccolini is a feast of flavors — sweet, salty, and umami — in a bowl of contrasting textures: chewy pasta, snappy broccolini, creamy tomatoes, and meaty hunks of sausage. A light lemon garlic liquid covers the bottom of the bowl and sauces the dish.
We found the steaming order of spaghetti tomato sauce ($7) far too saucy for any subtlety of taste.
Braised short rib, with butternut squash puree and whole caramelized cipollini onions ($27), makes an unassailable case for the supremacy of braised meats. The squash is a creamy, starchy accompaniment to the melting short rib, and the onions — three whole ones — are sweet and delicious all the way through. If you don't know these onions and had your eyes closed, you wouldn't know what you were eating.
The crunchy crumb topping on the baked cod provides a satisfying contrast to forkfuls of the light fish filet ($24). It is served over a brothy and soulful stew of soft cannellini beans, spinach, and roasted peppers.
Dessert is too much to consider one night, hard to resist another, and the gingerbread cake ($8) is as good as two servers have advised. The bundt-shaped cake is topped with vanilla ice cream and surrounded with homemade caramel sauce.
At 23, old age for a restaurant, Saporito's is going strong. Let's hope the little building can stand up to another 23.
JOAN WILDER