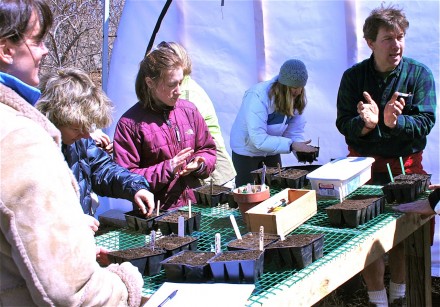 A dozen people gathered in the cold sunlight at Holly Hill Farm in Cohasset last Saturday for an organic gardening workshop. Happily, it was also opening day for the summer farm stand. And, although there wasn't much for sale yet, what there was, was great: leeks, sunchokes, and spinach.
I jumped at the chance to buy a bag of spinach after picking a leaf in one of the greenhouses. The plants had been planted in the fall, gone dormant in the winter, and begun growing again in the warmth of the spring greenhouse [below]. It shocked me, that spinach. It was very sweet with a lemony flavor and tender body.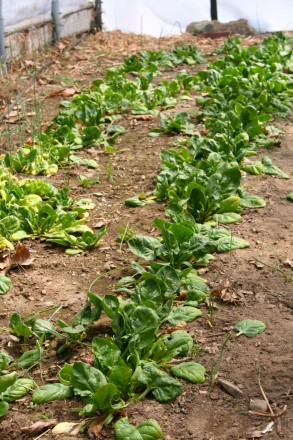 At home, after the workshop, I immediately made a spinach salad. I had expected to give it a quick sauté for dinner, but this spinach was too fresh and vital to touch with any kind of heat.
Holly Hill is both a for-profit organic farm and a non-profit educational organization. The workshop was led by the organization's director of education, Jon Belber [above], who was wearing shorts while almost everyone else was cold.
Some of the participants were veteran gardeners, a few total newcomers. In the course of two hours, Belber gave an overview of the tasks involved with growing vegetables: preparing soil, composting, growing seedlings indoors or sowing seeds directly into the ground, crop rotation, deep root watering, and fertilizers. All the while, he and farm Director Cindy Prentice talked about the health benefits of organic gardening.
"The environment's going to thank you [for gardening organically], future generations are going to thank you, things you can't see are going to thank you," said Belber.
A blue-tinged celery plant standing in a saucer of water with blue food coloring gave workshop participants a striking example of how plants incorporate toxins from the water and soil around them.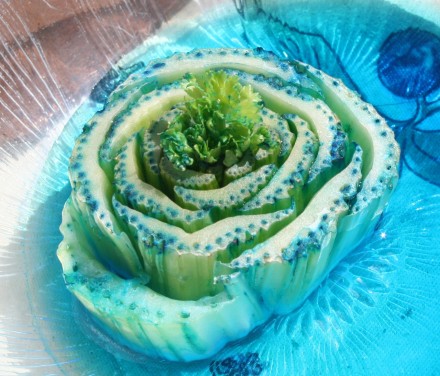 Celery is considered the most vulnerable vegetable to pesticides and synthetic fertilizers. Some plants are better able to resist incorporating chemicals in their tissue than others. It was good to be reminded, at the workshop, that this information is out there in the form of lists — the Dirty Dozen and the Clean 15. (The two lists are available as a free iPhone app; just search for "dirty dozen.")
Belber, who has won awards for his gardening with area school children, is passionate about the farm and its produce. He talks about and treats the plants with tenderness.
As he juggles speaking to the group and sifting compost or filling a six-pack with soil, he unconsciously picks off tiny twigs with the practiced touch of a parent gently straightening a child's hair. When he hands out red Russian kale seeds or the feather-light slivers that are lettuce seeds, he carries them with great care.
Often Belber teaches what the plants need by comparing them to children or people.
Explaining how to harden off seedlings raised inside, he says to cover them when it's cold, uncover them during warmer days, or bring them inside at night. Entering a greenhouse filled with the farm's earliest seedlings, he points out that the wood stove has to burn around the clock to keep the baby plants warm enough to survive.
"We look at the wind and temperature… when we're cold, we put on a coat," said Belber.
Belber's teaching is powerful not only because of his knowledge, but because he embodies a reverence for the farm that is palpable.
"You can see why people think of gardening as spiritual," whispered one pretty blond workshop participant as we stood over a sea of seedlings.
For those who want to keep things simple, peas, spinach, and kale seeds are hardy enough to be planted directly in the ground now. In a couple weeks (mid to late April) lettuce and beets should be good to go. And, in late May, when it's warm enough for everything to be planted, people can buy seedlings at the farm's annual plant sale.
Belber will be at the sale: he'll be the guy wearing shorts.
"Yup, I took them out on the first day of spring," said Belber. "That's it, I'll be wearing them until November."
For more information on all farm activities, including the next gardening workshop on April 30, visit http://www.hollyhillfarm.org or just stop by the farm at 236 Jerusalem Rd., Cohasset: everyone's always welcome.
Follow Joan Wilder on Twitter.