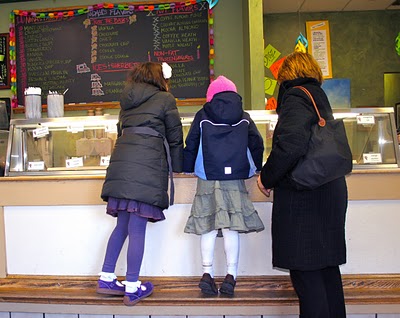 All things being equal, with God in heaven and everything right with the world, a local ice cream parlor should sell homemade ice cream created by a kind and happy person who loves ice cream, kids, people, and dogs.
And that's exactly what Hingham Square has in Krissy Donahue and Nona's ice cream shop.
Earlier this month, Nona's celebrated its 10th year in business with a big party at the store. It was one of the only warm days we've had in recent weeks, and there were two bands and face painting out back. Donahue also gave away free ice cream from 10 a.m. to noon; ice cream for ten cents from noon to 1 p.m.; and, as she does every year on her anniversary, ice cream for $1 from 1 to 4 p.m.
"We did more than 1,100 cones," said Donahue.
In many ways, Nona's is a dream come true for its owner.
"I always wanted a homemade ice cream shop and I just thought Hingham Square needed a homemade ice cream shop," said the mother of four, ageds 4 to 10, who each has an ice cream named after him or her.
In the '90s, when Donahue started thinking about opening her own place, Nona's was a TCBY shop. When its owner, a friend of Donahue's mother, offered to teach her about the business, she took him up on it and worked there for a winter. After that, she got a job as a field manager for TCBY New England. Later, when the Hingham franchise was going out of business, Donahue and her husband bought the shop.
Not only does Donahue make the ice cream, hard frozen yogurts, and sherbets (she's developed 80 recipes so far and offers 36 for sale every day), her mother makes the shop's chocolate and caramel sauces and its ice cream cakes. Nona's large waffle cones are also homemade — in a little waffle iron that fills the shop with sweet smells.
Coming up with new flavors is part of the job. The two newest –- the SS Cheesecake and Monkey Madness – were the winners of a name-that-flavor contest that was part of the anniversary celebration.
Hurricane Madilyn, named after Donahue's oldest daughter, is one of Nona's top sellers – after vanilla and Hingham Harbor Sludge. I love Donahue's vanilla, and nothing satisfies an urge for chocolate like her Sludge with its swirls of hot fudge, caramel, and Oreos bits. Hurricane Madilyn is a variation on the theme but vanilla-based — with hot fudge swirls and large hunks of chocolate and brownies.
Then there's the more unusual and wonderfully refreshing ginger ice cream – top marks. And, I found the toasted coconut so good, too, and Donahue's favorite, coffee Oreo.
"You can make whatever you want, which is the fun part of making ice cream," said Donahue.
Not only are Nona's ice creams, Sundaes, and frappes delicious, but its smoothies are great, too. I love that they can be ordered without frozen yogurt for an all-fruit smoothie. (Nona's is the only place around here I can think of that sells all-fruit smoothies.)
Even the shop's chocolate jimmies are fantastic.
I never knew jimmies could be good – I always assumed they were nothing but plastic-tasting blobs. But Donahue gets hers from the family-run, century-old Guittard chocolate company and oh, wow, are these ultra-fine, semi-dark slivers delicious. People come in just to buy a cup or a pint of them.
During the warm months, you'll see Nona's ice cream truck at the beach in Cohasset and Scituate, or at kids' parties. Donahue charges a minimum $85 (weekdays) or $125 (weekends) to show up at a party, but the cost of ice cream purchased is subtracted from the minimum.
Of course, little kids are a big part of the fun at Nona's. Soon after opening, a friend suggested she install a foot bar [shown above] so kids could get a lift and peer into the ice cream case. It's a rare occasion when that bar isn't occupied.
Donahue's easy-going nature has created a fun place that attracts happy throngs.
"The people who come in are generally happy," said Donahue. "Either they've had a bad day and are trying to make themselves happy or they're coming in because they're happy already."