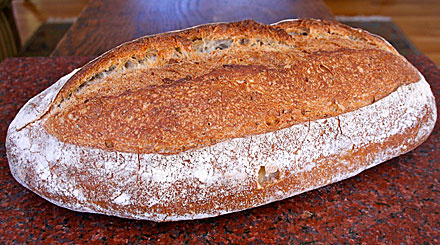 A remarkable old world bread bakery opened on the South Shore a couple months ago and I don't know which is more amazing – the bread or the oven where it's baked.
Peter Nyberg's new wood-fired stone oven in Plymouth is a custom, 60-ton version of the wood-fired stone ovens that have become so popular (mostly for pizza making) in recent years.
But, Nyberg isn't making pizza.
His Hearth bakery is turning out more than 1,000 loaves of a naturally leavened Country French bread daily – the way it was done centuries ago.
The operation and scale of the oven are hard to grasp.
Its interior, cave-like baking chamber is about 12 feet in diameter and can accommodate more than 100 loaves.
An oven-full bakes in about 18-20 minutes at a temperature of 460-490 degrees, one batch after another. It takes one baker about the same amount of time to load a batch of uncooked loaves onto a very long wooden peel, slash their tops, and slide them into the hot cave. And to remove them? That's faster: maybe eight backbreaking minutes of pulling the (pound and a half) loaves onto the peel and sliding them out of the oven and onto a beautiful wooden rack.
Meanwhile, Nyberg stone grinds his custom blend of mostly organic, heritage grains, mixes, proofs, hand-weighs, and forms doughs in synchronized time, batch after batch.
"We can produce over 2,000 pounds a day, that's a decent capacity," said Nyberg, who employs a second full-time baker.
The operation is a unique study in simplicity and precision.
Nearly every tool and piece of equipment in the bakery – and every procedure — has been custom designed to move an exact volume of dough (enough for one oven's worth of loaves) through the stages of bread making.
"We've finally got it down to a science," said Nyberg, who broke ground on the mammoth oven in June and baked his first loaf in October.
Every day, sometime around 10 a.m., after a night of baking, Nyberg starts a big wood fire on the floor of the oven. It burns until late afternoon, at which point the embers are spread out, allowing the heat to soak into the oven's enormous thermal mass. Around 8 p.m., a second fire is built in a firebox chamber beneath the floor of the oven that will be maintained throughout the cooking hours. At midnight, the oven floor is swept clean of its embers, and baking begins.
Nyberg, 41, has been taken with bread baking for more than 20 years. He's baked at numerous restaurants and bakeries, worked as a consultant, and is an adjunct baking instructor in the College of Culinary Arts at Johnson & Wales University. When he began toying with the idea of opening a bakery last year, he knew what he was after.
"I wanted simplicity and as few mechanicals as possible," said Nyberg, who has replaced automated techniques (like proof retarders, baguette molders, and bread dividers) with elegantly conceived procedures designed to streamline handmade bread baking.
Eschewing such techniques in favor of small batch baking allows for the daily grinding of heritage grains; long fermentation times; and the use of natural leavening. These processes, and the high heat of the wood-fired oven, result in an alchemy that allows the grains to retain their nutritional values and flavor.
I visited Nyberg at 7 a.m., on Christmas Eve day, toward the end of a long night of baking.
We talked as he took a batch of loaves out of the oven; put water into an iron bucket that fits into a hole on the oven floor; and loaded up another hundred doughs.
"Feel that? Feel the humidity?" he said, inviting me to touch the wooden handle of the 15-foot bakers peel he'd just pulled from the oven.
And I do, I feel that it's moist.
Although Nyberg's main focus is making his Country French bread, customers have convinced him to produce others, so he's now also making a lovely rosemary loaf and a fruit and nut on Fridays and Saturdays.
And, I like both those loaves, but I love the Country French. It's an uncommon bread and satisfies in an uncommon way – almost as though it were a different food than bread. And I don't mean that it's heavy, it's not. It's actually light, with a very airy, moist crumb, and a crust that bites back: a crust that demands respect! After eating it for a week, other breads began to seem lightweight and lacking to me.
The bakery, which is open everyday for sales, also delivers daily to several South Shore stores, including Hingham's Fruit Center. Call to see if there's one near you.
Hearth Wood Fired Bread bakery is open for retail sales Monday through Saturday, 9 a.m. to 6 p.m., and Sundays, 10 a.m. to 3 p.m. The country French is $4.25. 123-2 Camelot Drive, Plymouth, 774-773-9388. www.hearthwfb.com