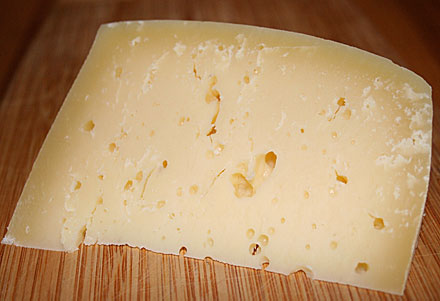 If Josie the cow cared, she could lift her big speckled head and see Patriots fans, tiny as ants, in the top tiers of Gillette Stadium. But the pretty speckled milk cow only has eyes for the grass.
And I only have eyes for the raw milk and cheeses that Terri Lawton – a tenth generation farmer – produces from Josie and the rest of her herd of about 24 grass-fed Ayrshire cows at the Lawton Family Farm in Foxborough.
Lawton and her crew make two types of cheese. One is a raw Asiago-style, and the other a soft, creamy fromage blanc that comes plain or flavored with chives, lemon honey, and tomato basil.
It's not that surprising that Lawton could come up with two such successful cheeses (her lemon honey fromage blanc took the silver at the Eastern States Exposition in '09) after being in the cheese-making business less than two years. Not when you consider her pedigree.
After growing up on the farm that has been in her family since 1732, she graduated from Purdue University in 2002 with a double major in agribusiness and agricultural communications. Following college, she spent a couple years as a dairy inspector for the Massachusetts Department of Agriculture, and a couple more working with kids. Then, in 2006, it came to her.
"I loved cows and I wanted to work with them," said Lawton.
But being well-educated on farming — in school, life, and on the job (she'd visit more than 100 farms as a dairy inspector) — she knew she had to find a way out of the "economic slavery" that the expectation of cheap food and government subsidies force on farmers.
"I didn't want to be a price taker," said Lawton. "If it cost 2x to make, I didn't want to have to sell it for 1x. Selling raw milk — then the cheese, was a way around that."
In Massachusetts, it's legal to sell raw milk only at certified farms where it's produced.
But Lawton's milk and Asiago cheese aren't outstanding just because they're delicious and raw (the fromage blanc is heated and thus not raw), but because they're made from the milk of grass-fed cows free of antibiotics and growth hormones.
A growing number of studies show that milk and meat from cows raised on a diet of grass is rich in a number of super health-giving substances, including CLA (conjugated linoleic acid), beta-carotene, Vitamin E, and Omega-3 essential fatty acids.
Lawton wants her customers to know what they're getting and holds orientations three mornings a week. At one session last week, mother and daughter Michelle and Krystn Gustafson wanted to know what was different about raw milk.
"The main difference is it has all the enzymes, lactase being one of them," said Lawton.
Which is why many people who are lactose-intolerant have no problem with raw milk: Lactase is the enzyme that breaks down lactose, or milk sugar, into something digestible.
Pasteurization (which heats milk to high temperatures) kills any harmful bacteria that could grow in milk that was handled carelessly and often comes from sickly cows treated and fed poorly. Unfortunately, it also kills many of the co-occurring nutrients that make it so good for people.
Lawton takes safety seriously. Her certified milking operation – and milk – is inspected monthly by the Department of Agriculture. And she's well-educated on keeping her herd healthy and running a highly sanitary operation. She milks twice a day, and the white liquid goes directly from her cows into refrigerated vats.
"I'm okay with the regulations – it's good to hold people accountable," said Lawton.
Lawton and cheese maker Melissa Gagne make about 100 pounds of cheese each week, with the help of Terri's parents, Nancy and Ed Lawton. The cheeses are available in the barn refrigerator. Milk, however, has to be ordered a day ahead. The old barn store also sells some frozen grass-fed beef and veal (when it's available), locally made hot dogs from her meat, organ meats, and bones for stock.
I've been gorging on the milk and the two cheeses for the past week, thrilled to be able to buy such delicious food from a farmer I know.
I've mixed the fromage blanc into a plate of linguini with pesto, turning it into a quick and good creamy dish. I've spread it on toast and used it like mayonnaise to moisten a sandwich.
It doesn't take any imagination to eat the Asiago: just bite into a hunk [at left]. I've also grated it on pasta. Delicious, satisfying, proteinous, and filling.
I know science continuously changes its findings, but I believe the studies that show grass-fed, raw milk products to be extremely nutritious – reversing the common belief that whole milk and cheese harden the arteries. They're whole, natural foods from healthy animals that get to eat grass the way cows have always done – and that seems right to me.
I'm grateful to the Lawtons for doing what they do — theirs is the last dairy farm in Norfolk County — and the only nearby place I know of where I can buy raw milk.
And much appreciation to Josie!
Prices range from $3 for a half-gallon of milk to $8 for 8 ounces of fromage blanc. Foxboro Cheese Co. at Lawton Family Farm, 70 North St., Foxborough. For information on other places to purchase the cheese, call 508-543-6460. www.lawtonsfamilyfarm.com.