In Scituate, just up the street from Riva Pizzeria, is a granite marker by the roadside with the words "23 miles to Boston" etched into its old, tombstone-like face.
Those 23 miles used to be the distance it took to get yourself a gourmet pizza, but not anymore.
Riva Pizzeria & Deli, the little sister to Riva Restaurant in downtown Scituate, makes pies as good as anybody.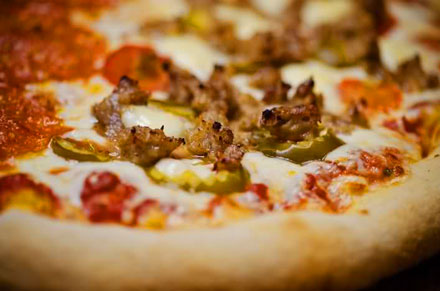 Jay Cole opened the adorable eatery ten months ago
in one of the prettiest – and oldest — buildings in Gannett Corner (the intersection of Country Way and Gannett Road), next to the Old Colony train depot.
"We wanted to make pizza but the restaurant was small, and we found this place," said Cole.
At first, the operation was half the size it is now and only open evenings. Then, in June, when the coffee shop next door closed, Cole renovated, taking over the whole building and expanding the hours to include lunch and dinner.
We've had the pizza several times – sitting out front on warm summer nights, inside at one of a few tables or perched along a communal window seat, and as take away.
I've liked them every time — there are a dozen named pizzas, from a standard cheese ($9), to a Margherita made with fresh mozzarella ($11), to the Caramia, with delicious sweet sausage, to the house specialty, The Riva, ($17) topped with goat cheese and braised short ribs (a take off on one of the restaurant's popular dishes). The pizzas are thin, but not too thin, and very, very delicious. Every time.
And if one of the specialty pies isn't to your liking, you can customize one with any of 25 toppings you want on it (one topping ($9); 2 toppings ($11); three toppings ($13). (The pies are all one large size – at least 14 inches in diameter.)
The quaint eatery also offers salads and sandwiches.
The sandwiches are big to enormous and the ingredients are fresh, good, and plentiful – which can, sometimes, be a bad thing: A few of the sandwiches have too many ingredients to deliver one focused flavor punch, but this is a problem of riches. And one that Cole has anticipated by offering the same choice he does with the pizzas: You can create your own sandwich from a list of a dozen ingredients – (all the usual meats plus a host of good things, like bacon, pancetta, caramelized onions, and pesto) and the kitchen will make it.
I like the house-roasted chicken on the Catania sandwich ($9) – which comes with pancetta, pesto, thick slices of fresh mozzarella, and roasted peppers. (Next time I'll order a version with just the chicken, pesto, and tomato.) The Palermo ($9), is another good one, with sliced turkey breast, apple wood smoked bacon, sun dried tomato aioli, Bibb lettuce, fresh mozzarella, and sliced tomato.
The choice of breads here is key. Unless they've run out, Riva's ciabatta breads are fantastic – and a far cry from the standard sub rolls that the pizzeria also uses. (If there is a preferred place for sub rolls, it's with the (delicious) meatball ($8) or chicken parmesan ($8) sandwiches, which are both served with a hot marinara that sub rolls soak up nicely.) Riva also offers wraps of all sorts, but if you like good bread, the ciabatta is tops.
The salads are good, too. They're all $8, and can be ordered with grilled chicken added for an additional $4. The mixed salad (insalata mista) is actually a tasty baby spinach with dried cranberries, walnuts, crumbled gorgonzola, and a thick vinaigrette. The tuna salad is a composed salad of a large dollop of tuna salad (with lots of red onion and celery) set on very fresh, tender Bibb lettuce, with piles of artichoke hearts and olives.
Salads come with crusty Italian rolls, made in the pizza oven, and Riva bakes a variety of tasty cookies (I like the oatmeal raison) daily and often has other treats – including canolis. The eatery also sells a range of mostly Italian specialty items to stock your pantry, including olive oils and vinegars, tomato sauce, pasta, and, of course, soft drinks of all sorts.
Since expanding its space and hours in June, Riva Pizzeria has been establishing itself as a solid place for a quick meal, some take away, or dialing up for a delivery. Who knows, maybe it's history repeating itself: According to some old records, the building was a variety store in the 1880s, called DJ Bates, (cq) which sold hardware and groceries, next to the train depot.
The train is back, and now the building has Riva Pizzeria & Deli.