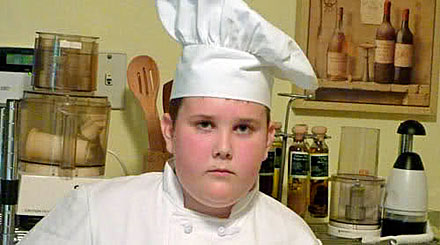 As Liam Cronan works three Calphalon pots to create Julia Child's potage velouté aux champignons, he's like any good chef performing a cooking demo. Simultaneously sautéing onions in one pan, mushrooms in another, and simmering some seasoned stock, he narrates his progress.
"These are done, I can turn this down… this is starting to melt, good… and this is coming to a boil."
I'm at Liam's house in Weymouth, and he's cooking me lunch.
And he's 12 years old (almost 13).
I met the seventh grader and his mother at Whole Foods in Hingham this summer. I noticed him because of the confidence with which he was asking the fishmonger for an exact cut of Mediterranean sea bass. It was intriguing to see a child talking food like a grown-up, so I introduced myself.
Soon after that, Liam and I began e-mailing, and he eventually invited me to lunch.
One e-mail announced the menu he'd planned: potage velouté aux champignons, beef Bourguignon, and mousse au chocolat.
He'd devised a clever plan: he'd make two batches of beef Bourguignon – one would be ready to be eaten during my visit, and one would be made from scratch to show me how he did it. (The classic stew takes hours in the oven.)
Surprisingly, Liam started cooking just this past May, after having ordered mussels in butter, garlic, and wine, for the first time, at Nino's in Weymouth.
He loved the dish and suddenly realized that he could have it more often if he could make it himself. Since then, the A-student at Weymouth's St. Francis Xavier has learned a lot about the culinary arts – largely by devouring Julia Child's "Mastering the Art of French Cooking," Volumes I and II, and watching her old television series.
Liam greeted me at the door in his new chefs outfit and guided me to a little bistro table in the kitchen. It was set beautifully with a candle, a bouquet of fresh herbs, a breadbasket, ice water, and a ramekin of delicious herbed butter he'd made.
As I tucked into some French bread, he set to cooking: first the soup, then the stew – both Julia's recipes – then his own amazing desert.
As he worked, he peppered his narrative with tips, French terms, and historical references. He had assumed the professional demeanor of a personal chef to his one guest (me). But every once in a while, the fun-loving kid in him burst out with some enthusiastic expression or great laugh.
Like a TV chef, he had his mise en place in place: bowls and cups filled with pre-measured ingredients: chopped onions and mushrooms, flour and butter, chocolate sauce in a chef's squirt bottle.
I kept leaping out of my seat to get a closer look at all he was doing.
After completing the mushroom soup by blending cream and egg yokes into the broth, he removed his first beef Bourguignon from the oven and added the finishing touches: sautéed mushrooms and some roux, to thicken it.
"I really like making a roux. They're a little bit of a challenge. I've made them wrong before, and you end up with a dry cake on the bottom of your pan," he said. "Same with the mushrooms. If I added them in the beginning, they'd end up like their first syllable: mush!"
As Liam began browning the meat for the second beef Bourguignon, I asked what kind of meat it was.
"The undercut of chuck," he said.
"What exactly is that, do you know?"
"The chuck stretches from the cow's shoulder blade to the side back," Liam said. "The undercut of chuck is from the side."
Holy Batman!
"Here's a little more chemistry: you don't add pepper until the end. If you cook it for hours, it'll taste like Moxie," Liam said.
"What's Moxie?"
"It's a bittersweet soda – one of the first to be commercially produced," he said. Liam learned about Moxie on the History Channel and buys it at Hingham's Fruit Center.
As the chef's parents stayed discretely in another room, I ate my meal, course by course. The soup was nicely seasoned and delicious; the beef Bourguignon tender and good; and the desert a perfect home run.
"This is my own presentation," said Liam, who had thought up the idea of making little chocolate cups from a candy mold to fill with the chocolate mousse he made.
He'd used a paintbrush to paint each of the molds with his custom blend of three types of melted Ghirardelli chocolate: painting and letting them dry, painting and letting them dry.
Why does Liam cook?
"I really love it. It's my hobby…to take simple ingredients and turn them into something delicious."
Liam cooks on weekends, while his mother, Paula Cronan, cooks most of the other meals. He says he doesn't know whether he wants to become a chef or not, and his mother says that she and her husband, Jim, will support whatever he chooses.
"He's very studious, very into school," she says. "One minute he wants to be a scientist, the next a doctor. We would follow him whatever he wants to do."
Having persuaded Liam to join me for dessert, we divvied up his amazing mousse au chocolat with raspberries.
"Bon appetit," he said.
"Bon appetit!"
Follow Joan Wilder on Twitter.