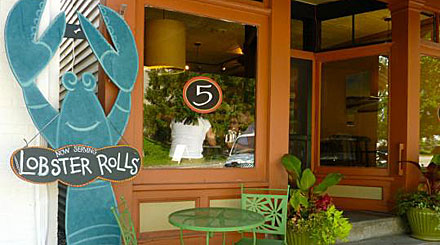 Lunching solo at one of the patio tables outside of 5 South Main in Cohasset Village on a perfect afternoon this summer, I was the first to make the celebrity spotting: Cohasset High graduate Kate Bosworth, of "Superman Returns'' fame, arriving at the small restaurant with an older couple.
As they ate inside, I watched several sets of departing diners confer on the movie-star sighting in a similarly covert fashion. Two women gaily chatting their goodbyes on the sidewalk suddenly lowered their voices and huddled closer.
"I thought so!'' one exclaimed with widening eyes. "Oh, yes, I'm sure!'' said the other.
Even without special guests, 5 South Main is a friendly hub of village activity where people tend to chat like friends as they come in for take-away foods or sit down for a meal.
It's hard, when passing through town, not to stop for a bite or some good iced coffee — and I haven't resisted the urge on many occasions this summer.
Norwell native and owner, Jennifer Warshaw, who used to co-own Maggie's Corner in Cohasset with her mother, has created an adorable, small eatery (22 seats, excluding the patio) with homemade breakfast and lunch dishes, daily soups and other specials, terrific take-away items (granola, pesto, quiche), and specialty cupcakes.
The 5 South Main sandwich ($8) is an original: thick slices of tender, moist chicken breast on a baguette slathered in guacamole and melted cheese, and topped with a spicy black bean and corn salad.
Equally good is the caprese ($7), another big sandwich with buffalo mozzarella, wonderfully caramelized onions, roasted red peppers, and tomatoes, on bread slathered with the house pesto.
Also good is the pungently dressed chicken Caesar salad wrap ($8) and the delightful tuna melt ($7) — with just the right amount of onion and celery — on perfectly grilled multigrain bread. The special lobster roll ($12) is very good and big enough to share.
All of the sandwiches are accompanied by very carefully crafted side dishes: orzo salad, potato salad, acini de pepi (peppercorn-sized pasta) salad.
Most items on the breakfast and lunch menus have an array of add-on options: add grilled chicken to any salad for $2.50; for a dollar or two, add avocado, caramelized onions, bacon, or Italian sausage to the house grilled-cheese sandwich ($6); add fruit, nuts, honey, or house-made granola to oatmeal ($2.50) for 75 cents.
After hearing from several local residents about how good the breakfasts are, we found ourselves up early enough last week to be sure to snag a table. I ordered the hearty breakfast frittata ($6), a baked egg dish with cheese, spinach, peppers, onions, and mushrooms. It comes with good home fries, toast, and a piece of fruit.
Our server proudly alerted us to the morning's homemade peach jam (served in small individual containers), which was still warm from the stove.
Scrambled eggs can taste like nothing if not done well, and 5 South Main's (two eggs any style for $5) are seasoned, topped with melted cheddar, and very flavorful.
The pancakes and French toast (both starting at one for $2) are great. It's nice, too, to be able to get high-quality yogurt (Stonyfield) with fruit ($4.50).
The breakfast sandwiches ($3.75), which are served in wraps or on various breads, are light-years better than the ubiquitous premade, microwaved versions available at so many places for a similar price.
Most of Warshaw's fare is very inexpensive — a pint of her excellent pesto (made with organic basil from Cohasset's Holly Hill Farm) was $6 last week. (That's enough for at least five or six pounds of pasta.)
I don't know how she does it. Her love of cooking must be part of the equation.
"I love the crazy, hectic pace of a busy kitchen,'' she said on the phone. "The busier it is, the more I like it.''
5 South Main St., Cohasset
781-383-3555
Hours: Monday through Saturday, 6 a.m. to 5 p.m.; Sunday 6:30 a.m. to 3 p.m.
Catering available
Major credit cards accepted
© Copyright 2010 Globe Newspaper Company.