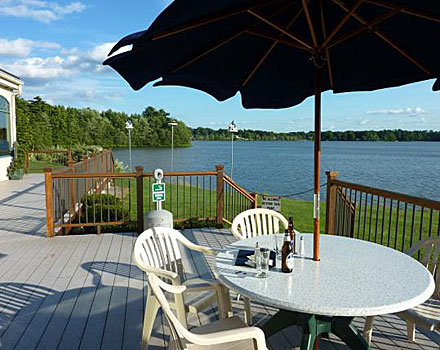 Monponsett Inn
There are to be found (with the wondrous help of a GPS) some lovely middle-of-nowhere spots within an hour of Boston, and we discovered a sweet one last week in Halifax.
The Monponsett Inn — no longer an inn, but a restaurant for more than 100 years — sits on a narrow strip of land between East and West Monponsett lakes, which together constitute a serene expanse of more than 500 acres of fresh, sparkling water.
The original place was built as an enormous home in 1886 and has been transformed, over decades, into various versions of summer resort, restaurant, and wedding facility.
The current incarnation, purchased in 2006 by Plymouth resident George Latini, is a sprawling structure with two new function rooms, a renovated bar, and a million-dollar view. A seat on the waterside deck is a ticket to a deep quiet as old as time itself. The whole place feels as though it's lodged in an earlier era when the world was young, static-free, and people didn't live on cellphones or vie to be listed among the Best of Boston.
Much of the food is similarly old-fashioned, with a lineup heavy on Newburg sauces and baked entrees with bread-crumb toppings. But the menu, which is the same for lunch and dinner, is very large, and there's enough on it to allow even picky eaters to enjoy something while nourishing themselves equally on the tranqulility of the lakes.
The best thing I had in two visits were the good-as-they-get enormous jumbo shrimp in the shrimp cocktail, which are ordered by the piece ($2.25 each). They were firm, cold, and clean-tasting. I'm going to have six or eight of them as a main course the next time I find myself nearby on a beautiful day.
I also happen to love the Greek-style cheese pizza the restaurant serves, so I could easily make a meal of one of those ($5) with a glass of something. The restaurant has different specials every night, and pizzas (there are many) are half-price on Mondays.
The mussels marinara ($9) appetizer was pretty good, too, the marinara — sweet and thick — being the best part. Torn crusts from the inn's very good, warm bread (a whole, small boule) dipped into the sauce were put to good use. A Greek salad ($5) was a light appetizer, and olive oil and red wine vinegar are a good choice for dressing here.
Chicken marsala ($15), over mashed potatoes, was strips of chicken tenders, thick-cut fresh mushroom slices, and a flavorful sauce. The Newburg sauce that came with the haddock sublime ($18) was tasty, and the fish alone (with the sauce pushed to the side for those who want a less caloric meal) was good. Like all entrees, it came with a choice of two sides that include vegetables and baked potato.
The sirloin steak, butterflied, was satisfying as a whole, sauceless protein ($18). Another in our party enjoyed the prime rib, which was 24 ounces of meat served au jus.
I would steer away from the crab-crusted salmon and instead try the fish and chips ($11), one of the restaurant's pastas (from $9), or a stir-fry — there are several.
Desserts aren't made in-house, but the two we ordered were good: the chocolate beyond reason ($5), which had layers of cookie crust and dark and light chocolate mousse, and the Italian lemon cream cake ($5) which tasted like it came from a North End bakery.
The restaurant was crowded on both of our visits. The clientele is definitely on the older side, although a young family sat next to us on a Friday night.
It's an abidingly relaxing spot, a pretty oasis of calm where time doesn't seem important. I suspect that the inn is many people's favorite place in the world and that if its walls could talk, they'd have decades of stories to tell.
© Copyright 2010 Globe Newspaper Company.