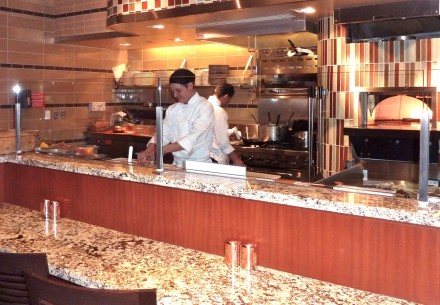 Even though a friend had been raving to me about Café Bistro in the new Nordstrom at the South Shore Plaza for a few weeks, I wasn't hearing her.
An unconscious notion — that a restaurant in a department store couldn't be a good restaurant — was so lodged in my mind that I couldn't see the place. Even after having a lovely lunch there – very much enjoying both the food and the serene atmosphere, I dismissed the place as some kind of corporate trick.
But good dishes don't come from nowhere and everything I've had at Café Bistro on two visits has been delicious. The service, too, is unobtrusive and competent – like the hospitality at a high-end resort — and the simple, third-floor space is soothing and pretty with a wall of windows through which only tall trees can be seen.
The 96-seat restaurant opened March 26 – along with the department store — and its hours match the store's (although it stops serving an hour before Nordstrom closes). The bistro offers breakfast from 10 a.m. to noon, and the daylong, regular menu is good for anytime-you're-hungry eating. It has a few soups, seven salads, five sandwiches, four brick oven pizzas, and five main dishes — including its superlative, crispy, beautifully seasoned, boneless, naturally sourced roast half chicken ($14.75).
I don't say this lightly: I'm always looking for a great chicken, and I can only think of one other I've had this year that was as delicious as this one. It was served with an herby, lemony pesto smear on top along with the signature house kalamata olive aioli and thin French fries.
Two salads were both wonderful: The shrimp in the cilantro lime shrimp salad ($12.75) were, again, well seasoned and perfectly cooked. The lettuce was a blend of organic baby greens and romaine – a combination I've taken to using at home as a good contrasting mix. And the cilantro lime vinaigrette, which the café is smart enough to bottle and sell, is heads above most salad dressings: it has a bit of heat, sweetness, and a perfect balance of limey acid and oil.
I also very much liked the ginger sesame dressing that comes with the warm Asian glazed chicken salad ($11.25), which I found wonderful, too, with its organic baby greens and Szechuan glazed chicken breast.
The citrus turkey sandwich ($9.75), at a whopping 800 calories (a nutritional breakdown of all café dishes is available), didn't feel heavy and was perfect for splitting. It came on a good, multigrain ciabatta and was layered with tomato, Gruyere, baby greens, a citrus chutney, and garlic aioli. Totally satisfying.
Even the margherita pizza ($9.50) was good, baked in a brick oven in the bistro's open kitchen [pictured above].
Although the menu is largely the same at other Nordstrom Café Bistros, each café offers two unique weekly specials that run from Tuesday to Monday. This gives Braintree's Chef Jose Perez a chance to showcase his versatility. Last week's specials were a roasted cod tomato ragout with polenta ($13.95), and a ham and arugula pizza ($9.95).
According to cafe manager Ron Sanderson, "everything's made from scratch, in house," including the desserts, and I believe it.
The restaurant also has a nice kids menu, with good stuff little kids like, like buttered noodles, ($4.50), mac and cheese ($4.50), and chicken fingers ($5.25) — all of which come with fruit, raisins, and a choice of milk, juice, or soda.
We topped off one visit with the chocolate paradise cake ($5.95), which was enormous enough for four, easily. One of us was having a birthday, and the staff spelled out happy birthday in raspberry sauce around the edge of the plate. It was so good that I got another slice to go on a subsequent quick trip to the store.
Evidently, I'm among the last to cotton onto the popularity of Nordstrom's many restaurants. A quick Internet search yields lots of links to its recipes, its three cookbooks, and its products.
So, even if you're not shopping, I'd say it's worth a trip. Café Bistro is a delicious oasis in the unlikeliest of places: a shopping mall. But consistently good fare is a admirable feat, and this place is the real thing.