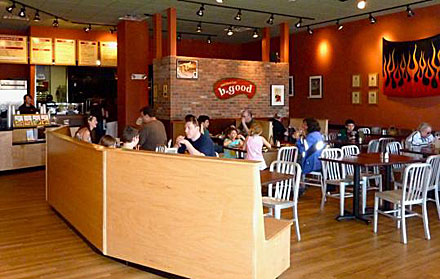 When the owners of b.good ("real food fast") restaurant opened the first of their six Boston-area places in 2004, they started with a simple idea: Make fast-food favorites they could feel good about eating.
Six years later, that focus has turned b.good into the only South Shore fast-food chain that sells burgers made from grass- and grain-fed, hormone- and antibiotic-free, house-ground beef from regional family farms.
The company — which opened its sixth restaurant at Dedham's Legacy Place in November and is scheduled to open a seventh at the Derby Street Shoppes in Hingham this month — made the change to all-natural beef in February.
Although the meat is more costly than conventional beef, b.good's growth has given it the purchasing power to meet the minimum poundage per week required to buy from Pineland Farms, a collective of 104 family farms in northern New England and New York. That lowers the restaurant's cost a bit, and b.good is also willing to take a hit on their profits per burger, to drive home a point that is important to the owners.
"We always thought that real food was food that was homemade by people, not factories, so we started out grinding our own beef, still do," said Jon Olinto, who cofounded b.good with his childhood best friend, Anthony Ackil.
Then, as the partners learned more, their concept of "real food'' extended deeper into the supply chain.
"We started thinking maybe it wasn't real to raise cows in factories," Olinto said. "Then, was it real to give them antibiotics and hormones?"
The answer — a deeply felt "no'' — prompted the friends to start visiting small farms and meeting farmers.
"For us, it's about knowing the person behind the food. If you know the farmer up in Maine, and know how he does business, that's way more important to us than reading a label that says a meat is organic. That's the kind of relationship we trust," Olinto said.
Most factory farms, on the other hand, are vast, mechanized operations.
"Factory farms replace humans with technology and systems run by machines, not people. There's no love, no transparency," he said. "And when you buy a ground-beef burger from a mega-chain, you don't know what you're
getting, or who made it."
B.good also purchases as many of its vegetables as possible from local farms or farmers the owners know. Poster-sized wall boards identify the farm and farmers who raised the day's beef, as well as the produce, and they use quite a bit: potatoes and sweet potatoes for their (delicious) baked fries ($2.19/$2.49); lettuce and tomatoes for salads and on their sandwiches; and various veggies for their stir-fried crisp veggies ($2.79) and seasonal veggies ($2.79).
Although b.good's fresh ground-turkey burgers and grilled chicken sandwiches are not sourced from free-range poultry, Ackil and Olinto hope to be able to find a farmer to supply those sometime soon.
"We've started with beef because if we can tell the story of a burger, we can raise awareness," said Olinto.
The partners are so passionate about real fast food that every Tuesday, they grind 500 burgers, patty them up by hand, and take them to Brookline High School. They cut their costs sharply to fit into the school lunch program, allowing students to get a b.good burger for the same price as a school lunch.
The partners break even on this, but do it to spread the word to kids and parents about healthy fast foods. They're hoping to bring the program into some South Shore schools, if they can make the right connections.
So, how's the food?
Really good.
The burgers are great (I like the beef the best), and the menu is fun. You can choose one of four burgers — beef, turkey, veggie, or a grilled chicken breast — then mix and match toppings.
Among the six choices for embellishments are the West Side — avocado, cilantro, tomato, and chipotle salsa ($6.29); the Adopted Luke — mushrooms, caramelized onions, cheese, and barbecue sauce ($6.29); and the classic, Cousin Oliver — lettuce, tomato, onion, pickles, and a secret sauce ($5.99). I like them all.
The buns are good, too: toasted, seeded whole wheat, and they even offer a gluten-free bun (for an additional 90 cents) that I thought was pretty good.
The mango, raspberry, and strawberry-banana fruit shakes are better than smoothies at many places, their flavors brightly vivid. On a recent, second visit, I had a very good chicken salad with corn, black beans, hunks of ripe avocado, baby lettuce, and some great crunchy, toasted corn nuggets.
And I absolutely love that I can now get an inexpensive order of cooked vegetables out somewhere fast (it's hard enough to get them not fast). The restaurant's stir-fried veggies are a clean mix of broccoli, carrots, and red peppers that seem more steamed than stir-fried, which is fine with me.
B.good is an extremely welcome alternative to the fast-food burgers its founders loved as kids. I am happy and grateful to be able to eat at this place now — and to see fast food that is healthy (for humans, animals, and the planet) moving into the mainstream.
JOAN WILDER
© Copyright 2010 Globe Newspaper Company.