A small restaurant, a small menu: seven starters, eight mains, four sides, six desserts, and a few daily specials.
This is a smart strategy for a business that can plow under newcomers mercilessly, and the one that husband-and-wife partners Robin and Jill King have chosen for their pristine new restaurant, Oro, in Scituate Harbor.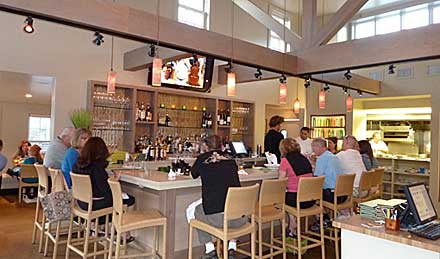 Expecting there would be no problem getting a table, we showed up at 7 p.m. on a recent Friday night and were lucky to get seated at the bar. Reservations, it turns out, are a good idea at Oro, especially on weekends. The Kings have exempted the bar seats and four small tables in the lounge from reservations, giving last-minute diners a good chance to join the party.
Oro is extremely pretty with a spare, Asian look — all bamboo, beige, and straw with Japanese shoji-style sliders, a high ceiling, orange and green accents, multiple-paned windows up high, and one enormous flat-screen television above the bar. With the help of designer Susan Orpin, the Kings totally renovated the former Flounder Inn — an odd place in the old Walsh building that served breakfast and Chinese food for years.
My initial reaction to the TV was dismay that we've gotten to the point where we can't be without immediate access to electronic media. Two nights later, on a second visit to the restaurant, I was glued to the thing for the last few minutes of a Boston Celtics playoff game. Robin King, who serves as Oro's chef, later told me he hadn't wanted a television, but had seen people walk out of places when they didn't find one.
On both visits, the crowd was a mixed bag of ages, from twentysomethings on up, and the whole place buzzed with a sophisticated yet casual feel.
Oro has a high staff-to-customer ratio, making for great service. I counted six cooks in the kitchen on my Sunday evening visit, plus King working as expediter front and center in the large open window to the kitchen.
The corn chowder ($10) was a thick soup with bits of clam and bacon — its sweet creaminess based on a puree of corn as well as dairy. A special appetizer, the pan-fried soft-shelled crab ($12) was served beneath an outstanding chunky avocado salad with mint, corn, and cilantro.
Among the other offerings on Oro's Beginnings menu are two salads: a simple, good Caesar ($8) and a radicchio endive ($9), a slaw almost, with toasted pecans and Gorgonzola. I liked it and would have loved it if the honey thyme vinaigrette had more punch.
The pork osso bucco ($21), accompanied by whipped potatoes and tiny crispy onion strings, fell off the bone at the touch of a fork. The orecchiette pasta with veal and tomato ragout ($18) had a lovely sweet sausage flavor. And I loved the side dish of roasted cauliflower ($6), which was deliciously caramelized.
The pan-roasted swordfish ($24) was perfectly cooked — moist but not rare — and topped with a chunky olive tapenade. It was served over a tomato coulis and a very good, bright-yellow saffron risotto.
The flavorful crispy chicken ($20) was smeared with a minty chimichurri sauce and served over a wilted watercress salad with truffle oil (good) and braised artichokes.
Most of Oro's desserts resemble abstract art: the guy next to us had a gorgeous cheesecake with rhubarb compote that looked like a model of a raspberry-colored UFO. One of us adored the wedge of shortbread cake that came with the lemon thyme crème brulee ($6) and found it reminiscent of a torta della nonna (grandmother's cake) we've had in Italy.
The good pineapple cake ($6) was set on one end of a large, rectangular white plate with a scoop of ice cream on the other end, both of which were encircled by an oval of caramel sauce and other little goodies scattered around.
We ended our second evening at Oro with a chocolate-chip ice cream sandwich ($6) that seemed boringly out of place among the other great desserts.
Hey, you get spoiled eating out. And Scituate has several great places. Oro is front and center with the best of them.

Oro; 162 Front St., Scituate; 339-526-1701; Hours: Friday and Saturday, 5 to 10:30 p.m.; other days 5 to 10 p.m.; closed Tuesdays; Accessible to the handicapped; Major charge cards accepted.