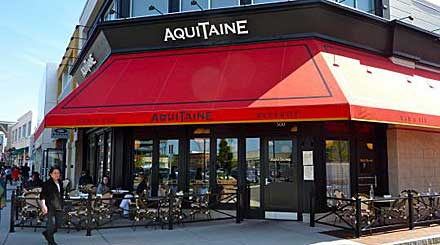 If you were to be served the same exact dish at an unknown dive and an upscale restaurant, you'd likely rave about the food from the dive and be less impressed at the fancier place. Expectation, scale, and price heavily influence perception.
Critiquing restaurants is difficult because the restaurant business is so difficult. Putting out hundreds of meals a night is a Herculean task that demands unrelenting perfection that can never be reached. And yet, each guest expects his or her plate to be perfect.
That said, the new Aquitaine Bar a Vin Bistrot at Legacy Place, the third from co-owner and executive chef Seth Woods, is not the superb French restaurant I was (naively) expecting, but it's good. The pretty space feels very French with its eggshell-colored ceiling, dark wood, red leather, white tablecloths, and sparkling mirrors, and there's plenty of good food to enjoy. The menu (a study in the French language) offers at least half of the dishes that have earned the restaurant widespread popularity since the first one opened in the South End in 1998, and the second two years later in Chestnut Hill.
With few reservations available on a recent Friday night, we arrived at 6 p.m. — early enough to take advantage of the restaurant's Beat the Rush special: a three-course meal with a glass of wine for $29. Since the choices included dishes we wanted anyway, it was a great deal. The wine can be either red or white: both are Reserve St. Martin 2008, French wines, the sauvignon blanc or the cab/merlot.
Dinner started with a gift of four radish-sized cheese puffs for the table and a beautifully done half-bulb of roasted garlic. A good baguette in a bag was delivered with the mussels en cassoulette ($10), a requirement for sopping up their delicious crème fraiche broth.
The warm beet salad with mache, boucheron (goat cheese), and walnuts ($8) was lovely, and so was the mixed lettuce with fried goat cheese ($9). And one of us so liked the roasted pear with field greens ($9) that he began lamenting that pears aren't nearly as popular in America as apples. (By this point, his ginger cosmopolitan [$9.75] was working nicely.)
Aquitaine's popular steak frites ($26) was every bit as delicious as I'd heard it was: The French fries (frites) were irresistible, the watercress a nice, fresh note, the au jus much appreciated for its lightness. The free-range brick chicken with oyster mushrooms and pommes puree (mashed potatoes) ($19) was crispy and good and quite salty. The sole meuniere ($25), with cleverly slivered and perfectly cooked snap peas, was, surprisingly, a thickish filet folded in half on a bed of pommes puree in a sea of buerre blanc. Less here would have been better. (This dish was also salty, and I suspect it was a single slip of the salting hand in the potato puree that accompanied both the sole and the chicken: I wouldn't expect them to be salty the next time.)
The horseradish-encrusted salmon with black beluga lentils ($20 dinner, $14 lunch) was a nice thick filet, though I was craving the horseradish kick that never delivered. Still, the dish was nourishing and tasty and the lentils made it even better.
Desserts killed, with warm cider glazed bread pudding ($7) the hands-down table favorite — a light and fluffy confection. We liked the profiteroles ($7) — little balls of vanilla ice cream sandwiched between pastry halves, and loved the deep chocolate flavor of the hot chocolate pudding cake ($7).
On a subsequent, very warm Monday lunch late last month, there were more people eating outside (Aquitaine has a great patio) than in.
The tagliatelle with mushrooms, asparagus, truffle butter, and shaved parmesan ($18 dinner, $14 lunch) was delicious with truffle flavor. (Why was the parmesan cold?) Salade nicoise ($16 dinner, $12 lunch) was a bright and fresh version of the classic salad dressed with a subtle vinaigrette.
Aquitaine sets each table with a liter of water to encourage the ordering of the house still or sparkling water ($6), but the tap water is filtered, and good. I liked very much that at dinner, after ordering one liter of the house carbonated water, our server kept our glasses filled all evening.
Aquitaine Dedham also serves an extensive Sunday brunch with a $10 prix fixe special that includes fresh orange juice, coffee, cinnamon buns, and a choice of French toast, an omelette Lyonnaise, or scrambled eggs with cheese, bacon, potatoes, and toast. Now, that's a good deal.
© Copyright 2010 Globe Newspaper Company.