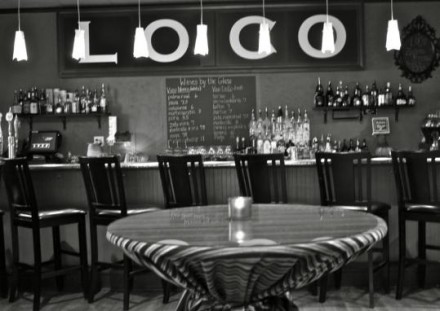 Little plates of different and delicious dishes – that's for me.
It's been a few years now since the word tapas began filtering out from the cities into the minds of diners everywhere. A style of eating imported from Spain, tapas are small dishes designed to be eaten while relaxing with wine. And while American tapas restaurants offer classical Spanish tapas dishes – patatas bravas, gambas (shrimp), croquetas de jamon (ham croquettes), many chefs can't resist offering their own interpretations inspired from various cuisines. Tapas in the US is evolving to be as much a style of eating as it is exemplary of Spanish cuisine: witness the rise of "small plates" selections on menus everywhere.
Loco Tapas & Wine Bar is a great example of a tapas place that serves authentic Spanish tapas – and more. Executive Chef and owner James Messinger discovered tapas through a love of Spanish wines that led him to Spain after graduating from the Culinary Institute of America. Soon after opening his restaurant three years ago, he added some main courses and a selection of grilled meats for those who thought tapas wouldn't be filling enough.
The casual space is divided in half with a lounge and bar on one side and a dining room on the other. Its red walls, arches, and low lighting evoke the world of the bullfighter and flamingo dancer and the leather couches and low tables in the lounge invite a literally laid back tapas experience if you're in that kind of mood.
I never expect deep-fried items to be really fine, but the smoked chicken and ham croquettes with lemon aioli ($6) are. They're that fried contradiction of light but crispy: pillows filled with a creamy, smoky, ham-flavored interior. Even the piercingly flavorful lemon aioli dipping sauce deserves mention.
Our server nicely orchestrates the arrival of our many dishes, pairing various tapas nicely. The garlic bread with gorgonzola fondue ($7) arrives at the same time as the Mac 'n' manchego ($9). This macaroni is the only disappointment of the evening (little flavor), but it's not bad when I dip a forkful of it into the fondue!
Seared pork tenderloin with sweet potato puree and port reduction ($10) is tender and satisfying. And the seared beef tenderloin ($12) is equally good — and so are the roasted potatoes and caramelized red onion confit at its side. These dishes aren't tiny: three of us have a couple small pieces each.
On principle, I love anywhere that serves a dish in which slivers of garlic are large enough to be seen and the gambes con almendras ($6), shrimp with almonds, reinforces my crude affection. The garlic is cooked lightly enough, in a thin butter sauce, to retain some of its raw flavor rather than the extremely mild flavor of baked garlic: nice.
Among the menu's deviations from classical tapas are a half dozen main courses and about ten grilled items. The grilled choices range from a $45 bone-in filet mignon, to a single, $4, diver scallop (these are fished by divers rather than gathered in metal nets). Each comes with a choice of one each of five rubs and five sauces.
We order two grill items: the 5-ounce skirt steak ($9, with celery salt, garlic, and pepper with chimmi churri sauce), and the 12-ounce bone-in filet ($45, with a simple sea salt and pepper rub with gorgonzola sauce.)
Both are delicious, medium rare per our request. I like the skirt steak just as much as the costly filet, although my friends love the filet. Most of Loco's beef is Meyer Natural Beef – sourced from animals certified to have been humanely raised on a vegetarian diet without the use of antibiotics or hormones. The restaurant also gets much of its produce in season from area growers. (Messinger has run a catering business – Crazy Chefs – since 2001 and knows his way around ordering.)
We're served the two grill items along with the pepita crusted diver scallops ($12). "We thought they'd go well together with the steak and filet," says our waitress, and they do: sweet with pomegranate glaze and sprinkled with seeds from the crimson fruit.
A perfect sautéed spinach hot tapas special is very nicely seasoned (although a slice of grilled polenta beneath it doesn't taste like anything much).
The chocolate flan is a hybrid flan-mousse ($7), smothered in whipped cream, and the best dessert I've had in ages. My friends like the churros ($5) even more, and they are great: we get a combo order of apple and plain ones. The hot, fried-dough/donut type confections are inch-wide sticks creatively served standing up in a glass. They come with two small pots of hot sauce: one is caramel, one chocolate. Gorgeous.
Loco — the great Spanish word for crazy — ain't so crazy. Chalk up another one for Boston's south suburban team.