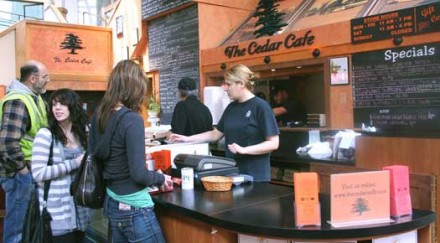 I'm hanging around Cedar Café in Hanover, waiting for my order, when I idly ask how Nopi Karastamatis — the mother of the family that owns the place — learned to be such a good cook.
"She's Greek!," the three people behind the counter chime simultaneously, as though on cue, as though the answer is obvious. What's the matter with you?
Yes: she's Greek, but this popular restaurant doesn't serve only grape leaves and mousaka, at least not every day.
Mousaka is the special on Fridays; grapes leaves on Thursdays. And it isn't exactly a restaurant, either, as it has no street side storefront or dining room. The Café is tucked away inside Route 53's Merchant's Row Marketplace, and people order at its counter then sit at tables scattered around the small mall's central atrium.
Good wraps and salads dominate Cedar's standard menu, along with a few entrees, a couple soups, some small dishes, and the regular, daily specials you can depend on. If it's spinach pie with Greek salad, it must be Wednesday.
This is simple home cooking, not that easy to find, and a much welcomed departure from standard lunch fare.
The potatoes that come with Tuesday's meatloaf special are peeled and boiled in salted water: simple and delicious comfort food. The chicken soup with vegetables is light with a lemon base — soothing and good. The meats in the wraps and shish kebabs – chicken, beef, lamb – are grilled on a hot fire, have stripe marks, and taste, well, really grilled.
The salad dressings are homemade with olive oil, and so are all the specials, the hummus, the tzatziki, the rice pilaf, and the restaurant's one dessert: baklava.
"She's the main cook here," said Vivi Karastamatis, referring to her mother, Nopi. Vivi works the front of house along with her father, Konstantinos, and her sister-in-law, Hrisa. In the kitchen, along with Nopi, is Vivi's brother, Stellios, who bought the eatery in 2004 from another Greek family who established a great reputation that Stellios has maintained.
Cedar's wraps range in price from $7.50 to $8.25. One of the café's highest priced item, Friday's baked haddock dinner with rice and salad, is $10.50. And many filling items can be ordered as low-cost sides, like the chicken shish kebab at $3, or the 4-ounce order of hummus for $1.50.
And don't miss some of the more unusual dishes, like the Greek egg roll (you heard right): It's a delicious meat and rice roll with a luscious sour cream herb sauce. Or its strawberry salad with almonds and cranberries. Or the Santorini salad: a labor-intensive mix of small-chop, sweet roasted vegetables. That and a chicken shish kebab is a nice, low-fat, low-cal, high-protein, antioxidant-rich lunch!
Or dinner. Cedar Café is open weekdays from 11 a.m. until 7 p.m., and does a big take out business.
Among the café's most popular items is one I often get to go: the chicken souvlaki wrap, which has an outstanding light and refreshing cucumber sauce. The only thing that saves me from ordering this every time I'm at Cedars is that I don't like the bread of the wrap. I think it tastes uncooked.
If I can make it home before devouring it in the car, I transfer the whole thing — grilled chicken, greens, tomatoes, red onions, the aforementioned sauce – into one of Cedar's pita breads: now you're talkin'.
Cedar's also caters, offering all the café's regular and special foods as well as others, including a half-dozen pasta dishes. Among these are Greek lasagna and several that stray across the Mediterranean to Italy for some stuffed shells, spaghetti and meatballs, and chicken Marsala.
It's not all and only Greek at Cedars, but it's all original and all Mediterranean and all just 200 yards from Route 3's Exit 13. And, you know the Greeks, they were everywhere first.

Cedar Café
Merchant's Row Marketplace
2053 Washington St., Hanover
781 871 6747
All major credit cards accepted; handicapped accessible through the rear door
Open Monday through Friday, 11 a.m to 7 p.m.; Saturday, 11 a.m. to 4 p.m.