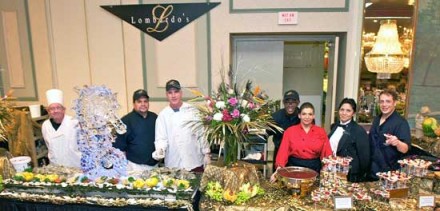 The Lombardo's table at A Taste of the South Shore. (Photo by Richard W. Green)
Think of the work it takes to make a good, simple dinner.
Then imagine doing that times 100 from morning to late at night, sometimes seven days a week, holidays absolutely included, often working in small, very hot spaces in close proximity to a crew of other petal-to-the-metal cooks.
Forget about routine family life, free time, hands unblemished by burns and cuts — and you've got a vague picture of the chef's life. So, how and why do they do what they do?
Must be love.
That love of food -– and the talent that inspires it — was on display front and center at last week's "A Taste of the South Shore" – a rock concert of a food fund-raiser for the YMCA.
Well before the 6 o'clock start, dozens of vans and trucks circled into Lombardo's event facility in Randolph, and workers from 25 food establishments unloaded tons of equipment with the can-do-anything prowess of roadies. Taking their show on the road meant transporting all the food – down to every little garnish – and a kitchen's worth of pots and pans and butane burners; serving, display, and setup items; tablecloths, signage, menus, flowers, and more.
When the work was done, the circumference of the enormous ballroom (so large it dwarfs three vast ceiling chandeliers with 15-foot diameters) was ringed with food: A continuous edging of tables, covered with dishes ranging from the good to the spectacularly delicious, spread all the way around the room.
As the chefs and cooks manned their stations to greet and serve guests, upwards of 500 arrived; ascended Lombardo's dramatic, glass-enclosed spiral stairway; found their place at one of the large tables; and went off to forage for food!
Despite the large crowd, there were no lines at the stations. Eating whatever you wanted was as easy as reaching for a plate of anything, and I mean, anything – from delicate haute cuisine appetizers to gorgeous roasts and potatoes.

I ate Island Creek oysters on the half shell; yellowfin tuna tartare [shown here]; sirloin crostini with truffle oil; peanut lo mein noodles, sushi; salt cod with whipped potatoes; boneless short ribs (at least four places served them); fried green tomatoes with bacon: beef tenderloin garnished with edible orchids: brown rice vegetable salad: crab and shrimp cakes; cappuccino, ricotta pie, grapes, and strawberries.
A couple hours into the evening, Y officials and friends took to the podium and honored architect and longtime YMCA supporter John Sheskey. The presentation was heartwarming as speakers verbalized the good will and generosity of spirit of Sheskey and everyone who works to support the YMCA, including the chefs.
John Boucher, of South Shore Savings Bank, had it right.
"It's all about the food," said Boucher. "We never have any problem getting people to come here because of the food."
Which is just what I'd been thinking. In fact, at that very moment, I'd been wondering why all non-profits don't just do this: Get a bunch of phenomenal chefs to donate their time and food so it can sell tickets and raise money?
The event netted more than $80,000 for the YMCA – money that will enable it to continue providing families with membership assistance and scholarship subsidies for all its programs in Quincy, Hanover, and its summer camp on the Cape.
And the whole $100-per-ticket fund-raiser was built around the draw of the 25 establishments that contributed their food.
Just before the presentation, the chefs and cooks gathered for a group photo before being sent off to relax and have a drink in the big lobby area. The crowd gave them a standing ovation – with some shouted bravos, hoots, and hollers.
The success and draw of the event was a powerful show of force by a community of South Shore restaurants, chefs, and food businesses that has grown enormously since the event began 14 years ago.
Here's a list of them: Atlantica, BonCaldo, Caffe Tosca, The Chef's Table, Coffee Break Café, Dancing Deer Baking Co., Fratelli's Pastry Shop, Freeport Tavern, Fuji 1546 Restaurant & Bar, Granite Grill FX, Hancock's Steak House, Jasper White's Summer Shack, Kama Lounge, Konditor Meister, Lombardo's, Malai Thai Restaurant, Neighborhood Club of Quincy, Phillip's Candy House, The Red Parrot, Salsa's Mexican Grill, Scarlet Oak Tavern, Star's on Hingham Harbor, Tosca, Whole Foods Market, The Winery on 53.