It's a Thursday morning in Marshfield and I'm in the kitchen with Chef Maryann Saporito while she preps for dinner at her restaurant Hola Flatbreads and Tapas.
Among other tasks, she's making a batch of filling for her chicken empanadas with corn and black beans. She has already poached chicken breasts (the secret? — three tablespoons of butter for every quart of poaching water); grilled corn on the cob; crumbled cheese (queso fresco); and marinated black beans in cumin and chili "with a bit of balsamic and garlic." After she adds each ingredient to a large stainless steel bowl, she takes a fresh spoon and tastes the mixture.
It is a process of chopping, stirring, and tasting; chopping, stirring, and tasting.
"If you love to eat, you can cook, but go slow, don't add things without tasting, tasting," said Saporito, who is three years into her second successful restaurant. In 2004, after 16 years in business, Saporito, with her husband and business partner, Andy Boothroyd, sold their acclaimed restaurant Saporito's Florence Club Café in Hull. In 2007, they opened Hola.
Saporito follows flavors, and they take her places. She can trace their trails around her life – from her parent's kitchen in Harrison, N.J., through the many restaurants she's worked in, the places she's eaten, every cooking class she's taught. She remembers particular flavors from where she first discovered them and brings them into the creation of a new preparation, a new dish, a new restaurant.
"I usually get hooked on some kind of flavor I like and start fooling around," said Saporito. "I either try to replicate it or do my own version – or, if it's from a different cuisine, I imagine how it would be in Spanish or Latin form."
There are many examples.

Saporito's empanadas are a take on a savory pastry she loved from a food cart on the island of St. John.
Hola's aren't fried, though; they're made with puff pastry and baked. Very delicious.
Her lovely mojo sauce – cilantro, parsley, lime juice, garlic, honey, a little olive oil — is a riff on one she had at Orinoco, a Venezuelan restaurant in Brookline. Hola serves it with a cold tapa of queso fresco and ripe avocado.
The restaurant's chicken tamales are Saporito's take on the pupusas that a couple from El Salvador she used to work with would bring into Saporito's. And Hola's ceviche-style tuna with mango vinegar, chili oil, and spicy cabbage is more sushi than ceviche – an adaptation she thought would fly with more of her customers than the classic pickled fish dish.
Her romesco sauce is modeled on the taste of one she had in Chicago ("I think it was Chicago"). it has more vinegar than a classic romesco, and less tomato.
And, her saffron panna cotta dessert special?: The coming together of the gift of a bottle of sweet saffron syrup ("What the heck can I do with this?") and something she ate at Mario Batali's Babbo in New York City. (She now makes her own saffron syrup.)
Saporito stockpiles flavors like an artist gathers materials then plays with them like she did when she starting cooking at nine years old.
And Hola is the perfect restaurant for her at this point in her career: it's smaller than Saporito's and the food is largely based on salsas, marinades, rubs, viniagrettes, and syrups, which don't require that she be at the restaurant at 7 a.m. to put up an enormous pot of stock. She and Boothroyd sold Saporito's so they could have more time with their family, and they do.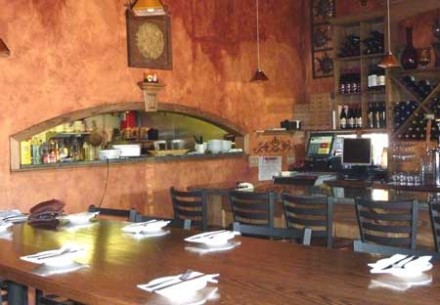 How does destiny work anyway?
Saporito is the Italian word for tasty — or deliciously flavorful.
And here we have Maryann Saporito who has a gift for playing with flavors, the enviable record of having started two distinguished restaurants, and a name that means flavorful.
Of course, every chef aims for great flavor, but their dominant methods for creating great dishes can be different. Some may rely on technique, others on procedure, others on structure. Saporito seems to be led by flavor itself.
Anyway, not to get too heady: it's fun and exciting to be in the kitchen with Maryann. She's bright and fun and her conversation and acts are full of love for food and life and people. The restaurant is lively, pretty – the kitchen a neat playground with Saporito at its center. And, the food….the food is very saporito.
Follow Joan Wilder on Twitter.