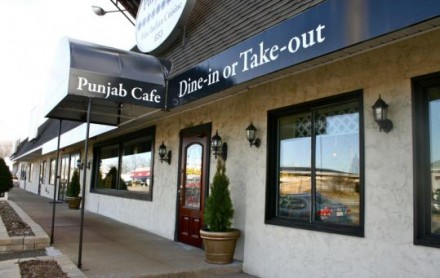 It's a Thursday noon in mid-March – the last Thursday at Punjab Café before it moves into a new, larger space directly next door. Most of the parties seem to be regulars meeting up and greeting each other for lunch at a familiar haunt. The two waiters working the small restaurant interact seamlessly and are impeccably polite but casual ("What are you guys having?"); efficient yet helpful ("Do you like lamb? Then you will love the lamb rogan josh"); and quick with smiles that are as sweet as their mango lassi (a thick fruity yogurt drink).
Punjab Café is one of the only Indian restaurants on the South Shore offering locals an area place to go when nothing but Indian will do. I've eaten there many times since it opened in 2000 (most often as take-out) and it always hits the spot. The restaurant's location on the four-lane, heavily-traveled back route to Boston is nothing to look at – two large billboards sit atop the restaurant — but very convenient for commuters.
"I think that will be enough," said the younger of the two waiters, after two of us order three lunch dishes, an assorted appetizer plate, a bread, and a mango lassi ($3).
Our dishes arrive quickly in beautiful stainless steel-lined, small copper serving bowls with brass handles that make it easy to share and sample each.
The meat in the lamb rogan josh ($7 lunch, $14 dinner), is flavorful and tender, the spicy sauce silky with cream and yogurt and the clean flavor of coriander. A few fresh cashews add a nice crunch.
I'm always relieved when shrimp isn't overdone and the ones in the tandoori shrimp masala ($8 lunch, $14 dinner) are nicely cooked, leaving them light and springy. The sauce is, again, creamy, with more of a tomato base than the lamb dish.
The chicken vindaloo ($7 lunch, $12 dinner) has no cream at all — its sauce is made with pureed potatoes and other vegetables, a good thing to know if you're looking for lighter fare. Like all Punjab's dishes, even vindaloo (known for its spicy heat) can be ordered as mild, medium, hot, or extra hot.
The kitchen also offers several options for vegans (or the lactose intolerant), including vegetarian vindaloo (not on the menu but available); mixed vegetables; aloo mutter (green peas and potatoes); and dal makhni (a spicy black lentil dish), which can made without gee – the clarified butter so common in Indian cuisine.
Our mixed appetizer plate, Punjab Café Platter ($7), is comprised of a vegetable samosa (a turnover); an aloo tikki (a potato pancake); and vegetable pakoras (fritters). The fried trio, my least favorite of Punjab's offerings, is accompanied by a sweet crimson tamarind sauce, a bright orange pepper-onion chutney, and some very delicious spicy papadum wafers made with black lentil flour and cumin seeds.
On a subsequent early evening, pre-Academy Awards dinner visit, we started with the mulligatawny soup ($3.25) – a thick puree of lentils, garlic, vegetables, and ginger that's deliciously fragrant and satisfying.
I wanted something not so saucy, and got it in the good chicken tandoori ($11). The dark and white meat pieces of chicken on the bone were both tender and moist. They were served on a platter of tandoori baked green peppers and onions with fresh cucumber slices and lemon wedges. The shrimp in the shrimp tandoori, ($15) served with a similar medley of veggies, were again nicely cooked, but quite salty. (I'm guessing this lapse was due to the kitchen's exhaustion after one of the café's very busy, all-you-can eat Saturday and Sunday afternoon buffets ($10) — and all the hours the staff had been racking up working on the new space next door.)
The chole saag ($7 lunch – $11 dinner) was tasty as usual — chickpeas cooked with spinach, onions, garlic and a bit of cream. Like the other saucy dishes, it goes well with the big platter of basmati rice that comes with all the meals.
The nan bread ($3), baked in house, was outstanding as usual, and so was the partha ($3) bread – a whole wheat buttered version of nan. If you've never had poori ($3.25), try it for something fun: it's like a small balloon made out of paper-thin bread.
Desserts include several classic, very sweet Indian treats and even the badami kulfi, an almond and pistachio ice cream, is homemade. The rice pudding is milky and nice.  And, the mango lassi, though not a dessert, could stand in for one: it's very sweet but delicious.
The restaurant's new space, which opened on Wednesday,  has 70 seats – 22 more than the old restaurant. The décor is simple with some pretty wooden Indian carvings, paintings, and small statues of iconic Hindu deities. A small bar area holds Punjab's dozen beers and 25 wines – almost all of which are sold by the glass.
Co-owners Balwant Singh and Jaswant Singh Sukha are from the same small village in the Northern Indian province of Punjab. The men learned to cook from their mothers and Jaswant also cooked in several restaurants in Germany and the U.S. before opening Punjab ten years ago. It's a good bet they're here to stay.